If you've ever tasted just how good a woodfired pizza can be, you'll know how hard it is to go back to a store-bought pizza.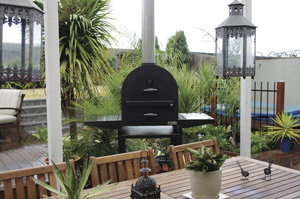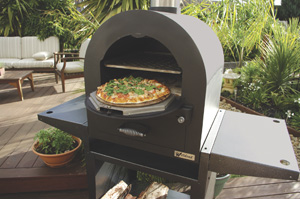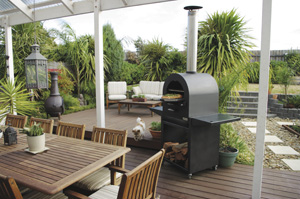 Now, thanks to Wildcat Industries, you don't need to. The Wildcat 6000 is a premium quality, Australian-made woodfired oven packed with useful features. Designed with the backyard chef in mind, this oven is more than just a fantastic pizza oven.
Anything that can be cooked in a conventional indoor oven can be cooked in a Wildcat oven — and more! The Wildcat 6000 features a built-in adjustable dual-action smoker so you can smoke that freshly caught salmon or snapper. Not into smoked foods? No problem. Just close off the smoker vents and use it just like a normal oven. It's as simple as that.
Based on the proven design of today's high-performance wood heaters, the Wildcat outdoor oven is highly efficient, easy to light, clean burning and economical to use. It takes just 30 minutes to heat up and be ready to use, so you may just want to use your Wildcat oven every night.
Thanks to the clever and unique design of the firebox, which ensures even distribution of heat regardless of how you load the fire, pizza bases are browned to perfection. What is more, a complete burn means very little ash build up and minimal smoking from the flue, which your neighbours and guests will appreciate.
Wet firewood causes a lot of smoke and very little heat, so Wildcat Industries recommends using good dry hardwood — and keeping it stored under cover — if you want to achieve the best results.
The Wildcat 6000 is available with an optional heavy-duty trolley which boasts 2mm steel construction, up to four removable side trays for easy storage, an optional utensil/warming drawer, lockable heavy duty caster wheels, storage for firewood and a durable powder-coated finish.
Every Wildcat woodfired oven is supplied complete and ready to use. No assembly is necessary other than fitting the provided flue pipes and cowl, which only takes a couple of minutes.
The Wildcat 6000 stands 690mm high (plus the flue but excluding the trolley), 600mm wide and 580mm deep. The oven is 230mm high, 400mm wide and 500mm deep, comfortably accommodating two large 15-inch pizzas or a roast and vegetables.
If you love cooking and entertaining outdoors, the Wildcat 6000 is the ideal choice for your new outdoor kitchen or the perfect addition to your existing alfresco area. All Wildcat pizza ovens are made right here in Australia using Australian steel.
For more information, please contact the friendly staff at Wildcat Industries. They will be happy to help you find your nearest Wildcat outdoor pizza oven dealer.