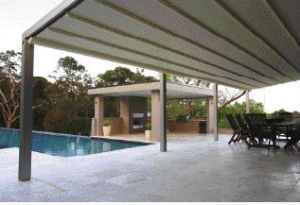 Retractable textile roof system offers protection from the rain and the sun
The verandah has long been a favourite place to entertain in Australia. Now, thanks to a combination of Italian flair, the latest materials and inventive design, the Corradi retractable textile roof system is turning the Aussie verandah into the ultimate outdoor living space.
An outdoor area for relaxing and entertaining has always been a feature of Australian homes but with interest in outdoor living escalating, homeowners are seeking more sophisticated — and flexible — shade solutions. To provide this they are looking to Corradi, a world leader in rain and sun protection products.
Attracted by the contemporary design and quality materials, the owners of this modern home on the outskirts of Sydney chose the Corradi Millennium System from Aalta Screen Systems. The Millennium has an anodised aluminium framework with a motorised retractable textile membrane and provides the family with a vital link between inside and outside areas no matter what the weather.
Traditional verandahs have a fixed roof, which may provide a shady place to relax and entertain in summer but prevents warming winter sun from entering the home. While you could try polycarbonate roofing or a louvre system, neither offers Corradi's versatility. Corradi's systems offer protection from rain, they are able to withstand strong winds, they provide shade and when you want to let the sun in, they can be retracted with ease — and all of this with minimal structural elements.
As the outdoor entertaining area faced north — and with energy savings in mind — the owners of this property didn't want a permanent structure blocking valuable heat from the winter sun. With the Corradi Millennium System, all they have to do is press a button and the roof retracts to let the warming winter sun into the home. The process is ingeniously simple. The flexible textile membrane, made up of three layers textured with an embossed woven effect pattern, retracts under a hood into neat folds. When extended, the membrane provides excellent heat resistance and block-out characteristics.
The retractable roof system from Corradi suits any style of architecture as the structure is available in either stained or painted timber or powder-coated or anodised aluminium. If you prefer, you can have your architect or builder custom-design and build the structure you want and Aalta Screen Systems will come out and install a Corradi retractable textile roof.
The project shown here features a custom-designed structure covering an area of 11m×4m over which a Corradi roof has been installed. Depending on the system you chose, the retractable roof can cover an area of up to 13m×8m.
Another benefit to consider is that retractable gutter systems can collect and direct rain run-off. So when you're looking for a flexible, state-of-the art outdoor living solution, look to the Corradi retractable textile roof system.
For more information
Aalta Screen Systems Phone 1300 788 925, (02) 9913 1699 Email sales@aaltascreens.com.au Website www.aaltascreens.com.au Photography by Peter Brennan