With Australians travelling all over the globe, it should be no surprise that antiques from faraway places continue to find their way into our homes
With its crusty patina, embedded stories and time-worn materials and colours, nothing quite adds depth and originality to an interior like an old piece of furniture. A person can explore and express their unique style through their choice of individual soulful pieces.
Responding to changes in demand, the antiques marketplace has transformed radically during the last decade — from devoted aspirational shop fronts to online, warehouse and auction stockrooms. Used with restraint, antiques can be edgy in their appearance among less-formal Australian interiors.
Unusual stand-alone pieces from India and Africa as well as the more familiar France and Scandinavia are being integrated with great effect into contemporary homes. Even commercial spaces can be transformed when a design concept embraces items that speak of history and longevity ‑ an appealing value in any business.
And younger generations are particularly busy buying functional pieces made of good-quality materials — their value being placed over the mass-produced high street or poorly copied designs.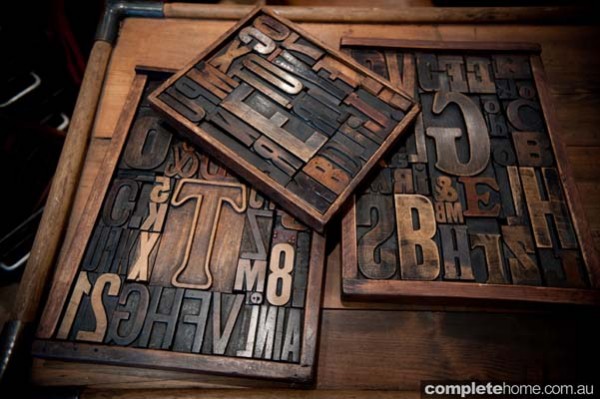 Made from antique printer's block letters are these interesting and individual typographical artworks. quintessentialduckeggblue.com.au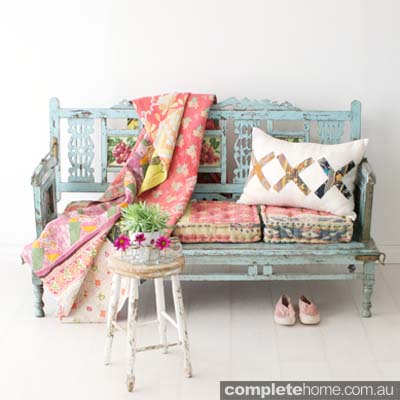 Salvaged from India and lovingly restored by hand, this bench has intricate detailing and vintage ceramic tiles from Sage and Clare. sageandclare.com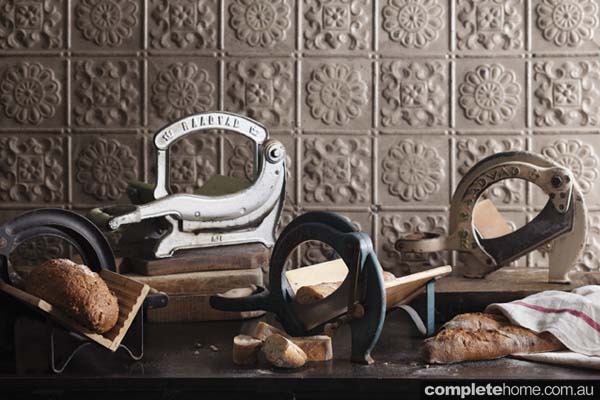 Original Danish bread cutters from Raadvad in Denmark, c1900, would make a lovely rustic contribution to any kitchen or cafe. quintessentialduckeggblue.com.au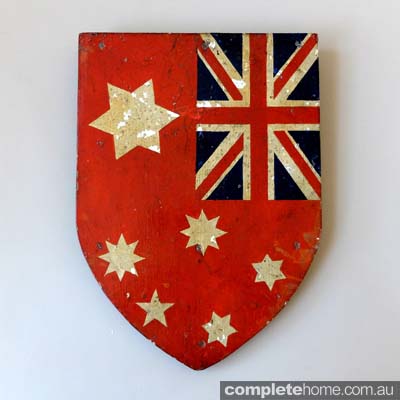 Decorative flags continue to be in demand and this Australian red ensign, used from 1901 onwards, would be perfect in a children's bedroom or games room. tarloandgraham.com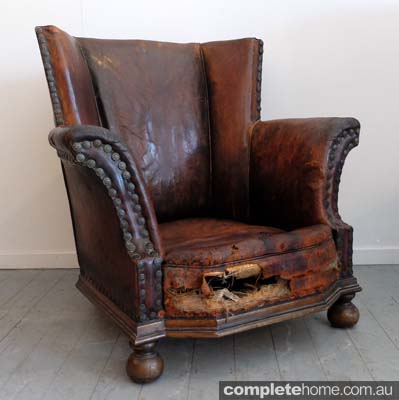 This wonderful decaying-oak armchair with brass studs and horsehair stuffing is a local piece from the early 1900s. A brass plaque states "the sisters of charity, Sydney, 1st Sept. 1929". tarloandgraham.com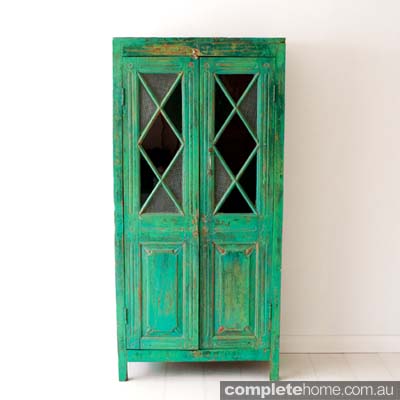 This gorgeous Indian vintage diamond-patterned armoire brings a pop of delicious green to any space. sageandclare.com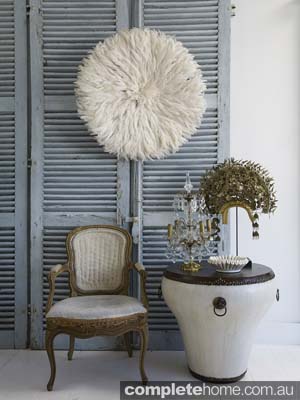 You can't go wrong with a timeless antique French chair – this pair from the 19th century has its original horsehair padding. Recovered or left in its original state, it can happily sit under a contemporary dining table. lumuinteriors.com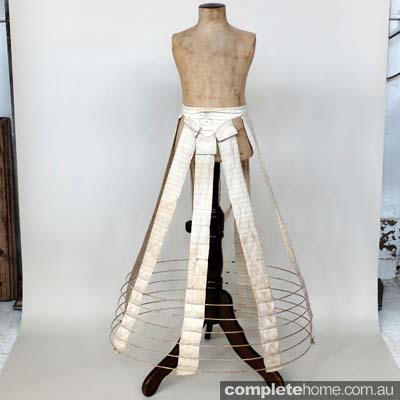 A child's dress mannequin with crinoline. The crinoline skirt is from the 1860s and the mannequin is from the early 20th century. Made in Melbourne from linen and timber. tarloandgraham.com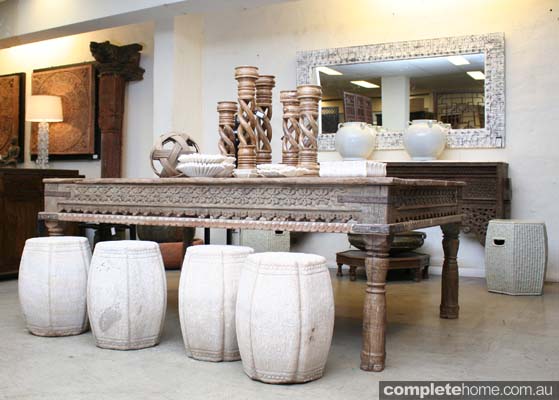 Used to sit on as a communal meeting place, this Rajasthan table is from Orient House. orienthouse.com.au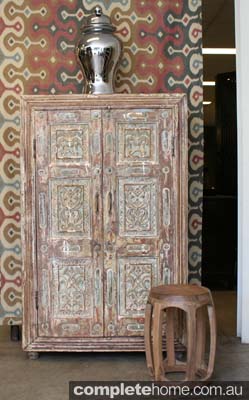 A Rajasthan cupboard from Orient House. orienthouse.com.au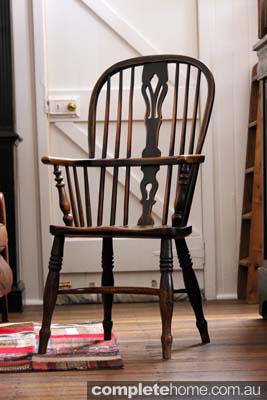 The classic Windsor chair has been around for centuries — this English armchair from The Drill Hall Emporium is crafted from elm and ash. thedrillhall.com.au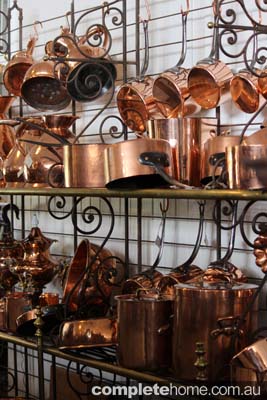 Enormously popular, copper items are available at The Drill Hall Emporium — they look gorgeous in any style kitchen. thedrillhall.com.au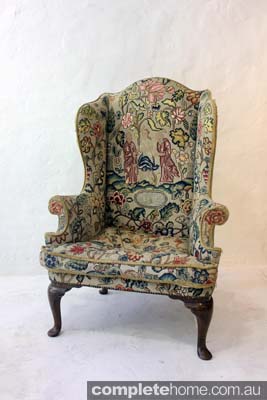 The English wing-back chair is a very old, much-loved and copied design. This 18th-century piece with gorgeous original hand-woven tapestry is from Martyn Cook Antiques. martyncook.com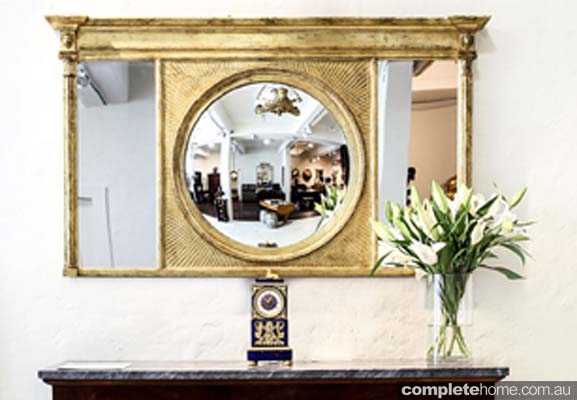 A large gilt mirror is a well-established statement piece — this English example has a starburst convex mirror in the centre as well as lion motifs, from Martyn Cook Antiques. martyncook.com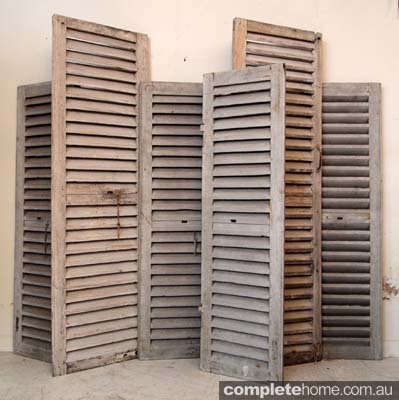 French louvred shutters with a lovely soft-grey patina of aged paint — can be used as is or as a bedhead or screen. tarloandgraham.com
Edited by Kate Hardy from Bluebird Interiors
Originally from Home Design magazine Vol.17 No.2