Two remarkable interior designers, Mark Gacesa and Linda Delaney, share their words of wisdom about fireplaces in a home's interior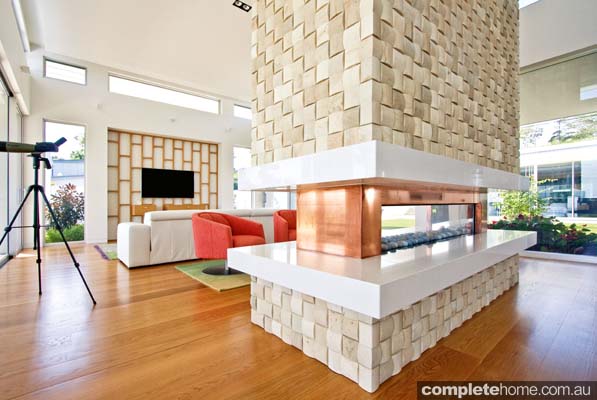 Mark Gacesa of Ultraspace
Besides the obvious warming effects, fire is an amazing mood aesthetic … romantic, calming and hypnotic. In my opinion, fire can be introduced into virtually any space creatively using clever design.
When incorporating a fireplace into a design, I always consider the architectural content of the space and then decide whether to keep the fire source as an architectural element of that space or have it designed as a feature piece, or sometimes both. Naturally, if the primary purpose for a fireplace is for heat, then research needs to be done for considerations such as the size of the space versus effectiveness, ventilation and draw. But if it's mainly for aesthetics, then your limit of creativity is the only real barrier.
Fireplaces can have a burning style, which some people like. Even though I love the smell of a traditional wood-burning fireplace, my preference is probably more for bioethanol because of the freedom of not needing a flue. The entry of this product into the marketplace has really opened up design flexibilities.
Currently, a house that I designed is being built that uses copious amounts of fire in many forms. There is a massive cantilevered wood-burning corner fireplace of hand-built stone and granite, an even larger (3m x 1.3m) central "floating" marble double-sided fireplace (with three 900mm bioethanol burners end-on-end), which is also automated to rotate 90 degrees, a suspended bioethanol fireplace, gas fire lanterns on columns for lighting, and gas fire jets that "dance" on water. This is surrounded by a sunken sunset lounge with a rebated, stone-covered gas firepit in the floor.
Clad in copper, white stone and woven sandstone, my multi-award-winning Runway House has a huge central double-sided gas fireplace that goes from floor to ceiling (more than 4m high), with the fireplace appearing to "punch through" the ceiling. This is both a major architectural element and a design feature in this large open space. The intent was to have this fireplace massively grand but, at the same time, also seeming serene with the use of interesting natural materials that help it blend into
its environment. As long as you follow the rules and regulations, there really is no limit to creativity when using fire.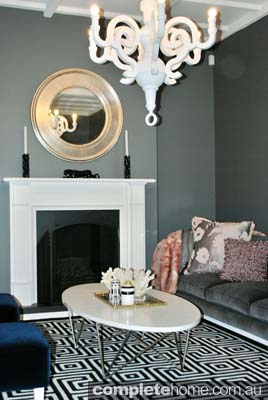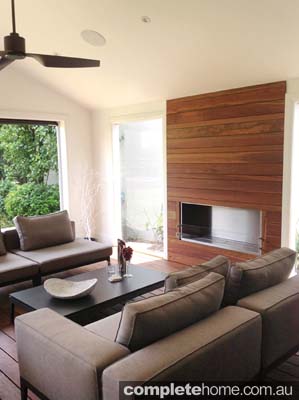 Linda Delaney of North Shore Interiors
I am a designer who does not deliver a particular look to clients. My philosophy is to deliver a design that reflects elements of the client's personal style converged with the architectural period of the home and the lifestyle habits of the people who live there. The size and shape of the room also play a huge part in the decision making.
While fireplace options are wide and varied, essentially, there are many things that will limit choice. The first consideration in any home installation is the architecture and period of the residence. The key to significantly add to a home's resale value is
to be sympathetic to the exterior and interior flow. Another consideration is the heating requirements and overall aesthetic of the fireplace. Will it be the primary source of heat or will it be used for decorative purposes? Is ease of use and maintenance a priority? What kind of fuel is preferred? Is an existing fireplace or flue structure to be used or does one need to be built? The answers to these questions will help guide whether an electric, gas, bioethanol or wood-burning fireplace is the most suitable option for the installation.
Next, I use a critical eye to assess the size and shape of the room. Size, in particular, does matter. You don't want to freeze and you don't want to overheat either. The ideal size of a unit is one that will run efficiently, that is, 80 per cent output most of the time. If you have an enormous firebox in a small room, you will tend to have a smaller fire; it's what's known as choking the fire — you are not burning as cleanly or as efficiently. Select the correctly sized heating unit based on how large the room is (in square metres) and how much space you have to install a unit. All space heaters (that is, anything that actually heats a room rather than being decorative only) must display a star-rating tag. The tag will show important information such as fuel consumption, energy efficiency and the heating output in kilowatts. Heating capacities vary depending on many different factors such as geographic location, insulation quality, type of windows, the type of flooring and building materials. Always have a heating expert visit your home to assess these factors and make their recommendation based on your personal circumstance. A decorative fire is one that is not classified as a space heater. These are usually used where there is already a heating system in place and the client is just looking to create an element of "wow".
If there were no other considerations (environmental, fire safety, cleaning), I would say an open wood fire is what I like best. I love the crackle, ambience and the fragrant smell that comes with using different types of sustainable timbers. Whenever a client has a working wood fireplace and chimney, I do try to encourage them to keep it and work around it if the room is relatively small. These days, you can make sure your old fireplace is not detrimental to the environment by opting for a highly efficient, EPA (Environmental Protection Authority)-approved fireplace insert.
If you can overcome the maintenance issues, nothing beats the romantic notion of a wood fire, in my opinion. Where the room is open plan or the home is contemporary or modern, I unreservedly recommend the efficient burning and sleek clean lines of an ethanol or gas fireplace built into custom cabinetry.
Linda's five questions to ask yourself before buying
1.    Decide on the fireplace's main purpose. For heat or for decoration? Or both?
2.    Are there any safety concerns? (eg small children, hauling and storing wood, manually filling of an ethanol burner).
3.    Do I really want a fireplace that needs to be cleaned regularly? With a wood-
burning fireplace, the grate, flue and chimney will all require regular cleaning.
4.    Do I want the fireplace to be a permanent fixture in the room or do I want to be able to put it out of sight and hidden during summer?
5.    Is my choice of fireplace equally attractive when it is not being used? View the fireplace while the flames are inactive. Since the fireplace won't be running 24 hours a day, all year long, it's important you're sure you like how the unit looks when it's not fired up.
Originally from Winter Warmth Volume 5