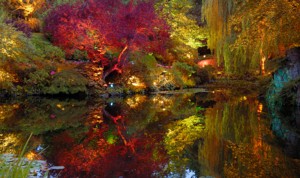 With the right lighting you can enjoy your landscaped garden both day and night
Story: Richard Rose
Photos: Jason Edwards
Exterior lighting has become much more popular over the past decade as the concept of the outdoor room — a place for entertaining and relaxing both day and night — has firmly taken root in the Australian psyche. The rise in the use of our outdoor spaces as fully equipped, beautifully furnished living rooms has, in turn, led to the development of a much greater selection of exterior light fittings. 
Although most people tend to focus on the effect produced by the lighting, you first need to have a grasp of the fundamentals if you want a truly successful result. Essentially, there are three methods of powering exterior lights. These are solar, low-voltage (usually 12-volt) and mains voltage (220-240-volt). 
Solar lights have been adopted very well at a budget retail level but professionally they are not often used in a garden. Although they can indicate where they are and may produce a nice decorative effect (as in the case of floating solar lights), very few actually produce a light that is powerful enough to be useful.
Low voltage is what is usually used. It is safe, effective and perhaps most importantly the light output is able to be controlled by the good selection of lamps that is currently available. Up until now, these lamps have mainly been halogen.
Recently, the new generation LED lights (LED stands for Light Emitting Diodes) have been gaining in popularity and are driven at low voltage-as well.
Mains voltage is best limited to commercial applications, and to light fittings attached to your walls. You should also be aware that all mains voltage work needs to be installed by a qualified electrician.
If you're thinking of using lighting to extend the amount of hours you have to enjoy your landscape — by which I mean those once elusive after dark hours — where do you start?
Just like lighting inside the home, it is important to start with switching. If you have access to a single switch, all your lights will go on at once. If you want, say, the pond lights to come on separately from your path lights, you will require two or more switches. It may seem a matter of commonsense, but inadequate switching is often the biggest barrier to efficient design.
If you want to have a system that is flexible and gives you the ability to switch on smaller circuits in order to be energy-efficient, try to maximise the number of switches you make available. Another tip is to put dimmers in. They are not too expensive and they will ensure you have maximum control over your lighting and the various moods you can create.
Once you know how many circuits you have access to it is quite simple to decide the best way to divide the lights between these circuits.
The next step is to decide where to put your lights and which fittings to use.
Fertilisers and regular moisture ensure that the landscape remains a constantly corrosive environment. It is important that you choose fittings that are up to the job, usually brass, copper or stainless steel. This should not limit your choice but as with most things, quality does cost a little more in the beginning but will pay you back over the life of the project.
When deciding where to place the fittings, look to divide them into those that will give you light in three types of locations. These are:
Light for access: Access lighting, as you would imagine, is used mostly on pathways and steps. Remember, we tend to gravitate towards a light source, so by simply lighting a pathway we lead guests along it. Steps must be highlighted for both yourself and guests. Before placing the lights, check that anyone walking up the stairs will not be looking into the glare of the lights.
Light for entertaining: It is always best to wash the paved areas and accent features to provide some indirect light. The aim is to make your guests feel comfortable without using too much light. Ironically, this is best done by using more fittings but with lower wattage lamps. Try to accent the depth of the garden but without using lights that are too bright as this will mask any views that you have. Lighting entertaining and outdoor living areas, including pools, really requires the help of a professional if you are to get this critical element of any garden design just right.
Light for security: Where possible, put this lighting on a separate switch. This lighting is usually a lot more powerful and only used to 'flood' the area with light if required. It is simply not possible to use these lights for any kind of entertaining.
Something else you might like to think about is automation. If you are building a home from scratch or planning an extension or renovation, you should consider your total wiring needs and whether an automated system is for you.
Ultimately, the goal is to implement a lighting scheme that draws you into the garden with no glare or obvious points of light. This is not easy to achieve, which is why a landscape lighting designer can prove to be an asset. But whatever path you decide to go down, there's no denying that lighting is an integral element of a landscape. It extends the time you can spend enjoying your surroundings, makes the landscape safer and, when correctly done, adds value to your property. 
About the author: Richard Rose is the president of the Landscape Industries Association of Victoria and the director of Gardens at Night. Special thanks to Gardens at Night for supplying all of the photos used here.