If there's one thing that all of us need and crave most in a home it's storage space to store our stuff. No matter how big our home is, we rarely have enough of it. Here's some clever ideas for various rooms of the house to get you storing in style, and organised to boot!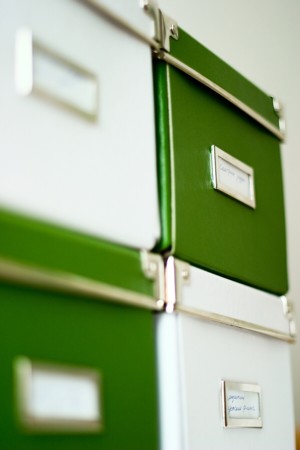 In the lounge room 
Plush:
Not everyone has a lot of space to spare; apartment dwellers are surely familiar with cramped conditions. These ottomans from Plush capitalise on style in tight spaces on a tight budget. Innovative storage for apartment living.
X – The Universal Answer to Shelving:
X-System, from Australian design-manufacturer Planex in collaboration with Brisbane-based designer Alexander Lotersztain, is a unique, modular shelving system that combines strength, simplicity, minimalism and versatility. Choice is a key feature of the unique X-System design. Users can choose installation options and construction combinations that range from a simple credenza to an extensive wall-to-wall, floor-to-ceiling shelving system that utilises spans of up to 3.5 metres, and which works in all interior environments. 
Shelves are available in assorted lengths and in 120 stylish colours. They can be used to 'create' a monochromatic installation that blends in with its environment, in a contrasting colour to make a statement, or combine several colours for a more animated or casual effect. Inspired by architectural structures, the simple 'x' pillar slots into the shelf 'rails' to form a strong, interlocking, stackable system requiring only an Allen key to assemble. 
X-System is Australian-made and manufactured by Planex Melbourne. It is 100 per cent recyclable, designed for fast and complete disassembly, and flat-packed for convenient transportation. X-System is available nationally and exclusive to interior designers and architects through Planex. 
Howards AKT 6179:
Dress up walls whilst creating space with Howards floating shelves, perfect for housing photo frames, books and all sorts of odds n' ends. These space saviours are available in white, beech and aluminum. 
Besta:
BESTA is a flexible storage system for the living room, similar to the cabinets you would use in the kitchen or bathroom. The cabinets and fittings are purchased separately so you can create exactly the right shape and size unit for your living area. BESTA is complemented by the INREDA fittings system which includes glass doors, ladders, drawer dividers and shelf inserts. BESTA also comes in a range of colours and finishes from high-gloss red to wood effects. 
In the bedroom: 
Heavy metal:
Rajasthani embossed metal-covered furniture is handmade in India using traditional skills. The decorative white metal or brass range of furniture is embossed in the style of Rajasthan palaces. The range includes larger furniture items, cabinets, chests of drawers and consoles, as well as smaller occasional pieces such as lamps, coffee and side tables. The design combines contemporary sleek lines as well as some pieces based on traditional Indian styles. Available at Pondicherry.
Bring out the best in your wardrobe
If looking for intelligent, practical and modern storage solutions for your wardrobe, look no further than Häfele Home. By combining design with quality fittings, Häfele offers a perfect balance of style and functionality for your wardrobe; the Synergy Collection. The Synergy Collection of wardrobe fittings and storage solutions provides convenience and organisation without compromising the aesthetic in your wardrobe. 
The Synergy Wardrobe accessories range includes wall hooks, hampers, hanging rails, and pull-out pant, scarf, tie and belt racks. Synergy's range of finishes – including satin aluminum and polished chrome, along with a complete line of matching accessories, add to its ability to fulfill a variety of needs, while maintaining a clean and organised look in your wardrobe. 
Häfele's convenient, stylish wardrobe solutions bring out the best in your wardrobe design. To view the entire Synergy Collection of wardrobe fittings, visit the website and request your copy of the Häfele Home Collection catalogue.
Wake up to superb organisation and style
Imagine waking up to a tidy bedroom, with all your key clothing, accessories, and personal belongings neatly organised. The morning remains relaxed as you choose the day's garments easily from a well- arranged wardrobe. A Howards organisational specialist can help you de-clutter your bedroom with simple storage and transform any bedroom into a comfortable sanctuary. Get organised in the bedroom and incorporate a combination of clever storage ideas to transform your bedroom woes into a sanctuary of order and organisation!
Sommerset hanging storage from Howards adds hanging storage and boxes.
Dreamy Drawers:
Don't be content with stuffing clothing, accessories and more into your drawers. Howards has solutions to drawer dilemmas including the stylish Stackable Bamboo Drawer Organisers and the Valet Faux Leather Drawer Organisers in chocolate. Both come in various sizes and provide the perfect home to divide underwear, socks and ties.
Wonderful wardrobes:
Is your wardrobe looking a tad overcrowded? How about a make-over? Howards' storage solutions combat even the toughest wardrobe woes. Feel like more of an overhaul? Why not upgrade? A custom-designed elfa solution can provide many options. An elfa customised storage solution gives flexibility to suit your individual requirements, can be enhanced with clever accessories and is backed by a 10-year elfa guarantee. The elfa wardrobe solution is available in white or platinum and can be enhanced with optional birch or walnut timber trims from the Décor range. From walk-ins to built-ins Howards has the tools to create the wardrobe of your dreams.
Consider easy-build storage systems from Howards to add order and maximise space. Made from triple-coated chrome, easy-build is strong and totally customisable to your needs. Build your own freestanding wardrobe and shelving units that can be joined with connecting table tops or connector shelves. Start with a simple kit or design your own system from components. 
The Ikea Komplement shoe organiser shoetrees are adjustable sideways and keep your shoes in shape. It holds 12 pairs. 
The Ikea Komplement Draw Divider pulls out for easy overview and access to contents. It slides smoothly in and out and the divider is removable to make room for big items. 
In the kitchen
Stack and store:
Does it annoy you when your kitchen and pantry shelves become cluttered and there's never enough room for everything? Décor's range of food storers stack neatly to save precious space. Tellfresh ® StackStore&Pour ™ storers come in five handy sizes from 55ml to three litres, which can be arranged to stack to an even height. They're versatile, too. Inbuilt pourers in the lids make the storers ideal for foods such as cereals, grains, sugar, flour, nuts, seeds and coffee.
Available at supermarkets and homewares stores, the storers are designed and made in Australia by Décor. 
The Bevkam Kitchen Trolley from Ikea is made from solid birch wood and provides extra storage, utility and work space.
The Stenskorp white kitchen trolley from Ikea gives you extra storage in the kitchen when you need it most, plus utility and work space. It boasts two fixed shelves in stainless steel and has a hygienic, strong and durable surface that is easy to keep clean. The top is made of solid oak, a durable natural material that can be sanded and surface treated if required.
The Organised Pantry:
Say goodbye to a messy pantry forever. Make your pantry a place to be proud of – a clean, spacious and accessible area to accommodate all your food storage needs. Keeping a well-organised pantry makes certain your food stays fresh for longer and ensures you can utilise every speck of space effectively. It is important to have quick and easy access to everyday food essentials and the ability to see them neatly in front of you avoids costly double ups.
From small cupboard-sized pantries to large walk-ins, these products from Howards Storage World provide handy solutions to assist in getting your pantry into order! The elfa pantry walk-in pantry system from Howards gives flexible pantry organisation.
The easy-build storage system is made of triple-coated commercial-grade chrome which makes for a clean and strong shelving solution for the kitchen as well as other areas of the home. It can be customised to your needs. From Howards. The undershelf basket from Howards makes the most of limited cupboard space.
The in-drawer pantry from Howards is a premium plastic food storage system suitable for drawers or shelves.
Rosti containers from Howards.
Pack and stack – entertain with the colourful Alegra range from Tupperware.
In the bathroom
Reece:
Reece welcomes vanity unit solutions from Australian designer, Cibo. Fluid furniture offers the absolute in function and form. Soft lines and superb design makes the product functional, stylish and essential for any modern bathroom aesthetic. Shown is the Cibo Fluid linen cabinet. It features height adjustables shelves and is 1200mm high. 
The Anordna lyx pull-out storage unit helps you organise lipsticks, make-up brushes, eyeshadows, etc. It's easy to remove for better overview and access. Available in a set of three from Ikea. 
Shopping details:
PLANEX
www.planex.com.au
PONDICHERRY
02 9810 9930
www.pondicherry.com.au
HAFELE
1300 HAFELE (423 353)
www.hafele.com.au
HOWARDS STORAGE WORLD
1300 666 616
www.hsw.com.au
TUPPERWARE
www.tupperware.com.au
REECE
1800 032 566
www.reece.com.au
DÉCOR
03 9759 2222
www.décor.com.au
IKEA
Richmond (Melbourne)
03 8416 5000
Homebush Bay Drive (Sydney)
02 8002 0400
Logan (Brisbane)
07 3380 6800
www.ikea.com.au