From carpet to concrete, we explore the different options to help you choose flooring that's right for your home.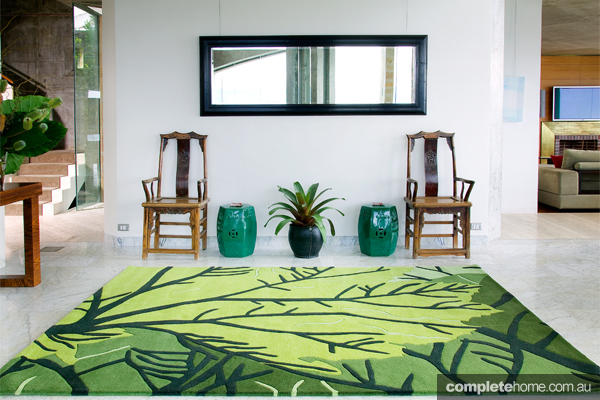 Leaf Canopy Rug by Jamie Durie Signature from The Rug Collection. therugcollection.com.au
1. Carpet and rugs
Carpets and rugs are some of the most versatile options you can pamper your feet with. No flooring option will offer quite the same noise protection and comfort; however, choosing carpet does require more maintenance. Plush carpets are thick and soft, but they will also show footprints and tracks made. For high-traffic areas, perhaps a berber pile would work better as it is flat and dense and won't show marks. And don't forget carpet padding, which is a rubber or foam underlay that will provide structure and support to your floor.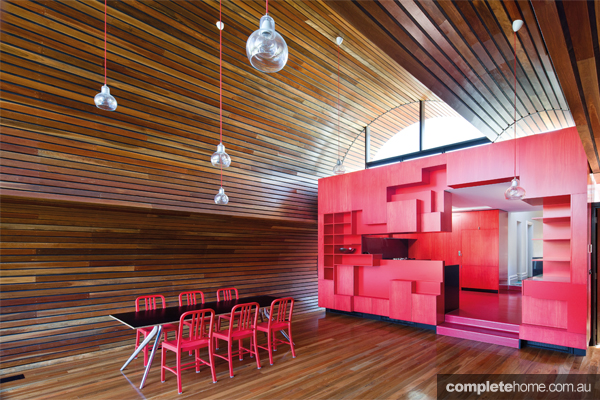 Timber is a versatile material that can be used to form many shapes, such as in this home by Charles McBride Architects.
2. Timber
Choosing timber flooring carries many benefits; durability and sustainability being two major factors. It stores carbon effectively through its growth and can be successfully recycled after use. Choosing the type of timber flooring involves looking at colour groups, grades, board sizes, technical properties and finishes.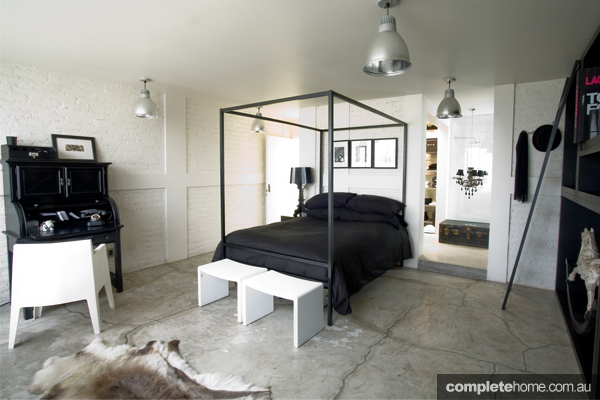 The bedroom in the Black and White home by Kababie Arquitectos uses polished concrete to emphasise the industrial look.
3. Polished concrete
Concrete is often thought of as a very unsustainable material; however, this isn't the case. In terms of the negative emissions given off in the production, transport and implementation of concrete, it ranks perhaps higher than other flooring materials, giving it its bad name. However, in terms of longevity and VOCs — volatile organic compounds — using concrete actually comes out trumps. Furthermore, polishing an already existing material used in your build as opposed to laying a second material over already existing concrete reduces the need for excessive transportation and production.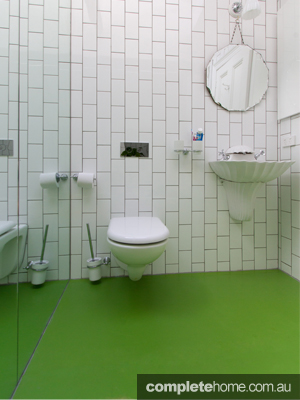 Green rubber flooring from Dalsouple. dalsouple.com.au
4. Rubber
Ann Gardner from Dalsouple shares the benefits of rubber flooring:
"Rubber flooring tiles can be made from natural rubber (from latex tapped from the rubber tree), synthetic rubber or recycled rubber. This method of flooring has long been used in commercial applications for years, but is now becoming a popular option for private residences.
Rubber flooring usually has a guarantee of 10 years but can last at least 15–20 with very little maintenance required. There are many patterns and almost limitless colours available, and rubber is warm, comfortable, great for allergy sufferers and animals, anti-slip and easy to clean."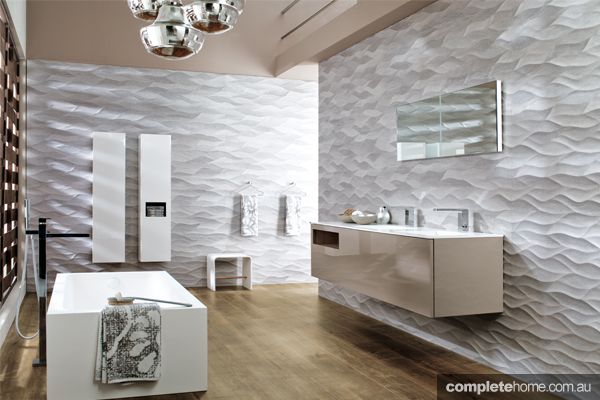 Montana Cottage floor from the PAR-KER range by Earp Bros. The PAR-KER and STON-KER ranges from Earp Bros use the ecoTech concept, which prides itself on being eco-friendly through using only raw materials. earp.com.au
5. Tiles
With choosing floor tiles, there are three main things to consider; colour, size and material. All elements need to work well with the rest of the room. Size is important because in a small space, choosing large tiles can make the room feel bigger, whereas in an already large space, small tiles can overwhelm. Colour is also important as it can — similarly to size — have an effect on how big the room feels. Last but not least, material needs careful consideration. The most common types of tile come in ceramic or stone, both of which are highly durable, easy to clean and — as they are raw materials — fairly eco-friendly.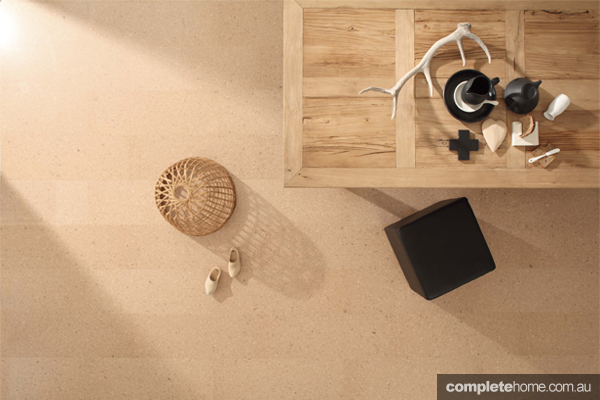 Engineered cork in Ivory Gem from Carpet Court. carpetcourt.com.au
6. Cork
Cork is making a comeback with the retro revival of late. Like rubber, cork comes from trees; making it rate highly on the eco-friendly list — although don't forget emissions created from transportation and production. In terms of maintenance, cork is more durable than you might think and bounces back from nicks and scratches fairly easily. That said, it does need to be cleaned regularly as crumbs or dirt can cause problems if left longer than a week. It also needs sealing with polyurethane or wax every few years.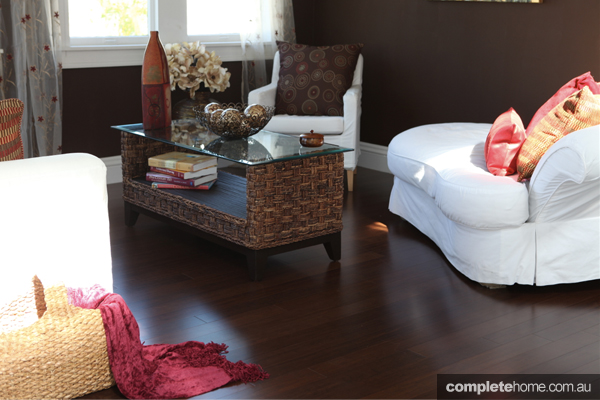 Sepia Bamboo by Proline Floors. prolinefloors.com.au
7. Bamboo
Choosing bamboo largely comes under the same umbrella as timber flooring. The added benefit of using bamboo is that it takes the eco-friendly status of timber one step further. Bamboo, when harvested, is cut so that the stalk remains in the ground and can re-grow to full height once again in approximately three to five years, which is very fast compared to other trees that can take years and years to grow.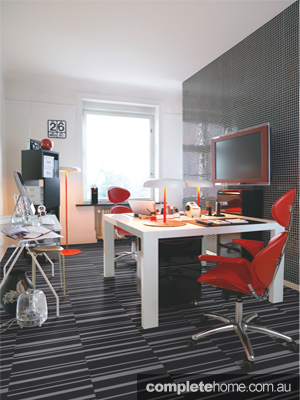 Captivating Barcode in black and silver by Pergo. pergo.com
8. Laminate
Laminate and vinyl are similar in the sense that they both mimic the appearance of a different material. Laminate differs from vinyl though in that, while vinyl is stuck down to the floor, laminate links into itself, in what is called a floating floor — almost in a similar way to floorboards. This means that while laminate is still strong, durable and easy to maintain, in humid environments the boards may bend. Don't let that put you off though, its affordability and ease to install mean that in any non-humid rooms in the house, it's a winner.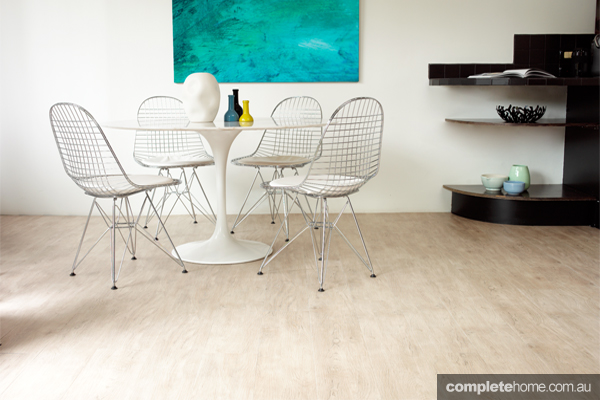 Laneway collection in grey rustic planks from Carpet Court. carpetcourt.com.au
9. Vinyl
Vinyl is a very durable when installed correctly on top of proper subflooring. This makes it a great option for high-traffic areas, or areas that require a lot of maintenance. With its chameleon-like aesthetic, vinyl can be made to look like almost any other type of flooring — think tiles, boards, concrete — anything you like. Vinyl flooring is also incredibly convenient because not only is it an affordable option, it is also easy to install — you can even do it yourself.
Flooring checklist
– Aesthetics may be top of your list, but make sure you think carefully about practicality, too, as you'll be living with your choice for a long time.
– Do you have children and pets? If so, think about opting for an easy-to-maintain floor such as vinyl, laminate or rubber.
– Is the room humid? Some flooring choices may not react well in a wet environment. Floorboards and laminate can bend if not installed or treated properly.
– Is your choice environmentally friendly? Think about the lifespan of the product, whether it's recyclable, how far it has travelled to get to you and what the cost to the environment is in the production of the material.
– Think about whether you want to install your flooring yourself. Some materials require professional help and some have DIY value.
– Do you have neighbours close by? If you live in an apartment or an attached house, you may need to think about noise absorption.
By Alexandra Longstaff
From Renovate magazine Vol. 9 No. 2