Creating an aesthetically pleasing kitchen on a budget needn't be cause for concern.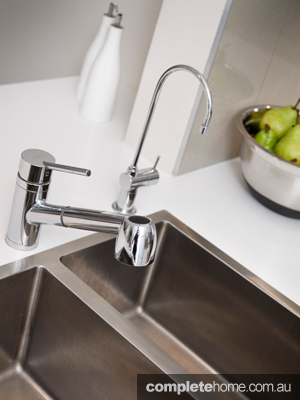 Industry leader, Wholesale Kitchens has been providing Australian's with great value kitchens for over 30 years and to get you started on designing your dream kitchen, follow Wholesale's helpful hints and kitchen planning guidelines:
1. Company
Choose an accredited company that meets Australian Standards. Companies manufacturing their own products have the advantage of maintaining control over quality, distribution and can pass saving benefits  on to its customers.
2. Products & Components
Check the type of board used in the cabinets is moisture resistant and environmentally friendly. Cabinets should be screwed and dowled together to give extra rigidity and strength. Ensure metal drawer runner systems are used in all units as they last much longer than plastic.
3. Design
Consider the features you want – storage needs, dining preferences, finishes for cabinet doors and benchtops, lighting options, and bench space requirements. Keep it simple to keep costs down – you can always add extras later.
4. Safety
Ask your designer to plan the work triangle (fridge, sink, cooktop) where the family doesn't pass through it. Install at least one smoke detector near the kitchen and remember, placing a cooktop near an open window can be a fire hazard.
5. Colour
Avoid dark colours in smaller spaces; light, cool and neutral themes create a sense of space as they make the walls appear to recede. Use paint and accessories to add colour – these can be changed as fashions change.
6. What to Consider
Have a checklist of functions and design features you would like incorporated. Consider things such as your family size, door style and handles, cabinetary and storage requirements – do you need space for a dishwasher and microwave, and what size sink do you want?
7. Installation
Measurements should be checked three times before the kitchen is manufactured and find out whether you can make changes to your plan and when. Tile and paint after installation.
8. Payment
Read your contract carefully and ask your designer to explain anything you don't understand before you sign. Quality companies will offer no deposit, interest free finance.
9. Lighting
Lights should be placed over sinks, cooktops and preparation areas. Additional lighting underneath overhead cabinets will give good illumination to bench space. Natural light is important, so keep wall cabinets away from windows.
10. Miscellaneous tips
Wider and deeper drawers maximise space however gadgets like Lazy Susans do not use space efficiently; ice-maker fridges require plumbing; you can add wall units to your kitchen at a later date; and finally, don't be afraid of divulging your budget – designers can give the best advice when they have all the information.
For a free in-home design consultation call 1800 332 223 or visit wholesalekitchens.com.au