This enormous showroom is host to an emporium of kitchen products making it the ideal place to start looking for your dream kitchen appliance.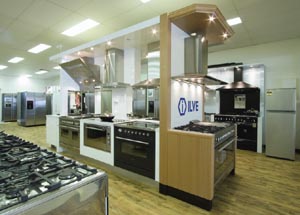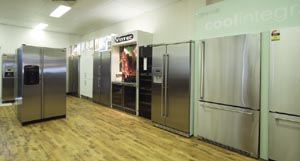 In-store demonstrators are on-hand for most brands, aiding the decision process as well as ensuring that the customer will get the most from their appliance, once installed.
Staff at Brisbane Appliance Sales have an average of nine years experience in the industry and the team keeps up-to-date with changing trends and technologies through vigilant attendance at industry training seminars as well as weekly training sessions to update product knowledge and availability. This wealth of knowledge has firmly placed Brisbane Appliance Sales in the industry and built them a strong reputation.
Specialising in kitchen and laundry products, the team at Brisbane Appliance Sales understand, that buying products and appliances should be an exciting and pleasurable experience. It is the aim of each friendly team member to be as informative as possible to help clients achieve this. One of the ways by which staff approach this is to sit down with prospective clients with a coffee to talkabout their wants and needs before looking at any products. This helps the staff narrow down the most suitable products for the job from the vast array of Miele, Smeg, Neff, Gaggenau, Ilve, Blanco Liebherr, Franke, Baumatic, Oliveri — the list goes on — available.
Take advantage of the knowledge at hand and head to Brisbane Appliance Sales, which has recently moved to a brighter and much larger showroom.
For more information, visit the Brisbane Appliance Sales website.