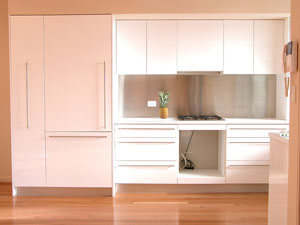 Like moths to a flame, we're drawn to the kitchen, so it makes sense that we would want a design that's as practical and attractive as possible — on any budget
A successful kitchen renovation can improve the quality of your life and add substantial value to your home. The key to achieving the results you desire is careful planning and budgeting. The first step is to consciously consider what you want to achieve with your kitchen renovation and what your budget is to achieve that.
One of the most common mistakes is planning a kitchen for a lifestyle you wish you had, rather than the lifestyle you actually do have. For instance, it would be unrealistic to want to create a fully equipped family kitchen in a tiny apartment, when you're single and your lifestyle dictates that you're out five nights a week. Again, a small galley-style kitchen separate from the rest of the house would hardly be ideal for a large family.
Once you are clear on what you want from your kitchen and what your budget is, it's time to start choosing the sort of kitchen you want. If you are going to use a kitchen designer, you don't necessarily have to choose one based solely on your budget. Look through magazines such as Renovate & Extend and Kitchens & Bathrooms Quarterly, and when you find a kitchen you can envisage in your space, look at the project particulars to find out who designed and built it.
When you do decide on your designer, it is essential to provide them with a realistic budget so they can advise you on the quality of finishes you can expect for that price range. The key here is to be realistic, but that doesn't mean you can't have fun. Remember, imagination and good taste are not price-dependent.
Mark McKeon, kitchen designer at Provincial Kitchens, describes working with clients across all budget levels: "From Laminex cheaper-style kitchens to high-end marble kitchens, we work with clients across all budgets. For instance, Laminex is still the hardest-wearing finish in a kitchen, although there are no curves in these designs, only straight lines. Reconstituted stone will only add around $1200-$1300 to a kitchen's budget. From there, we do polyurethane finishes, and from there up to solid timber kitchens using a variety of woods, from cheaper pines to Tasmanian oak, beech and blackwood from Queensland or Tasmania. From there we go to a Provincial style of kitchen, with Tasmanian oak and hand-painted finishes, most often in a vintage white. Sometimes we will pick up 10 per cent of the colour of the walls in a tint to tie in with the walls.
"For really high-end finishes, we may use granite or marble benchtops. Then we look at the kitchen drawers — most of what we use at Provincial Kitchens are soft-close doors and drawers, predominantly a German brand, with drawers that have a capacity to hold up to 70 kilos. Obvious overall trends that we are witnessing include designing kitchens that are an intrinsic part of the house. The older houses that have galley-style kitchen affairs are a thing of the past. Now clients want kitchens that they can spend time in and be a part of the action, with access to the rest of the family. Oh, and everyone wants an island in the kitchen. Kitchen islands are huge!"
Another highly successful kitchen designer is Michael Kitchener from Kitcheners Kitchens (clearly born to design kitchens). Kitcheners Kitchens works across a wide section of budgets, but Kitchener believes his core business is the average mum and dad. "Now we have Iain Hewitson on board as our spokesperson," he says, "and his broad audience is our market.
"We can custom design any shape kitchen, any size, any finish and any colour. Our price point is the same as those from modular wholesale kitchen suppliers, however, they have a limited range, and we can go outside that square and still remain within that price range.
"To start with, we send a designer out to the client's home. Depending on their needs, this will normally entail a two to three-hour design brief. We discuss their lifestyle, what they don't like, and what they are looking for in their new kitchen. We design the kitchen with them, there and then. It's great for clients to be able to see the design develop and we get constant feedback, which we can then adapt to the kitchen design according to their feedback.
"There's been a lot of development in the last 10 years with kitchen design and how you would best use the space. There's now a much bigger focus on dynamic space deign — where we look at the dynamics of how we use the kitchen and how it could best be used for the needs of a particular household. For instance, a single mother versus a bachelor or an Italian family of four — they would all have very different needs and would therefore require very different designs."
Studies, shown by Blum (kitchen furnishing/fittings manufacturers) in their document Dynamic Space, show that times have changed — and so should kitchens. Blum did a study comparing regularly planned kitchens using the so-called String Study, with those kitchens planned according to the Dynamic Space criteria. The results showed that journeys in Dynamic Space-planned kitchens were significantly shorter, with some of these up to 25 per cent shorter. However, it wasn't just trips in the kitchen area that were shortened — work times were also significantly reduced.
Kitchener, with over 14 years experience in kitchen design, states, "All our designers are certified kitchen designers and are in touch with the latest research and trends. Some of the latest trends that we are witnessing include the increase in the demand for drawers for kitchen storage, as well as an increase in the popularity of handle-less kitchens. There are two different types of looks that are emerging — thick and chunky benchtops, and the opposite, the illusion of countertops that are really thin.
"As for colours, I hate to say it, but Australians can be very boring — it's white, white, white. Australians like to play it safe with colour, perhaps driven by the perceived re-sale value of an inoffensive colour. But whatever people choose, a dream kitchen is a dream kitchen — whether it's an $80,000 kitchen or $12,000 kitchen."
Here are some questions to ask yourself before you renovate your kitchen:
*What is it about your kitchen now that you don't like, or wou
*Is this a family home that you will live in for years, or are you planning on re-selling the property?
*What is your realistic lifestyle and how does your kitchen fit in with it?
*Is there sufficient storage space in your kitchen?
*Is the colour and design of your kitchen in keeping with the rest of the house?
*Does the layout of your kitchen work?
*8Do the finishes of your kitchen look dated?
*Do you want your kitchen to be the hub of activity in the house, or separate from other rooms?
*What are your storage needs? For instance, do you have a lot of pots and pans, glassware, crockery or appliances that need to be hidden away?
*What fixed and portable kitchen appliances do you have, or will you have? And how often will you use them?
*What sort of refrigerator do you have? What about a dishwasher and microwave?
*Do you need to include any other facilities in your kitchen, such as a washing machine?
*Do you want it to be an eat-in kitchen?
*What sort of ambience do you want to create and what sort of overall look do you want for your kitchen?