Find a chic and contemporary bench top that can withstand any hard-working chef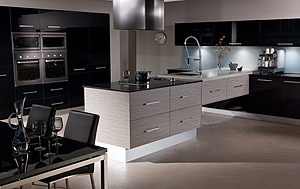 Cooking is sweeping the nation thanks to the rise of the celebrity Chef and shows like Masterchef, and innovations designed to enhance healthy food preparation are more in demand than ever before. People are spending more time in the kitchen so bench tops that can handle a lot of wear and tear need to be considered along with materials that are durable and easy to clean.
Solid surface Benchtops:
Freedom Kitchens carries a line of new solid surface bench tops. They are non-porous making them hygienic for food preparation plus they are durable, heat and stain resistant and very easy to clean. The new solid surface benchtops are made with acrylic, polyester and natural minerals and has a distinct advantage of offering seamless joins for longer work spaces or L or U shaped benchtops. With a 52mm square edge profile and high-end stone-like appearance, this is an ideal choice for those looking for a long-lasting yet stylish benchtop.
60mm Laminate:
Also new and exclusive to Freedom Kitchens is a new line of laminate benchtops. Available in three colours – Platinum White, Walnut and Light Concrete, the 60mm thick benchtop with its textured finish and postformed edge provides an affordable yet sophisticated look in any home.
Offset and varying thicknesses:
Incorporating a combination of thicknesses in bench tops, such as a chunky finish for your preparation and a slim profile finish for your eating area continues to be on-trend. A look that works well when benches are offset and/or use a combination of materials such as stone and timber or glass.