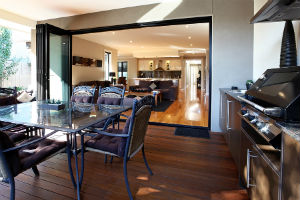 An outdoor kitchen range that combines function with style

Flint Luxury Outdoor Kitchens' creator and multi-award winning kitchen designer, Lee Hardcastle, has developed a unique method for manufacturing kitchens destined for use in undercover outdoor locations. Unlike most currently available outdoor kitchens, the Flint kitchen keeps the use of stainless steel to a minimum, only using it to fashion the necessary components. This gives the kitchen an appearance more like that of a stylish, attractive and user-friendly indoor kitchen.
The Flint range is ideally suited to people who enjoy outdoor entertaining. With a Flint kitchen, features include soft-closing stainless-steel drawers, engineered-quartz benchtops, sinks, rubbish bins and, of course, an in-bench barbecue with a hood. Options for under-counter fridges and beverages are also a feature of the range.
Inside and out, the kitchens are constructed from waterproof materials so you can be sure they will offer you years of strength, durability and style. What is more, there is an extensive colour range for doors and benchtops, which allows you to complement your exterior colour scheme and outdoor setting, whether that be bush surrounds or beach views, a city courtyard or a suburban backyard.
An integral part of each Flint kitchen is the Electrolux E:Line barbecue system. With its streamlined look and easy-to-clean design, this barbecue system will allow you to cook in comfort and style.
All Flint kitchens are manufactured and assembled by hand in Australia. You can combine any quantity of pre-designed modules to create a fantastic compact kitchen or a huge and impressive entertainment and cooking area. Kitchens can be installed anywhere in Australia.
Flint Outdoor Kitchens
2/31 Veronica Street,
Capalaba Qld 4157
Tel: (07) 3390 3244
Fax: (07) 3390 3266
Email: info@flintoutdoorkitchens.com
Website: www.flintoutdoorkitchens.com