A state-of-the-art outdoor kitchen is now considered an entertaining essential.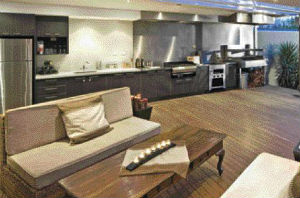 While there is no denying the indoor kitchen's role as a gathering point for family and friends, when the time comes to entertain in style — especially during the summer months — it's to the outdoor kitchen that everyone flocks.
An outdoor kitchen has rapidly become a must-have in many backyards. Whether a state-of-the-art affair integrated into a covered, purpose-built area designated for cooking, dining and relaxing or something of a more modest scale, an outdoor kitchen is an entertaining essential.
It is also a practical way to entertain alfresco. If you're the cook of the family there's no more running in and out of the house to prepare food — you can talk to guests while cooking, rather than being isolated from all the fun. Then there is the wider range of cooking styles available to you, not to mention the advantage of having no more mess or lingering food smells in your interior living areas.
Of course, a purpose-built outdoor kitchen and entertaining area is going to best meet your needs and Harvey Norman Design & Renovation, based in the Melbourne suburb of Oakleigh, is the outdoor and indoor kitchen renovation expert.
The owners of this home looked to Harvey Norman Design & Renovation to give them the modern, spacious outdoor kitchen/entertainment area they needed. Although of contemporary design, the area has a wonderfully warm ambience — and it's incredibly practical too.
For maximum functionality, the kitchen component of the outdoor entertaining structure was carved into two distinct areas — one for prep work and one for cooking. The size and layout of the structure were designed to make accommodating up to 80 people a breeze and to allow in as much natural light as possible.
Harvey Norman Design & Renovation was in charge of the whole process, beginning with the initial design phase right through to the procurement process and the total project management of all trades.
To achieve such an impressive result, all materials, fixtures and fittings A crisp contemporary landscape for a remarkable modernist home were selected for their durability and quality, not just for their good looks. The benchtops are of CaesarStone and stainless steel, the splashback of glass and stainless steel, the cabinetry is finished in Laminex and the decking is yellow stringy bark.
Similar care was taken in the selection of the appliances, which include a custom-made rotisserie, a Smeg deep fryer and a Fisher & Paykel refrigerator.
Not only is Harvey Norman Design & Renovation the indoor/outdoor kitchen specialist, the people here also specialise in the complete renovation of bathrooms, laundries, bars, luxury walk-in robes, home offices and home cinemas.
A true "one-stop shop", Harvey Norman Design & Renovation offers clients an almost limitless range of options. They also have an impressive, state-of-the-art showroom that is the largest of its kind in the southern hemisphere.
Whatever a client's lifestyle requirements and whatever their budget, Harvey Norman Design & Renovation can tailor a unique indoor or outdoor living solution to suit. Clients also have the peace of mind that comes with working with a company that can take care of every detail and one that provides a 10-year warranty.
Photography Patrick Redmond  
Harvey norman design & renovation
1430 Dandenong Road
Oakleigh Vic 3166
Tel: (03) 9540 5555
Email: oakleigh.showroom@au.harveynorman.com
Website: www.harveynormanrenovations.com.au