This kitchen design, from Kitchens Victoria, is the perfect combination of classical elegance and modern minimalism.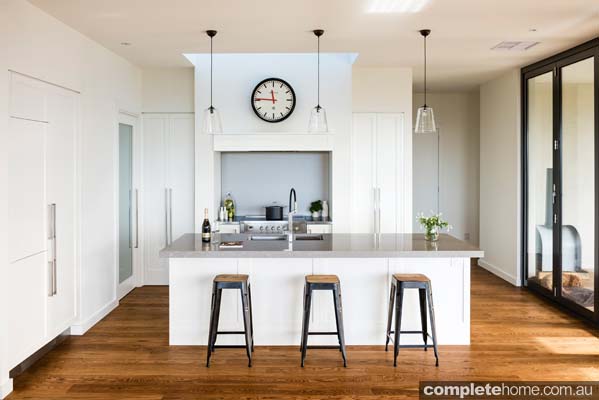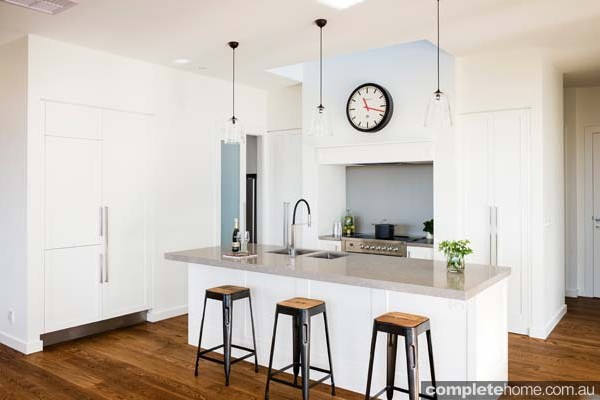 "The home's exquisite, uninterrupted view of the beautiful Yarra Valley inspired this kitchen design. The owners wanted minimalist elements, open and uncluttered areas. It could even be called clandestine as many wonderful internal features are discreetly concealed within a simple exterior. The main kitchen walls and skilfully crafted cabinetry have been painted to blend seamlessly with the rest of the home. However, as focal points and distinct functional zones, the chimney piece and island bench were to exhibit uniqueness. Pantry-sized cabinets accommodate storage features and internal lighting. The butler's pantry presented a minor challenge. The modest space had to feel comfortably proportioned without sacrificing valuable bench or storage areas and incorporates wrap-around shelving, a general-use fridge, microwave, scullery and waste disposal. The kitchen's aspect appreciates an exquisite view. Its hue and crisp simplicity give the allure of an elegant beachside resort, yet also the classical minimalism of an inner-city townhouse."
Designer: Lindy McGrath for Kitchens Victoria
Kitchens Victoria project details:
kitchensvictoria.com.au
Cabinet doors Exclusive Shaker door profile
Internal hardware Häfele Kessebohmer arena-style pantry, Häfele Grass multi-use soft-closing drawers, Häfele Euro Cargo bin and glass shelving
Benchtop Caesarstone
Lighting LED strip undermounted on shelving
Flooring American oak
Paint Dulux Whisper White
Refrigerator Liebherr fully integrated
Kitchens Victoria showroom:
Unit 19, 128 Canterbury Rd, Kilsyth Vic
(03) 8761 6466
EXPERT TIP: Good lighting in any kitchen and across all workspaces is essential.
WE LOVE: The exclusive door profile in white teamed with the island countertop, which perfectly complements the American oak flooring.
"Hidden Gems" from Kitchens & Bathrooms Quarterly magazine Vol.20 No.3