Urban Kitchens has created a kitchen, bathroom and walk-through wardrobe befitting only the most luxurious home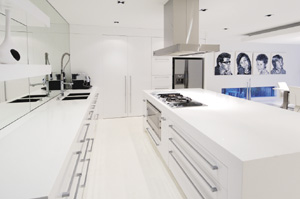 Starting out by talking to the clients about what they wanted was the first step for Urban. "The home owners wanted clean lines and cutting-edge design featuring lots of modern finishes," says Mary from Urban. Naturally, this had to match the rest of the home, a three-level black rendered space overlooking the river in Edgewater, Victoria.
The clients met Urban Kitchens founder, Con Moshopoulos, at a home show and a solid relationship formed. Urban has since completed several joinery features in the home, including this project.
One of the most important things to get right from the beginning was the joinery. It is this detail that makes or breaks the design. Not only does it affect the build and strength of each section, but the total look of it, too. Urban took great care in ensuring every line met up and every piece was fitted precisely.
"By introducing lots of different finishes, we have achieved depth and exactly the diversity the client wanted." Mirror splashbacks and black glass benchtops were just some of the materials used to create the incredible effect in both the kitchen and bathroom, with the kitchen having a giant mirror adding space and a very contemporary look.
Floors in the bathroom are white epoxy concrete. Mirror shelving was used in kitchen and bathroom areas with feature shelving and resin benchtops. Wardrobes are slate grey laminex with Kethy custom-made handles and Dulux White Vivid paint for the walls.
The wardrobe features what seems like miles of shelving and space. Every item of clothing or accessory you could ever wear has been catered for, from a specialised belt rack to shoe shelves and cosmetic shelving. The height of hanging space has also been very thoughtfully made with long evening dresses, pants and bulky jackets all finding their place easily.
Having this kind of fitout in a home makes the owners excited to get up in the morning to choose their clothes, and every meal and bath is a joy. Urban Kitchens has achieved a result that is totally spectacular.