Incorporate a luxury steam oven into your kitchen, to create delicious and healthy meals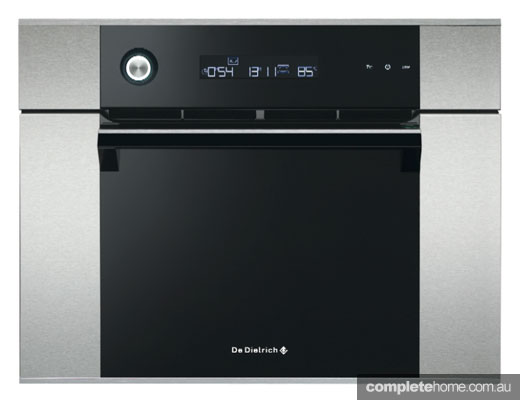 Taking steam cooking to the next level, luxury French kitchen appliance brand, De Dietrich introduces the stylish, smart and sophisticated Corium Collection's Platinum Steam Oven (DOV1145X) to its ever-expanding family. Having introduced its first advanced steam oven to the market in 1997, De Dietrich's model quickly gained culinary notoriety due to its ingenious craftsmanship.
Leading in kitchen appliance innovation, De Dietrich's Platinum Steam Oven contributes its success to an aesthetically superior, modern product, producing huge nutritional benefits. The intelligent steam oven retains the essential vitamins,
minerals and delicate nutrients of the food while cooking. No oil or seasoning is required which allows healthy, lean food to be savoured at its most fresh and natural state.
With an ability to cook a myriad of dishes and produce, outside of merely steaming vegetables (as commonly thought), the De Dietrich steam oven allows for the preparation of sweet and savoury cuisines, simultaneously, without a cross-transfer of taste and aromas. It will also concurrently steam foods that require varied cooking times together, without over-cooking.
The oven is also ideal for the gentle defrosting of meat and vegetables (without cooking), as well as reheating without the common issue of drying or hardening, by essentially rehydrating the food.
With a sleek black and silver exterior, the DOV1145X boasts: a stainless steel interior with removable water reservoir, halogen lighting, white LED back-lit Twin Encoder programmer, eight cooking temperatures from 55C-100C, animated multi-start program with recommended temperatures, shelf level and illuminated display, and 29L cavity.
Additionally, a new optional stacking kit (KITvaPIX) is a feature, which compromises of a metallic grid, stainless steel steaming tray and juice collector, allowing two levels of food to be cooked at once.
Corium Collection's Platinum Steam Oven by De Dietrich offers the utmost intelligence, elegance and sophistication to your kitchen, with the added advantage of wholesome, nutritional cooking.
De Dietrich's DOV1145X Steam Oven is available in selected retailers and on display at De Dietrich showrooms nationally.
For more information