Originating in the mid-19th century from Latin collaboration (to work together), by definition collaboration translates as "the action of working with someone to produce or create".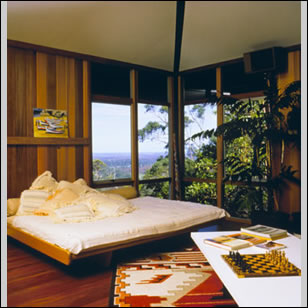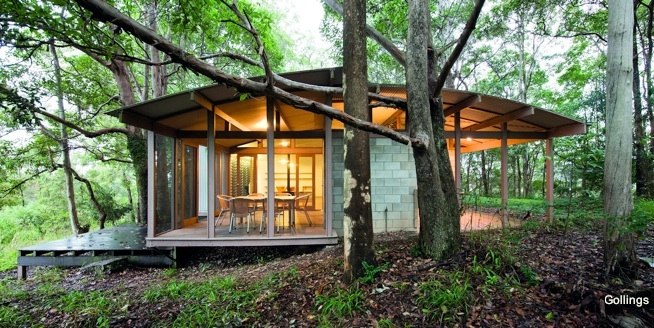 For some, creativity flows best in solitude. For others, it is the merging of talents, the ability to bounce off one another and the joy of co-creating. Architecture is both conceptual design and logical construction, and by the very nature of its complexity, calls for an alliance of talents. Little wonder that some of our best architects work as a team.
Pooling their Resources — Gabriel and Elizabeth Poole:
In partnership with his wife Elizabeth, an artist whose sense of design, colour and the environment provides the ideal accompaniment to his work, Noosa-based architect Gabriel Poole designs low-cost innovative, energy-efficient housing.
Born and educated in south-east Queensland, Gabriel Poole established his own architectural practice in 1968. In 1998, he was awarded the highest honour bestowed by the Royal Australian Institute of Architects, the Gold Medal, for his lifetime contribution to Australian architecture. In 2004, Gabriel Poole was further honoured and named patron of the Year of the Built Environment.
Following work experience with Powell and Moya as well as Cadbury Brown in London, Gabriel Poole commenced practice nearly three decades ago. His practice has largely been based in and around Queensland's Sunshine Coast region. The mainstay of the Pooles practice has been the design of houses and housing. Their designs are marked by a sensitive response to the environment and by an innovative approach to structure, construction and materials. Gabriel Poole's work has been published widely and he has received many awards and commendations. These include both the Robin Boyd Award and the Robin Dods Award in 1991 for his famous "Tent House". This project dramatically redefined what a house could be and caught the public's imagination in appealing to a sense of freedom.
By working in simpatico with the environment, the Poole team pays close attention to designing architecture that can best answer the client's brief as well as capitalise on a particular site's aspect and the prevailing environmental conditions. Elizabeth's speciality and contribution to the Poole partnership includes interior design and a strong sense of colour, as well as landscaping design.
The Pooles have consistently maintained an innovative approach to their architecture. Both their careers have been characterised by an imaginative response to the challenges of private practice. In many ways, the Pooles dedication to innovation and to a high quality in architecture has resulted in a body of work that has had an extraordinary impact on their industry, environment and society. Gabriel and Elizabeth Poole are cited by many of their colleagues and by young emerging architects as a major influence.
Currently, Gabriel and Elizabeth Poole are working on a number of private houses. According to Gabriel, "our most exciting project is the development of our 'takeaway homes'. We are just about to fabricate and construct the first prototypes."
Gabriel and Elizabeth Poole are about to prove that kit homes can be attractive, affordable and innovative. The new prototypes of their exciting "takeaway homes" are destined to be a convenient and economical form of housing, something that is very close to Gabriel Poole's heart. It is fair to say, that in the past, the designs of many kit homes have been lacking in imagination, individuality and style. With the award-winning Gabriel Poole and his partner behind this project, the future of kit homes has never looked so promising.
According to the Gabriel and Elizabeth, the new prototypes of the "takeaway homes", are due to be completed by the end of 2005. Once design has been finalised, construction will take place in conjunction with a Cairns builder.
In the meantime, their eco-friendly houses for Fraser Island rangers have been completed. Leading the way in staff housing for sensitive environmental areas, Gabriel Poole's ranger houses far exceed the comfort of traditional staff housing. Although low cost, the ranger houses, commissioned by the Queensland government, have also set new standards in environmental design and have overcome a number of challenges in planning and construction.
As Fraser Island is a World Heritage area, the materials, designs and practices required a high level of sensitivity to these factors. Renowned for his innovative, affordable and energy-efficient designs, Gabriel Poole was without doubt, the right architect for the brief. With his wife Elizabeth's keen sense of the environment, and the implications of development impact, as a team they succeeded as few could.
Today, Gabriel Poole believes his work is moving "more and more towards affordable housing, which is environmentally friendly and driven by passive solar". As an example, the eco-friendly features of the ranger houses include natural cooling by cross-ventilation, wide roofs that overhang to shade the walls, solar hot water, water-wise showers and long-life lighting. In addition, the buildings use fire-resistant materials to reduce the risk of bushfire damage.
In Gabriel Poole's own words, he has "a desire to design houses for people to live in — not follow fashion but to design houses for clients' needs, to fit the site and to address the environment".
As for working in partnership, Gabriel Poole believes from his own experience, that "the generation of ideas through interaction of various minds can create exciting and valuable contributions to the profession and the population at large".
Sharing the Load — Lindsay and Kerry Clare:
Lindsay and Kerry Clare met while working as students in the office of Gabriel Poole at Mooloolaba, in Queensland. As a husband and wife team, the Clares have completed more than 100 projects.
Kerry has won 23 national and state architectural awards from the Royal Australian Institute of Architecture (RAIA), including the Robin Boyd award in 1992. In 1995, she won the award for best residential building in Australia. And, in 1996, she won the RAIA environment citation for an apartment building. Kerry has been published in 80 national and international books and periodicals, and has completed a two-year term as design director for the NSW Government Architect.
During his career, the other half of the Clares, Lindsay Clare, has also completed more than 100 projects. These range from single residences to attached housing, commercial, educational and public buildings. Since 1982, both Kerry and Lindsay Clare's work has been included in more than 100 national and international books, periodicals and publications. Exhibitions of their work have also been held in New York, Tokyo, Sydney, Melbourne, Perth, the 1991 Venice Biennale, the 1996 Milan Triennale, and the 1996 UIA Congress in Barcelona.
In 2002, Kerry and Lindsay Clare were the design directors for the winning entry for the Queensland Gallery of Modern Art International Design Competition — a $100-million project in Brisbane's cultural precinct. Lindsay Clare also has an active role in teaching and has been appointed an Adjunct Professor, Faculty of Architecture, University of Sydney, since 1998.
Lindsay and Kerry Clare's Clare Design is one of only three architect firms (Glen Murcutt and Alec Tzannes are the others) to twice win the Robin Boyd Award, Australia's most prestigious accolade for residential architecture.
Nearly a decade ago, Lindsay and Kerry Clare abandoned their small office on the Sunshine Coast to enter the turmoil of Sydney's public development politics, as contract design directors for the NSW Government Architect. They have since returned to private practice and have remained in Sydney.
Their original appointment as design directors of the New South Wales Government Architect's Office was regarded as somewhat of a risk for both Lindsay and Kerry and for the Government Architect. From this, they stood to gain experience of a wide range of public and urban projects, while the Government Architect's office would potentially benefit from two highly skilled and committed architects.
Previously, the Clares' architecture had received international recognition, yet their body of work was largely confined to private houses. Any concerns were answered with a series of well-accepted designs for projects as diverse as the Olympics School at Homebush and the redesign of the ferry terminals at Circular Quay. Overall, the contribution of their work to the Government Architect's Office was extremely well received and marks their extraordinary versatility.
As a team, the Clares work closely together and consider that they both bring different talents to the team. Yet, they are both ultimately interchangeable. One of the benefits of this collaboration is that, if need be, one of the team could pick up from the other and continue where the other left off. Speaking exclusively to Contemporary Home Design, Lindsay and Kerry Clare share their personal aspects of teamwork, what they have achieved and what they are looking forward to.
To bring us up to date with current projects, Kerry Clare elaborates: "Current work includes the Queensland Gallery of Modern Art in Brisbane, two multi-residential projects in Perth and a university project for the Sunshine Coast. We are also trying to win a project that will entail the design of some cost-effective housing specifically for the western suburbs of Sydney. This will be a challenge as the aspiration for large houses is growing. However we have to be mindful of energy consumption and the use of resources."
As a team, with shared ideals and influences dating back to their early days with Gabriel Poole and the environmental influences of south-east Queensland, the Clares' work has evolved. States Kerry: "After working for many years in a small, but growing region in south-east Queensland, we have developed an approach to design that values the environment, the identity of a region, and the social role of architecture. These elements can strengthen the character of a place rather than detract from it."
Do Lindsay and Kerry Clare believe that there are advantages in working as a team? According to Kerry, definitely. "We have always worked together. As students we worked in the same office and both studied at Queensland University of Technology. We have very strongly shared values, but we each approach a project differently. This is one of the things that we enjoy."
As contemporary architects, Kerry Clare believes that: "Although our work is clearly contemporary, we do not set out to work within any style. Our own preference is for uncluttered design that more often expresses the innate properties of materials and construction.
"However, the way our projects look and work comes from solving problems such as orientation, capturing views, working with the site, working with context in the broad sense of the word, and dealing with the problems of occupation, life, culture and all the other aspects involved."
The Clares believe their work has evolved in the past few years in the following ways: "We had worked in a small region for 25 years and gained an instinctive understanding of that place. We have now been working in Sydney for almost seven years, concentrating on urban and larger projects. We have attempted to bring our social and environmental discipline to those larger projects, and to a different place. Our first boss, Gabriel Poole, said that if you can design a house well you can design any building type. It is more about identifying what the problems are, prioritising and solving them."
As for the bigger picture, where do the Clares see the direction of their work going? Where do they see the direction of Australian architecture as a whole going?
Says Kerry: "Australian architecture has evolved greatly over the past 20 years as people understand and value what sets a place apart, rather than copying or importing ideas. New ideas can be accepted, but should always be modified by the local conditions, which makes them unique. The key is to develop authentic responses. Australians will always be a part of what's happening in the world at large. But, we think it's also important to link our building to our own culture, light, climate and landscape. That is how we approach architecture."
In terms of Australian architects, the Clares admire, it's a case of whose work they don't. The Clares appreciate the work of many, saying there are just too many to list. "There are many Australian architects we admire, some of whom may be surprised that we are interested in their work. Architecture should make a positive contribution to people's lives. Sometimes this needs to be strong and overt; other times it must sit quietly in the background."
Do the Clares believe there is such a thing as uniquely Australian architecture? As Kerry states: "Yes, but it is very complex and subtle. Sometimes we are too close to see it. However, anyone who travels for any length of time will see it and feel it on their return. There is something about the light and the landscape, along with the mix of cultures that enables us to do things differently."