Handles provide the finishing touch to your kitchen and can be integral to achieving your desired kitchen style, be it classic, modern, contemporary or coastal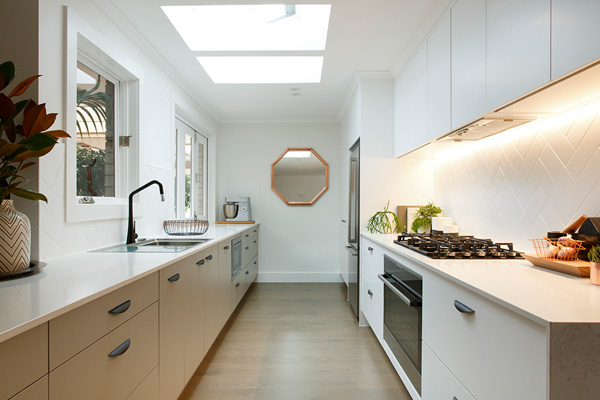 Kitchen handles come in all shapes and sizes – round, square, rectangular or integrated; and are made out of many different materials such as stainless steel, aluminium, brass, copper and wood. So, how do you choose a style and finish that works with your space?
When choosing a style and finish to works with your space the major decision you have to make is whether to go for handles or a handle-less finish. Freedom Kitchens presents a few tips to help you make that choice.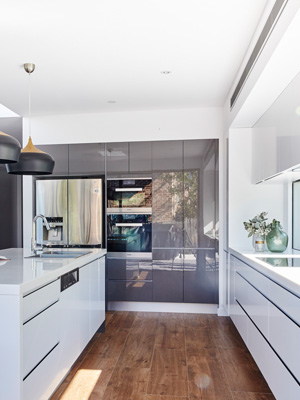 Handle-less
A sleek and streamlined handle-less kitchen is best suited for those looking for a minimalist style. Options available:
Touch catch or push-to-open for a sleek, modern look. No vvisible handle on the door creates  a completely flush design, allowing you to open your kitchen cabinets and drawers with a simple touch of your hand.
Integrated handles. Freedom Kitchen's Peak handle features integrated grooves in matching cabinetry colour on the top of the doors, whilst their Aluminium Linear handles are mounted along the top edge of the door. Flush with the front of the cabinet door, it achieves a smooth, sleek design.
With their clean 'no fuss' design aesthetic, handle-less kitchens are easy to wipe clean and the lack protruding handles can also be advantageous with small children in the home. Clever use of lighting, such as LED strip lighting, can accentuate this sleek kitchen design.
Factors to consider include the cost of handle-less options, which can be more expensive. Integrated handles also collect dust and food, and finger marks from touching doors are more prominent on touch catch/push to open options and may need a wipe down more regularly.
Handles
Handles on kitchen doors and drawers offer an opportunity to bring personality into your kitchen and are well and truly back in vogue given the huge variety now available.
Freedom Kitchens has recently extended its line of handles to features knobs to bars and finger pulls; and in a variety of materials like stainless steel, timber, copper, bronze and nickel — the choice is endless.
Naturally, there are some styles of kitchen where the handle is a defining detail – take for instance the Hamptons style or Country style kitchen. Handles are also a good choice for those who prefer to grab onto a physical handle, or because they are more economical; or because they can be changed over time.
A few practical considerations for when it comes time to make your final decision:
Mix and match – for a transitional look, you could feature handle-less touch catch doors on upper doors and elegant handles on the lower cabinetry; or opt for knobs on doors and long handles for drawers.
Think about the weight of the door when choosing handles. A wide deep drawer full of pots and pans can be heavy and difficult to pull with a single knob or open with a push catch. A long easy-to-grip handle is a good solution.
Similar common sense applies to doors on integrated appliances such as fridges and dishwashers – these are often heavier than other doors in the kitchen so make sure their handles are easy to grip to allow you to get a firm hold of the door.
Consider the finishes on the light fixtures and appliances in the space.  There's no need to match every finish, just be sure they will complement each other.
Talk to your professional kitchen designer who can help you with your decision on handles.
Freedom Kitchens offer in-home design consultations with professional kitchen designers. To book, call 1800 113 733 or visit www.freedomkitchens.com.au. For more kitchen inspiration, follow on Instagram and Pinterest.