Shape, colour and texture make this home a standout design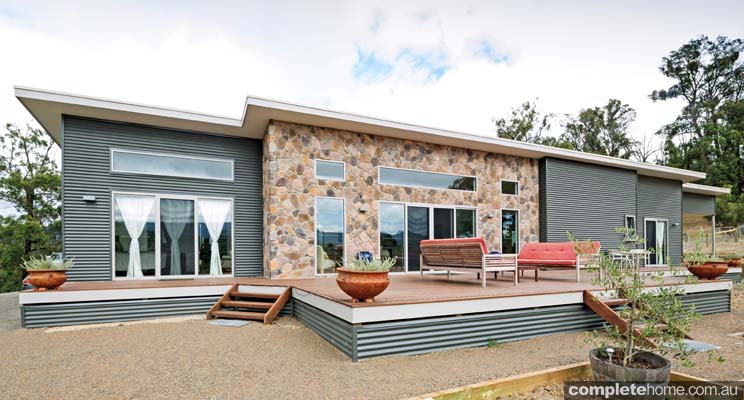 With a fresh, breezy appeal the customized Woolami by Swenrick Constructions is a testament to sophisticated design that truly speaks for itself. Featuring a blend of textures to the external cladding including Hoobler stone and corrugated ®Colorbond steel, the house facade has a unique sense of character that catches the eye.
Modern living and natural ambiance is captured by the open plan design that blends the main living areas including kitchen, dining and living room. The generosity of extra highlight windows to these areas allow plenty of natural light and the occupants the visual pleasure of the surrounding landscapes. A stunning wood fire place and hearth with Hoobler Stone feature chimney sits as the focal point of the space for a homely feel.
The contemporary kitchen is a cook's delight featuring a customised walk in pantry and wine storage area. Feeding out via bi-parting doors from the inside living area flows an expansive rear deck area creating the ideal space for outdoor entertaining.
The customised Woolami can extend from 109.04m² depending on your requirements. Typically, the home includes three bedrooms with parents' retreat off the master bedroom, full ensuite and bathroom, built in robes and large linen closet, custom designed wine storage room, butler's pantry, dining and large kitchen, carport and substantial deck area.
Raked ceilings are featured in the master bedroom, living areas and kitchen adding an airy feel to the home. Polished Victorian Ash flooring lines the dinning, kitchen, pantry and wine storage areas and keeps the colour palette neutral allowing home owners to add their own splash of colour as they desire.
Pricing starts at $71,240 for the Woolami 1, from building to lock up stage. Included in the price are the frame, stumps, sub-floor framing, flooring and walls set in position. All external cladding and external hardware, external doors and windows are fitted so the home is lock-up ready for completion by Owner Builder.
Swenrick Constructions is a company dedicated to creating quality homes that are all about you. With over 40 years of experience in the industry and a range of home designs available, you can rest assured that by choosing to work with Swenrick Constructions your new home will be your dream home.
For more information
Swenrick Constructions
Address: Unit 7/4 Royan Place, Bayswater North Vic 3153
Phone: 03 8761 6610
Open Monday-Friday 9am to 5pm.
Email: sales@swenrick.com.au
Website: www.swenrick.com.au
Display Homes:
7 Buxton-Marysville Road, Buxton Vic 3711
Phone: 03 5774 7066
Fax: 03 5774 7582
Display Village open Monday to Friday 9am to 5pm, Saturday and Sunday and on most public holidays 12pm to 5pm.
Originally from BuildHome Victoria magazine, Volume 46