Designer and sustainability expert Ian Cleland shares his thoughts on various methods of saving water at home.
1.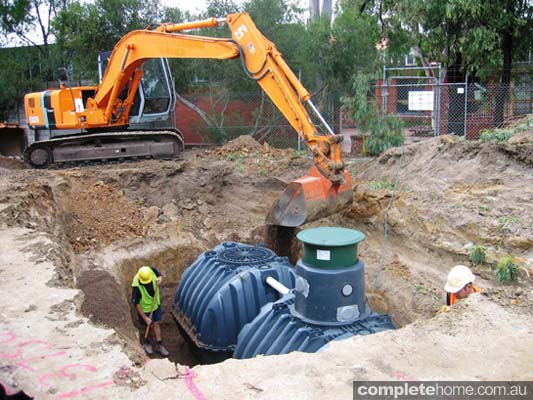 2.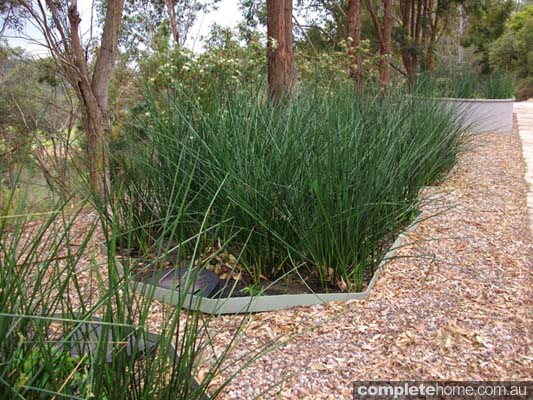 3.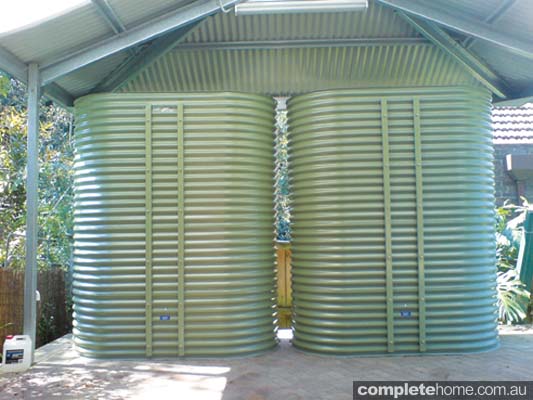 The human body is about two-thirds water, the brain itself up to 85 per cent water. So H2O is indeed a necessity for staying alive.
In Australia, water consumption per capita has been falling; it's currently at 920 kilolitres per capita per year. This figure is for all consumption, including agriculture, industry and individuals. At an individual level in Australia, it varies state to state from 170 litres to 200 litres per day.
In Australia, we see it as a right to have clean water. Yet 884 million people globally don't have clean water to drink and 99 per cent of deaths worldwide are due to water-borne diseases.
To many of us who live in the city, having access to clean water is something we take for granted. If you live in a rural area, though, you will have a greater appreciation of the scarcity of water if you have to provide your own catchment and storage for your water needs.
Until recently, it was illegal to have storage for your own water supply in the city and even now it's deemed not appropriate for drinking water. This seems strange, given that all those rural people are dependent on tank water for all their needs, including drinking water.
Then there's the issue of recycling waste water. Generally, this is carried out by centralised sewerage treatment plants that clean the water to a point where it can be delivered back into a river system or an ocean outfall.
For most of us, then, the processes of supplying clean water and disposing of waste water are not our responsibility. It's a case of out of sight, out of mind.
The other side of the equation
As mentioned, many rural people have to provide their own solutions for capture and storage of clean water and disposal/recycling of waste water.
The situation is now starting to change in our cities, however, as people want to secure some of their own water supply, be it by capturing rain from the roofs of their homes or, to a lesser extent, by recycling grey water, which is generally all waste water except that from toilets — known as black water.
Black water is disposed of into the centrally controlled sewerage system, or into an on-site sewerage system where connections to a centrally controlled system are not available.
So what are our options for water storage and ways to recycle grey water in our own backyards?
Water capture
If we are to supply clean, safe water to our own homes we must be able to remove the pollutants deposited on our roofs that come down with the first rains that fall. Most of these pollutants, such as dirt build-up and leaf litter, can be removed by a first-flush device. This has to be supplemented with further filtration on entry to the tank to stop leaf litter and small animals being washed live or dead into the water tank. As a final precaution, you could provide an additional filter on the outlet if the water is going to be used for drinking.
Personally, I would rather not go down the path of adding chemicals to water. Even though it is an option, it requires somebody who is qualified to maintain the system. Even then, the quality of the water must be checked on a regular basis for peace of mind.
There are numerous storage systems that vary in size and types of material used in their construction. You also need to consider whether your storage tank will be located above or below ground.
In cities, because of restrictions on block sizes, there may be limitations on how much water you can store. If you are building a new home or adding an extension, you could use the space under your slab for a modular storage tank. These can be used for water capture and recycled storm or grey water.
Water recycling
One thing we can all do before we start determining whether we should recycle water is look at ways to conserve water, whether by installing devices that reduce water pressure, choosing appliances and fittings that are more water-efficient, taking shorter showers or creating water-wise landscaping and growing drought-tolerant plants.
As a rule, water utilities won't approve the recycling of black water, so grey water from bathrooms, laundries and kitchens will be all that can be recycled. When recycling grey water, you will also need to consider the solvents and detergents you use and be careful not to flush into the system any fats, oils, paints, bleach or other inorganic materials, as they will affect the processing of the grey water.
If you would like to create a water feature that also treats your grey water, you can construct a reed bed. This will do the job of a natural wetland and should work very successfully. A reed bed can be designed and sized to suit the inflow from the grey-water system. Like swimming pools, these systems can be maintained by an external contractor.
A safe, reliable water source, whether supplied or recycled, is important in all our lives. Water is a scarce resource in a country such as Australia — the driest inhabited continent on Earth.
Images:
1. GRAF underground water tank. Standard sized are 2500 litres to 6500 litres — distributed in Australia by Reece Plumbing, reece.com.au
2. Reed bed newly installed for a single household blackwater system at Bullaburra Blue Mountains by Root Zone Australia, rootzone.com.au
3. Coast & Country Tanks 3000-litre in Colorbond Pale Eucalypt, coastandcountrywatertanks.com.au
By Ian Cleland
From Grand Designs Australia magazine Vol. 2 No. 2