Fun and functionality is the focus of this home design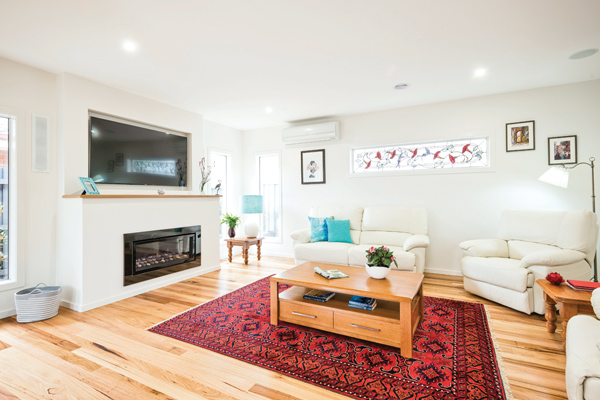 This stunning new unit by Q&J Constructions is sure to exceed the expectations of any family, empty nester or single person. First impressions are extremely impressive, with the balanced combination of materials and angles creating an interesting front facade. A modern door and a simple but eye-catching garden complement the entrance space.
The 260sqm home has two bathrooms, three bedrooms and an enviable open floorplan that creates a spacious living environment. In the expansive living area, different textures and materials combine to give warmth to the modern space. A fireplace serves as the focal point and helps keep the spacious room heated in the cooler months.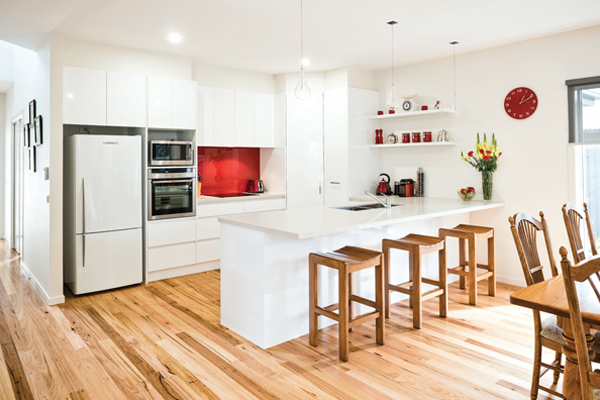 The kitchen is more than attractive, with state-of-the-art appliances, maximum storage space and a breakfast bench and bar stools. A red splashback adds a pop of colour to the otherwise neutral tones while the pendant lights over the breakfast bench make preparing meals a breeze.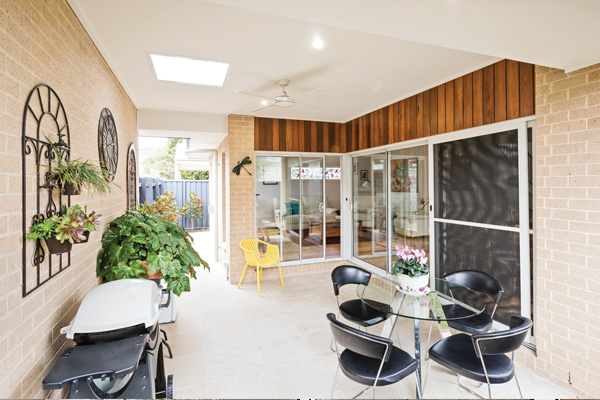 Sliding doors in the beautiful living room open out to the entertaining area. With its tiled floor and striking but low-maintenance landscaping, it's no surprise this outdoor space is a feature of the home.
Glossy tiles and elegant styling imbue the bathrooms with a feeling of luxury and the cosy bedrooms are carpeted and filled with light from the large windows. Timber furnishings in the bedrooms also lend a natural and warm feel to the rooms' contemporary design.
Q&J Constructions oversaw the entire project, from completing the town planning and subdivision to ensuring the sleek and polished finish. There was also strong communication between the client, designer and builders. "Jason was extremely helpful and positive and arranged for me to meet Keith, the architect/draftsman," says proud owner Ann Russell. "I moved into my new home in March 2015 and am absolutely delighted with the end product."
Specialising in unit developments, new-home extensions and renovations, Q&J Constructions can help with the town planning and subdivision permits for your developments. With a stress-free approach, the team are committed to providing high-quality homes at affordable prices.
The people at Q&J Constructions are known for their impeccable customer service and involve their clients in every step of the process to ensure overall satisfaction is guaranteed. "We promise to work with you and your family to ensure that the beautifying of your home is a simple, enjoyable, stress-free experience," says owner Jason Smith.
For a trustworthy building experience that will deliver a liveable, functional and visually appealing house, Q&J Constructions is the ideal builder
For more information
Q & J Constructions Pty Ltd
Address: PO Box 1030 Mornington 3931
Exhibition Address: 21 Eulinga Ave, Aspendale
Phone: 0411 602 257
Email: jason@qjconstructions.com.au
Website: qjconstructions.com.au
Originally published in Build Home Victoria, Volume 47