These heating, lighting and ventilation systems will ensure that your bathroom is comfortable and energy-efficient
Combining functionality, sleek aesthetics and great energy efficiency, the IXL Tastic Neo Collection lets you create your perfect bathroom experience.
An iconic Australian brand, IXL has a proud history of manufacturing superior ventilation, heat and lighting systems — and its Tastic Neo collection is no exception. Combining the very best in energy efficiency with striking good looks, IXL Tastic Neo offers high-performing three-in-one units and individual modules for the bathroom and beyond.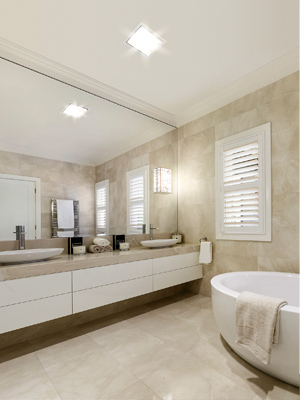 Tastic Neo Units
Heat, ventilation and light come together in one elegant, flush-mounted steel and glass unit. IXL's advanced Ventair In-line Exhaust technology ensures quiet operation and exceptional performance, making it one of the most powerful in-line bathroom fans for Australian homes.
The units incorporate three seven-watt mercury-free LED light globes for a cool, neutral and true-to-colour light source. As it uses 30–50 per cent less energy than a comparable CFL and 80–90 per cent less energy than a comparable halogen light, the Tastic Neo ensures lower energy consumption and a long lifespan of around 25,000–30,000 hours per globe.
Available in a sleek silver or white finish, the unit features cutting-edge technology to expel humid air and steam before it has a chance to condense. This means there's less chance of mould, mildew and the build-up of stale air.
Tastic Neo Modules
Neo modules let you customise your own bathroom environment. Ventilation, heating or lighting components are available as stand-alone solutions or can be coordinated with existing IXL Neo single or dual units to provide the perfect level of comfort.
Add extra task lighting above a vanity, more ventilation above a shower, or warm up a large, open-plan bathroom with heating modules.The choice is yours!
For more information
The Tastic Neo range is designed and manufactured in Australia by Sampford IXL
Website: ixlappliances.com.au
Phone: 1300 727 421
Originally from Kitchens & Bathrooms Quarterly, Volume 22, No. 4