Discover the best an acreage home has to offer and how it can bring your dream to life
Acreage Home Designs
If you aspire to live amongst a classic country setting of rolling hills or sweeping, picturesque vistas stretching across a coastal landscape, you will love exploring the Country Living Collection by McDonald Jones.
The Country Living Collection is an extensive range of thoughtfully designed and beautifully considered acreage homes which offer the ultimate in family living through spacious, flexible, and stylish architectural designs.
Great acreage designs add an unquestionable luxury to the single-storey lifestyle with an abundance of space, flawless practicality, and flexibility for modern day living.
Acreage Floor Plans
After almost two decades of building grand acreage homes, the McDonald Jones architects have continued to redefine acreage design with a commitment to creating new and innovative acreage floor plans which complement the existing designs within their Country Living Collection.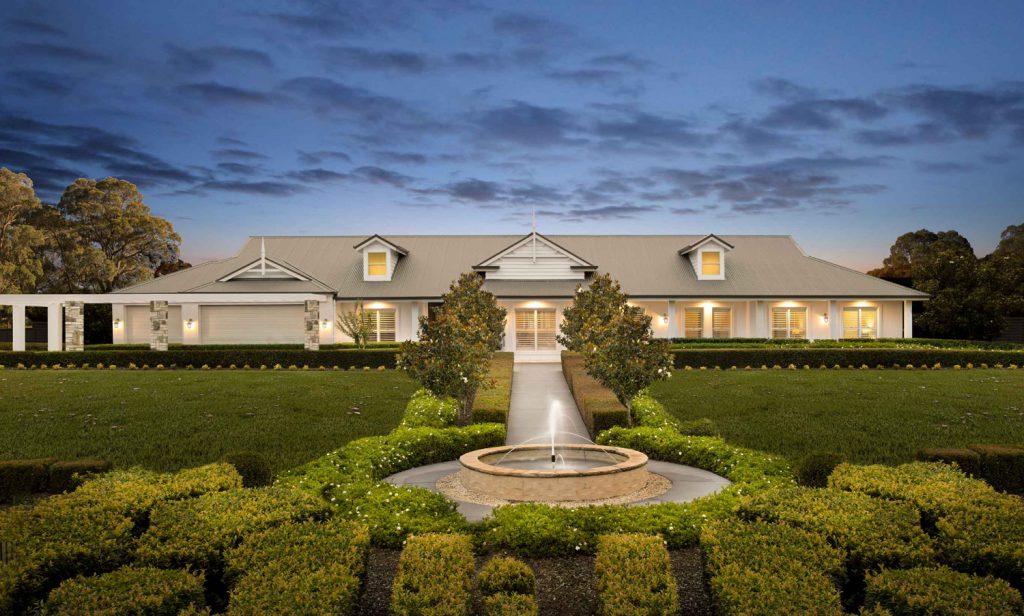 Let's take a look at newest designs within the Country Living Collection;
The Cumbria floor plan is perfect for smaller, modern acreage blocks. It features all the elements loved in a country style home like separate sleeping wings with a central living and entertaining space with an expansive use of glass throughout. This allows you to appreciate your location from any room of this exceptional home design. Explore the Cumbria design here
The Montrose is the epitome of aspirational acreage home design where elements of the three most loved McDonald Jones Country Living designs have been fused to create this brand new acreage floor plan. Elements from the Bronte, Hermitage and Tuscany designs are incorporated to deliver the ultimate acreage retreat, complete with an exquisite master suite, magnificent flowing central living and entertaining space and considered children or guest zone. Discover this design here.
Explore the Country Living Collection from the comfort of your home with the McDonald Jones digital brochure or visit a display home to pick up the printed version of this beautiful brochure.
Luxury Acreage Homes (display locations)
There is nothing like the sense of space, grandeur and freedom that you feel walking through a beautiful acreage home and McDonald Jones' award-winning display homes have set the bar for luxury and inspirational show homes for over a decade.
If you are thinking about building an acreage home, you have several display homes to visit to get a well-rounded sense of design and impeccable styling.
The beautiful Bronte at Lochinvar has been a favourite in the Hunter for the past decade and was re-furbished from a classic country home to a beautiful coastal acreage home, demonstrating that great design never goes out of style.
The Hermitage at HomeWorld Thornton has also enjoyed a transformation into a classic luxe styled home with rich and opulent textures and finishes used to amplify the luxury and abundance offered throughout this design.
Anchorage at The Bower in Medowie won HIA Hunter's Display Home of the Year in 2020 and it's easy to see why. The tranquil coastal styling combined with the impeccable design has inspired many to build.
The Bronte at Braemar, near Mittagong, is a much-loved classic country styled home where the beauty of the country setting is complemented by the space and styling of this home.
We know you will adore visiting McDonald Jones beautiful displays, so find your local acreage display home here: McDonald Jones Display Homes.