Merging simplicity with modernity, this contemporary pool by Elite Pools uses a sleek design to create a dynamic focal point for this Victorian backyard.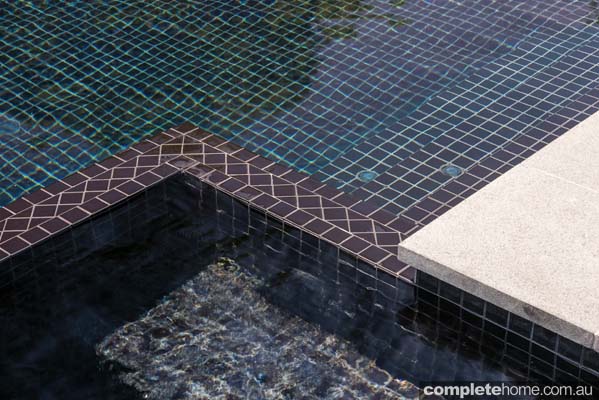 Elite Pools created the perfect complement to an already existing outdoor entertainment area with the design of this integrated pool and spa. Encompassing much of the length of this grassy Victorian backyard, the design combines modernity and simplicity to create an effective feature area.
The homeowners sought to create a sympathetic blending of their new extension to the grand old Victorian house with the landscape design. Taking the symmetry of the house into consideration when creating the shape and design of this outdoor pool, Elite Pools worked with the team at Robert Boden Design to create this stunning pool.
Mirroring the sleek black and white architecture at the back of the home, the black tiled pool creates a dynamic focal point for this backyard. At night the in-pool LED lights reflect spectacularly against the tiled sides and base, lighting up the length of the backyard and creating interest for guests enjoying the alfresco dining area.
For practicality this design includes a PCC2000 in-floor cleaning system, salt chlorination, solar heating and cartridge filtration system – features which contribute to the designs low maintenance, economic and environmental efficiency. The inclusion of Hurlcon Viron gas pool heater and in house controller system and variable speed pumps ensure a pool environment which can be controlled and customised to suit the homeowners.
From the time of initial consultation, the Elite Pools team uses the process of working backwards from the client's final vision to ensure all aspects of their dream design are covered.
Elite Pools – an award winning pool construction company founded by Laurie Jacobson and Paul Wilken – has been creating spectacular and innovative pools for clients for over 25 years. Specialising in in-ground concrete fully tiled pools and spas, Jacobson and Wilken have over 40 years combined experience and guarantee construction perfection, quality and excellence in design. Elite Pools was awarded the 2012 Gold Best Traditional Styled Pool award, as well as being the recipient of many other Gold and Silver National and State awards throughout its lifespan.
Pool built by Elite Pools 1/2 Evandale Road, Malvern Vic 3144
Phone (03) 9500 2511
Email laurie@elitepools.com.au, paul@elitepools.com.au
Website elitepools.com.au
Originally from Poolside magazine 41