Following the brief of a no-fuss, traditional backyard swimming pool, Dolphin Pools used a light palette and simple design to create a pool that beautifully complements its surroundings.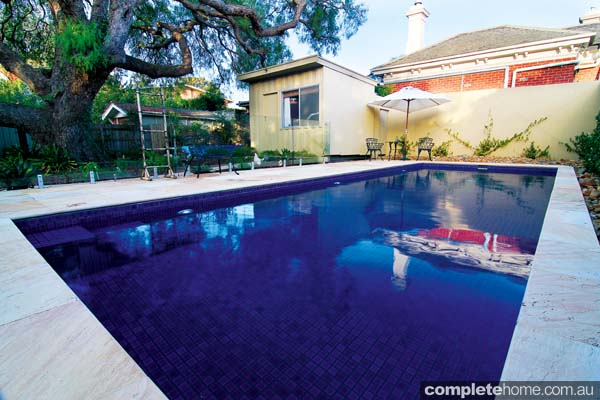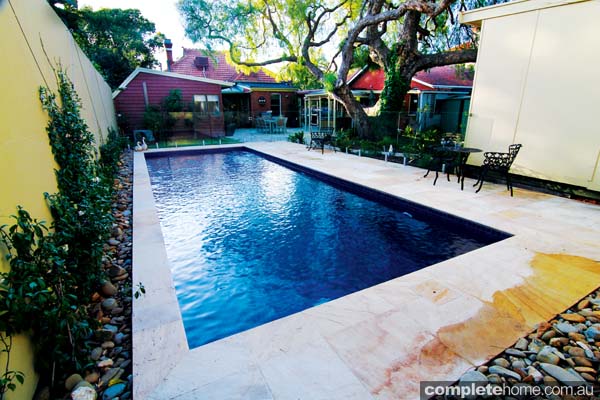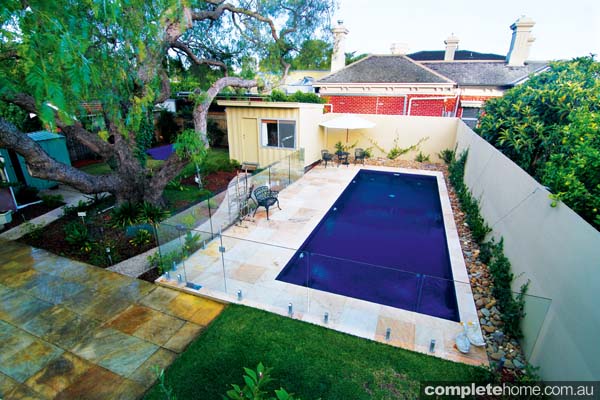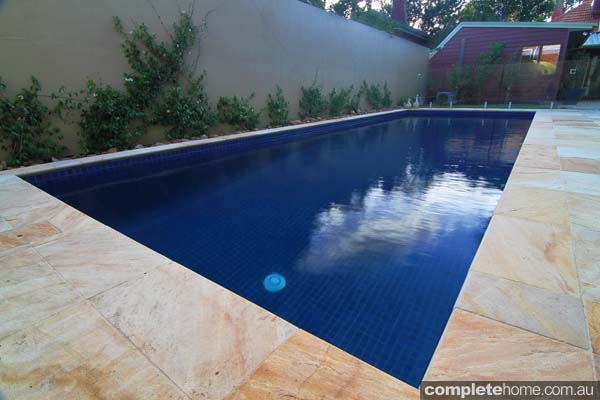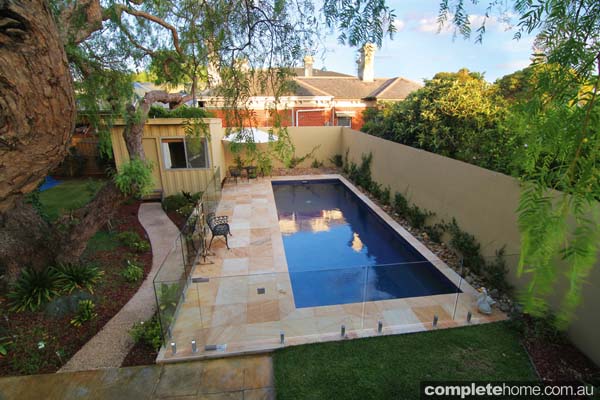 The objective of this simple design was to utilise and enhance the 150 year old tree stretching its branches over this property.
The pool owners envisioned a no-fuss, traditional backyard swimming pool. With help from the team at Dolphin Pools, not only was their dream pool realised, but the planning phase was a breeze.
Dolphin Pools stepped up to take full control of the design so the owners were left with just the important decisions to make. This ensured the entire process was enjoyable and the final inground pool perfectly suited their needs.
Settled under the shade of the ancient tree, the pool is the perfect setting to keep cool and relax in the shade on a scorching summer day.
The mixed palette of light sandstone pavers and blue tiles gives the whole area a casual atmosphere, while adding a touch of brightness that perfectly complements the shaded grounds.
The surrounding lush grass, scattered greenery and climbing vines make the pool a natural fit for this backyard.
This fully tiled pool is a dream to maintain, with a Maytronics M3 robot cleaner to assist in keeping the water pristine and free from foliage.
For over 35 years, Dolphin Pools has been designing, constructing and maintaining pools all over Victoria. With a reputation for attention to detail and commitment to quality, Dolphin Pools strives to be the best at what it does.
As a family business, Dolphin Pools understands that although its clients are busy, they want to spend time finding the right pool. The team works closely with their clients to ascertain their needs, before taking control and simplifying the process.
Bringing pride, integrity and customer service to every pool it builds, Dolphin Pools is recognised as one of Australia's most highly respected swimming pool companies.
Dolphin Pools builds 25-40 quality concrete pools each year and is a proud member of SPASA and HIA.
Fact Sheet
Designed and built by Dolphin Pools
94 Canterbury Road
Camberwell East Vic 3124
877 Nepean Highway
Moorabbin Vic 3189
P: 03 9830 5744
P: 03 9577 0399
F: 03 9580 2619
E: info@dolphinpools.com.au
W: www.dolphinpools.com.au
From Poolside magazine 41