Classic and contemporary combine in this eye-catching design by Elite Pools.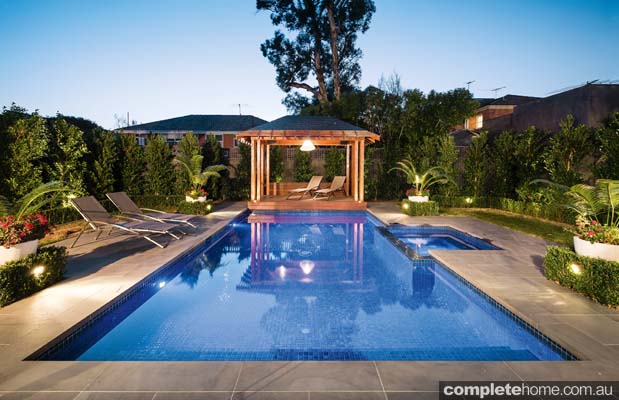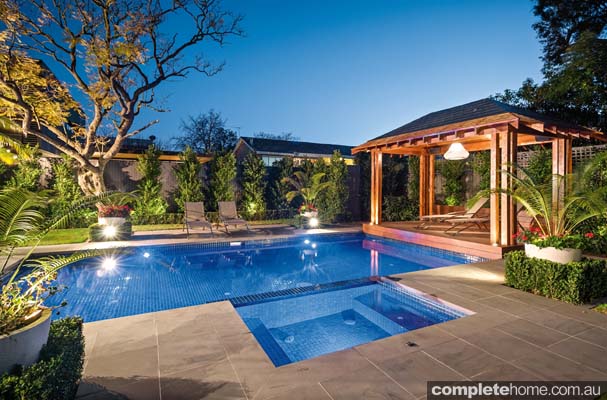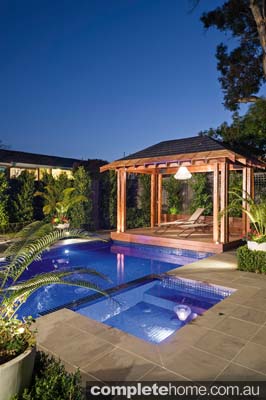 This hybrid design combining classic and contemporary is simple and brings a great versatility to the surrounding garden while blending in seamlessly with the aesthetic of the house. "Within this project we had to reflect the classic theming of the house," says Laurie Jacobson of Elite Pools. The final result is a pool and outdoor area that encapsulates the traditional style of the property, while seeming new and contemporary at the same time.
Boasting a long list of special features, including the PCC2000 in-floor cleaning system, a stunning pagoda and ample lighting, the pool can be enjoyed day and night. When discussing the design of their pool, the owners requested a family-friendly pool and spa area, suitable for both adults to entertain in and teenagers to enjoy. The design by David Franklin incorporates a pool and a spa in one uniform design.
From this end vision, the Elite Pools team worked backwards throughout the project to ensure they achieved the look of the finished product. With its blue ceramic tiles highlighted by the spa's electric LED lighting, the pool makes for an exquisite sight all hours of the day.
Elite Pools was founded by Laurie Jacobson and Paul Wilken, who share 40 years of combined experience. Building in-ground concrete fully tiled pools and spas is their speciality, and the team works on approximately 60 projects a year in the metropolitan and peninsula area. Among the team's many awards is the 2012 SPASA Gold Award for Best Traditional Pool.
At a glance
Pool design: David Franklin
Cleaning system: PCC2000 in-floor cleaning system
Pump: Hurlcon Viron variable speed pump
Chlorination: Hurlcon VX9T salt chlorinator
Heating: Solar heating and Hurlcon Viron gas heating
Lighting: Spa Electrics LED lighting
Tiles: Blue ceramic tiles
Coping: Bluestone
For more information
Elite Pools Vic
Phone 03 9500 2511
Mobile Laurie 0418 340 104, Paul 0418 356 569
Email laurie@elitepools.com.au, paul@elitepools.com.au
Website elitepools.com.au
Originally from Poolside magazine, Volume 43