This project by Elite Pools makes a tight squeeze look easy, with a small backyard transformed by a stunning streamlined pool and Swimple tiles used to maximum effect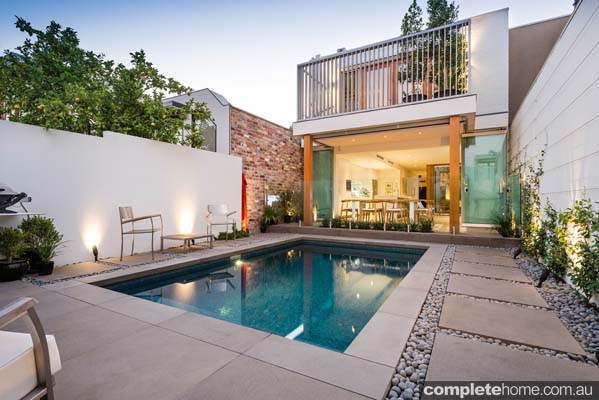 This home literally spills outside into the confined outdoor space that has been transformed into a place of paradise by the Elite Pools team. Complete with a glass-fenced outdoor eating area, this backyard is centred around the stunning swimming pool, with just enough room to relax by the water. The gorgeous surrounding landscape and bordering pebbles bring life to the backyard, complementing the solar-heated pool and keeping it as the focal point of the backyard.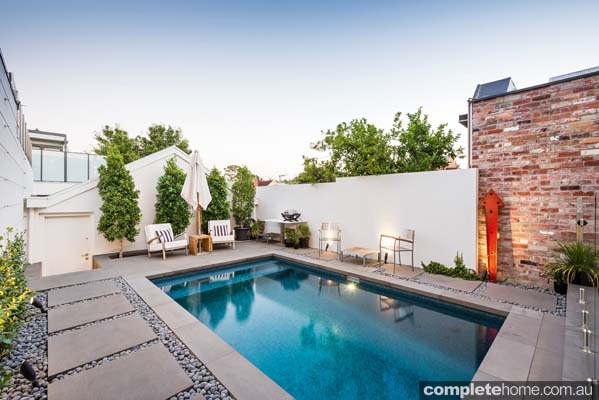 The owners wanted the benefits of a swimming pool despite the limited space available in their inner-city home. They asked Elite Pools for a neat, streamlined pool, as well as advice on the paving and surrounding landscape to make the most of the small area.
The rectangular pool design boasts a PCC2000 in-floor cleaning system, Hurlcon Viron variable speed pump and Hurlcon VX7T salt chlorinator for easy pool maintenance. Spa Electrics LED lighting illuminates the beautiful Swimple Blue Green glass tiles and bluestone coping in the evening, making the pool a glowing treasure in the humble backyard at night.
The courtyard pool emulates contemporary, classic design to seamlessly blend with the house aesthetic. The team at Elite Pools ensured they reflected the modern styling of the house by keeping the design simple and streamlined. The pool has complemented and added an extra element of class to the feel of the inner-city home.
With more than 45 years of combined experience, Laurie Jacobson and Paul Wilken of Elite Pools have been operating for over 25 years. The company builds around 60 swimming pools a year in Melbourne and on the Mornington Peninsula.
The duo specialise in in-ground concrete, fully tiled pools and spas. As a member of SPASA, Elite Pools has won numerous state and national awards over the years and prides itself on reflecting style, innovation and versatility.
At a glance
Heating Solar heating
Filtration Hurlcon Viron variable speed pump
Cleaning PCC2000 in-floor cleaning system and Hurlcon VX7T salt chlorinator
Tiles Swimple tiles in Blue Green glass
Coping Bluestone coping
Lighting Spa Electrics LED lighting
Fact sheet
Elite Pools 1/2 Evandale Road, Malvern Vic 3144
Phone 03 9500 2511
Mobile Laurie 0418 340 104, Paul 0418 356 569
Email laurie@elitepools.com.au, paul@elitepools.com.au
Website elitepools.com.au
Originally from Poolside magazine, Volume 44