A stunning backyard escape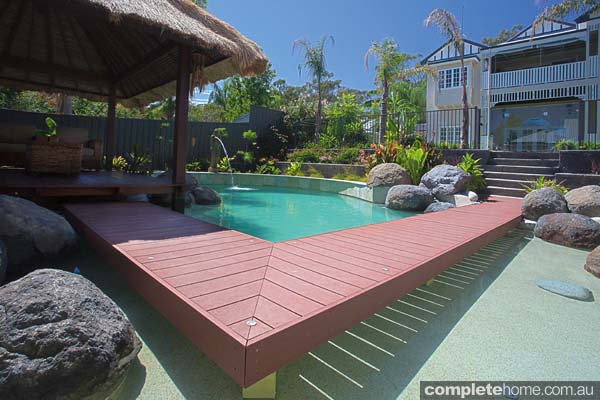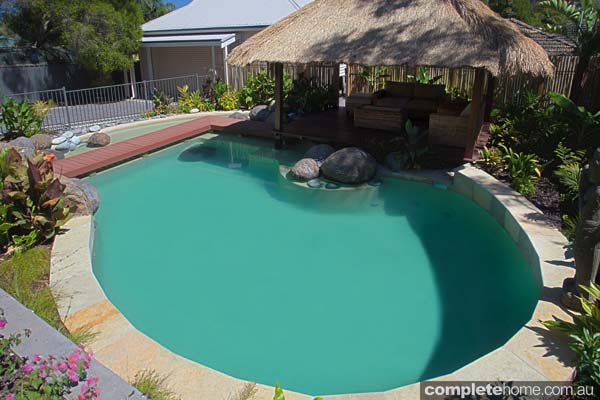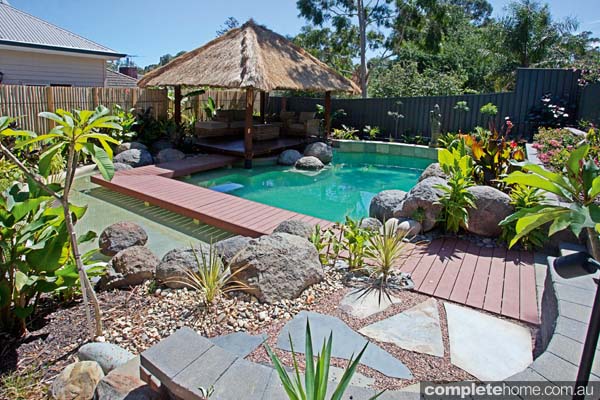 Imagine stepping through the back door of your house to unwind by your very own Balinese resort-style pool and landscape. This design by Anthony Polkinghorne of Quantum Pools, in conjunction with Craig Hannam of Piccadilly Landscapes, is a design reminiscent of a holiday in paradise.
A path leads out from the house to the beautifully decked bridge, dividing the backyard space into a beach and main pool area, and finishes at the Balinese hut. Positioned over the pool, the hut allows you to sit and dangle your feet over the clear pool water, while shallow seats let you swim up and step directly into the hut.
To ensure the pool has a natural look, several granite boulders from Just Rocks are positioned around the pool space. A Balinese statue sits at one end of the pool as a tranquil water feature. Serene shades of aqua are created from the mix of gold, black and white sea pebbles that adorn the internal surface, giving the pool an almost lagoon-like appearance and making it a visual gem in the backyard space.
The owners of this pool see their home as a personal sanctuary. Initially unsure of what they wanted their pool design to look like, a TV commercial sparked inspiration one evening. Soon after, they saw an ad from Quantum pools and knew immediately this was the company they wanted to work with.
With more than 18 years of experience and 27 professional awards, it's no wonder Quantum Pools is capable of such brilliant design and expert craftsmanship. Run by owners Anthony and Maxine Polkinghorne, Quantum Pools takes pride in delivering high-quality custom building and renovations, striving to ensure all clientele gush with excitement over the company's final result.
Project details:
Landscaping: Piccadilly Landscapes
Heating: Zodiac Powerforce 35 electric heat pump
Cleaning systems: Maytronics Dolphin M5 robotic pool cleaner
Filtration: Magnapool
Coping: Natural granite boulders and Harvest Gold limestone
Internal surface: 1mm to 3mm round sea pebbles
Lighting: Davey PAL Colour Touch multi-coloured LED
Decking: Eco timber
Originally from Poolside Volume 43