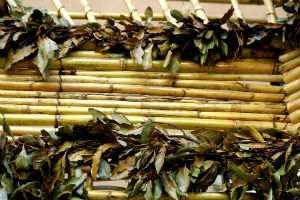 Now you can enjoy the timeless beauty of a relaxed tropical setting
Natural, unique and beautiful … this is how Bamboo Habitat describes its quality range of resort-style landscaping and garden decor products.
As an importer, wholesaler and retailer, Bamboo Habitat is able to provide an extensive product range encompassing bamboo and reed screening, tropical-style gazebos and shade structures as well as hand-carved stone garden decor. And by sourcing unique products and offering superlative service, they are able to help homeowners create timeless tropical settings that will be enjoyed for years to come.
Their range of bamboo and reed screening is particularly impressive. Eco-friendly, easy to use and cost effective, these screening products can be used to create instant tropical appeal. Suitable for use as fence cladding, wall cladding or as an architectural feature, bamboo is ideal for private outdoor living spaces; bar, pool and spa surrounds; balconies and verandahs; overhead shade screens; wind shelters; concealing rubbish bins and air conditioning units; or commercial landscapes and interiors.
Aimed at professional landscapers and homeowners alike, all screens are strung with either galvanised or stainless steel wire to ensure longevity and good looks.
New to the Bamboo Habitat collection is a stylish shade structure which combines natural and man-made materials. The perfect addition to any tropical garden, it can be erected by the landscape gardener or DIY handyperson. The timber frame of the shade structure is made of sturdy merbau but customers have a choice of roofing. One option is a bamboo-lined ceiling beneath a weatherproof mini orb steel roof.
Or if you're in the market for a tropical-style Indonesian gazebo or a natural stone garden feature, why not ask Bamboo Habitat about the many quality options available.
Bamboo Habitat
Shop 5, 1260 Princes Highway,
Engadine NSW 2233
Tel: (02) 9548 5097
Fax: (02) 9548 5092
Email: baliandbeyond@bigpond.com
Website: www.bamboohabitat.com.au