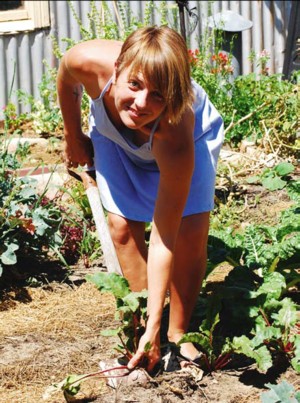 A tour of Jess Ledger's garden showcases how the passionate, vivacious young woman had her mind set on making a positive difference to her lifestyle
Jess Ledger is not your typical Aussie gardener. For starters, she's a young uni student and a renter. All too often the excuse for not creating a garden is it's too hard for renters, but not for Jess. Drive, passion and the belief that something can be created out of nothing started her on the wonderful journey of growing her own food and she's loving it. Growing up in the iconic West Australian town of Margaret River had given Jess a real understanding of rural life and, after finishing school, she wanted to discover what the world had to offer. After travelling and working her way around the world, she returned home with a renewed passion to make a difference to her surroundings and decided to go back to uni to study landscape architecture as her next challenge.
She now has her feet firmly planted in Fremantle, Western Australia, while studying at the University of Western Australia. She has created her first backyard vegie garden in just nine months, beginning with dry, barren soil that was covered with wild oats and weeds. "I always wanted to give gardening a go and when I saw this backyard it was like it was made for me," Jess says. In the 1950s, Italian immigrants settled in Fremantle in large numbers, bringing with them their customs and food. Every backyard was full of exotic fruiting plants. There were few ornamental flower gardens as any growing space was dedicated to edible plants. This was a concept that was foreign to the locals.
When Jess and her housemates moved into their rented property that was once home to an Italian family it came complete with painted woodgrain finish in the hallway and jars of seeds in the shed. These had been lovingly collected in a past era, labelled in Italian and were still waiting for next season. Sadly, next season's planting never happened — until now. The backyard was split into two distinct areas. On the left, dominating the garden, is an Aussie icon — the Hills Hoist — surrounded by concrete slabs of varying sizes. There was no area for ornamental gardens and the only surviving plant was a lone grapevine trailing over the back fence, fruiting faithfully every year with or without any care. On the right is the area where Jess has spent her spare time. What was once a productive vegie garden, the pride and joy of some long-gone Italian family, had been left to grow a good crop of weeds and became a dumping ground for soil and rubbish over the past few years.
On top of all that, Western Australia's sandy soils are renowned for being some of the least fertile in the world, so this garden needed the addition of sheep manure and lucerne hay as a mulch to kick-start it for growing food. Now, there are compost piles in all corners and nothing goes to waste. An enclosed bin takes the kitchen scraps and a makeshift open frame holds the weeds and spent crops that are breaking down into compost. In the garden is what Jess thinks may be a concrete soak well, which she has filled with weeds and the remnants of the broccoli crop, now composting.
"I am surprised at how little I had to put into the soil to get the garden started," Jess says. "I couldn't help myself — I had to start planting something in the beginning, probably before I really should have. I think the years of this area being cultivated previously has helped me," she admits. "When I first started pulling the weeds out, the soil was dry and so dusty I was wondering if anything was ever going to grow. But it's amazing what has happened in such a short time." Jess's love of gardening developed early. A huge smile appears when she recalls her very first plant. She remembers crawling around in the dirt when she was about 10 and finding a small canna under some other shrubs. She kept going back to the same area, checking on the little plant. The family was about to move, so her nanna helped her repot it so she could take it with her.
Last year, Jess studied horticulture parttime at Margaret River TAFE while waiting to start her uni course. This gave her the confidence to know a few plant names and understand a little about soils and what plants need for growing well. "I love the idea of being self-sustainable and cooking complete meals from the garden," she enthuses. "This is my first attempt at having my own vegie garden. My lunches for uni have been made up entirely from produce I have picked out of this garden. "We have a house bank account that we all put money into every week," says Jess. "The leftover after the essential bills have been paid pays for whatever I need for the garden."
Jess has had fantastic success with cherry tomatoes. The original plant was put in a warm, sunny position so it would survive the winter and it's still fruiting six months later. Self-seeded plants are now being transplanted all through the garden and into a few pots. All the props and frames have been collected from the side of the road from verge pick-ups. Jess has the uncanny knack of turning someone else's trash into her treasure. She found the rocks and bricks for the pathways out the back behind the garden shed. When she moved in, the garden shed was full of timber, stakes and tools, which have all been put to good use.
Jess started off planting in beautiful, straight rows but has decided to mix up the plantings to confuse the bugs and fill in the gaps as a crop is harvested. In winter, about one-third of the garden was shaded by the house and she discovered that potatoes don't really like growing in shade. She waited until this part of the garden was in full sun, replanted it and is now enjoying a productive potato patch. In Jess's garden, chemical spraying is not an option and pest control consists of hand-picking the snails off the plants and hurling them over the fence into the back laneway. She stomps on the odd caterpillar when she can pluck up the courage. "I have no desire to demolish the pests," she says. "I have had a few small caterpillars, but that's OK. I know the cabbage white butterflies are hanging around but I leave the broccoli in the garden and allow it to flower for the bees.
There is a huge shortage of bees in urban areas and I feel I am doing my bit to help build up the population." The garden is watered completely by hand and only when it needs it. This task is shared by all the flatmates. If the success of Jess's first year at UWA is anything to go by (she was recently named one of three finalists in an International Year of Biodiversity competition), the future of her vegetable gardening is assured.
Jess's Tips
Select an area in the garden that receives full sun in winter.
The plants will grow much better in a sunny position.
Observe what is happening in the garden.
Rather than spray, pick pests off and squash them.
Allow a few plants to flower in your garden.
This attracts bees, which will pollinate the other crops.