Extend your home with a pool cabana, granny flat or outdoor room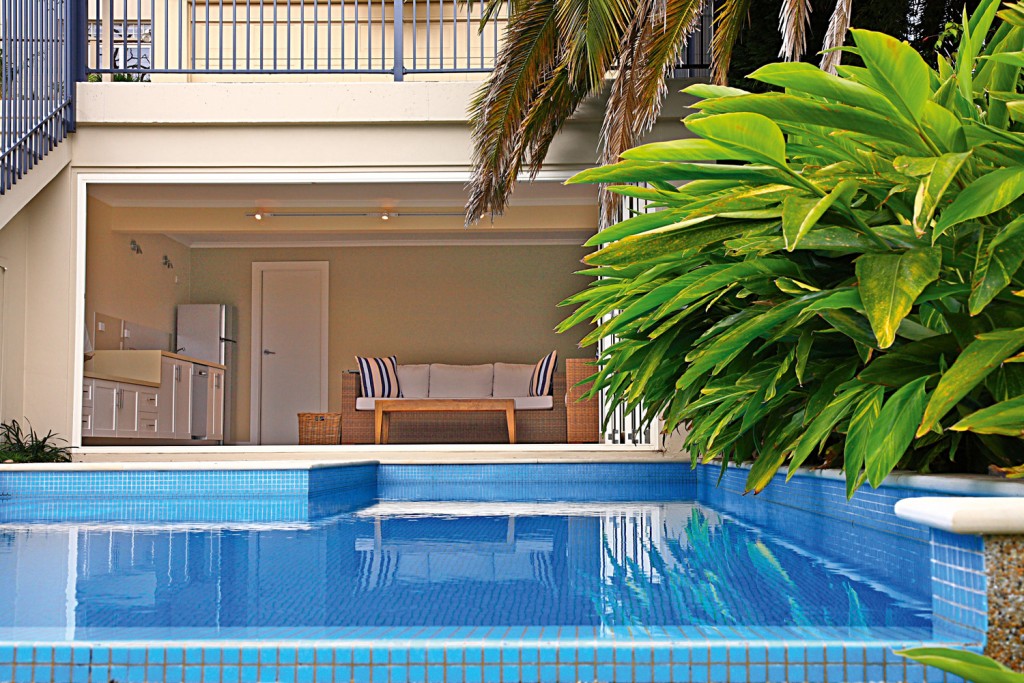 "For many years we have been asked to design and integrate cabanas, granny flats and outdoor rooms with swimming pools for our clients' properties," says John Storch of A Total Concept Landscape Architects, a company that specialises in this type of work. "More recently, clients have been looking to construct cabanas, granny flats and outdoor rooms as stand-alone features to add another use to the external areas of their homes. I believe this is the result of the ongoing trend to fuse internal and external entertaining spaces and consolidate living spaces."
Pool cabanas, granny flats and outdoor rooms are growing in popularity as they allow for a number of diverse uses. These can include a discreet place to towel off after a swim in the pool, a family entertaining space, a spot for weekend barbecues, a guest bedroom separate to the house, a space for teenage sleepovers, an art or yoga studio, a gym, a family study, and even a home for a young married couple while they save for a deposit for their own house.
Swimming pools are often the focal point of the outside living area of a home, so location and design of the pool and the adjacent outdoor room, granny flat or cabana are important considerations.
Which suits you?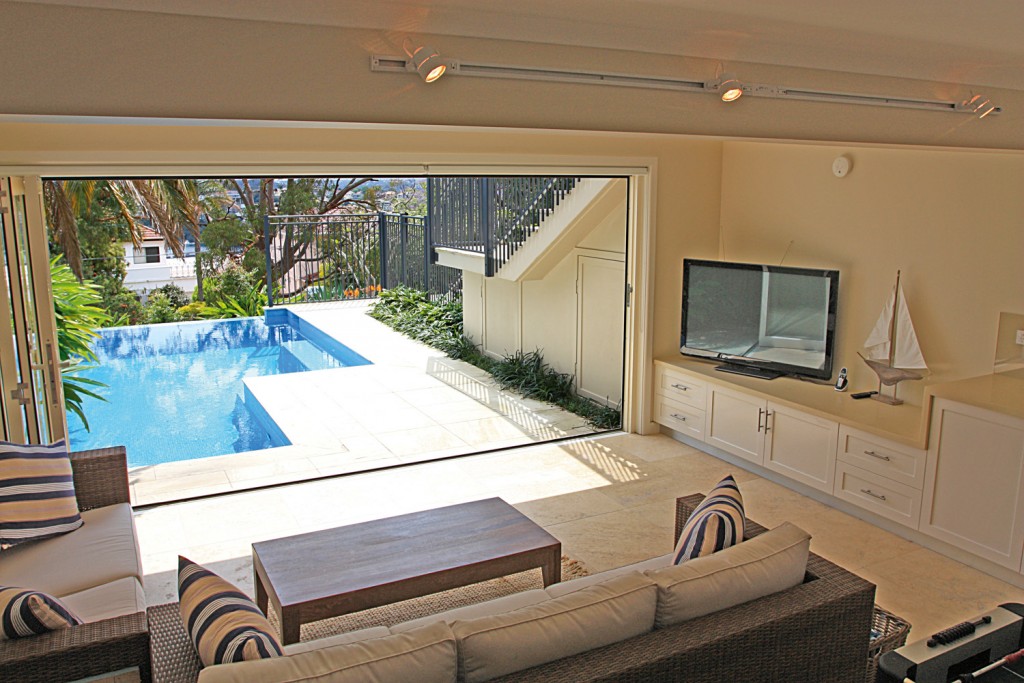 Typically a cabana or granny flat can be closed off from the elements to provide a watertight space, whereas an outdoor room has a roof or overhead covering and usually has one side remaining open.
Both cabanas and outdoor rooms can be simple shade structures where one can peacefully sit and read a book. Some cabanas and granny flats are usually larger and may incorporate a luxurious bathroom with toilet, shower, bath and basin amenities, as well as kitchenette facilities including fridges, barbecues, stove, cupboards and sinks. There could be day beds for relaxation and tables and chairs for entertaining.
Cabanas, granny flats and outdoor rooms are often more useable when architecturally designed rather than purchased in kit form. Generally kit forms are simpler and do not lend themselves to incorporating additional facilities as they provide less scope for customisation and personalisation.
Individually designed products do not cost much more than those in kit form and can be specified to your requirements. The final design will be a mix of the practical and the decorative. For instance, you may want to complement and design the structure in the same style as your home. Or you may choose to have some fun and create a tropical-style resort for a place to relax and escape the pressures of daily life.
According to John Storch, there is no ideal size for an outdoor room; it really depends on what inclusions you want and where it will be positioned. On the other hand, cabanas that are designed as a single structure to incorporate a kitchenette or barbecue for entertaining should generally not be smaller than approximately 4000mm x 5000mm and should generally not exceed 5000mm x 8000mm. These dimensions are based on comfortable architectural design measurements for a single room such as a lounge or living room. Bathrooms and change rooms should be in addition to these sizes. Granny flats can range from these sizes upwards depending on the number of rooms desired.
Location, location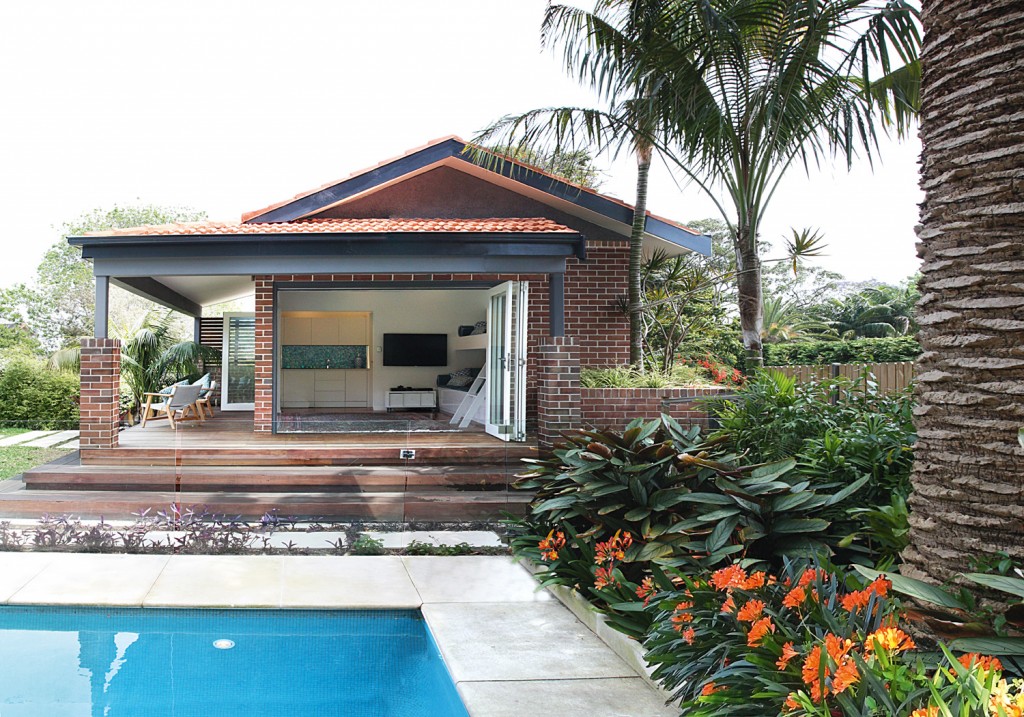 An important consideration is where the cabana, granny flat or outdoor room will be positioned. As with any structure, it is important that it does not dominate the space. The internal ceiling height of the structure is also important; it should be high enough so that it appears roomy, but low enough so that it feels comfortable inside. Cathedral ceilings work well in cabanas and granny flats, allowing adequate height for fans and heaters and are typically cooler in summer, allowing heat to rise and escape through vents.
Likewise, the openings are very important. A single opening door and waist-high windows may keep draughts out in winter and allow more scope for furnishing layouts (great for granny flats). If the door is concertinaed or sliding across one whole side of the cabana, this doubles the usable entertaining space and provides a very cohesive appearance. Outdoor rooms do not have doors and are best integrated within the entertaining space.
One of the best ways to integrate spaces is through the use of colours and materials. Walling, roofing and flooring materials can all match and similar paint colours can be incorporated to visually link all components. The same flooring used in the home can be employed in the cabana or granny flat, and a similar product or colour could be used in the outdoor room and around the poolside areas. Timber and travertine have a soft feel underfoot and are great for flooring, as is non-slip sandstone. These can all be used as benchtops on barbecues or kitchenettes to tie the areas together.
Food for thought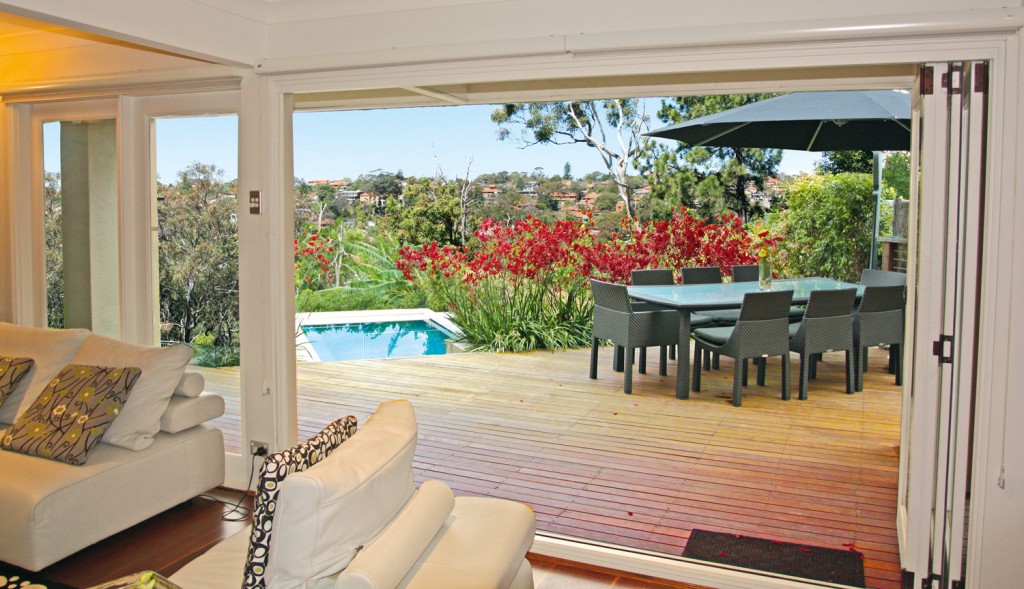 So just how close to the pool should your cabana, granny flat or outdoor room be? Do you want to maximise sun exposure? Should the cabana extend over the pool and incorporate a wet bar? Do you incorporate bar windows or kitchen server windows for alfresco entertaining, partitions for changing and an outdoor shower? You'll also need to think about the seasons when the pool is not in use.
Do you insulate and construct the cabana so that in winter it can be closed up and utilised as a snooker room or a home entertainment room that can double as a granny flat, an extra bedroom for visitors or a study? Should the roof of the structure incorporate solar panels for pool and kitchen water heating or louvred vents so that the cabana or outdoor room is designed as an open structure? All these decisions will affect your design choices.
John emphasises two important design considerations. First, always incorporate easily accessible concealed storage space and when designing your structure, double the size that you think you will need for storage. Second, any structure near the pool must be kept away from the filter. "Building a cabana or granny flat is not cheap. It should be used for entertaining and fun so don't waste it on noisy pool equipment," he advises.
As with swimming pools, you will most likely need approval to construct a cabana, granny flat or outdoor room. Be sure to check local authority requirements and engage a professional who specialises in this area and can prepare a design integrating all components and can obtain the necessary approvals.
Whether you're after a cabana, granny flat or outdoor room, one thing is certain: the boundaries between our outdoor and indoor areas will continue to merge as properties continue to shrink and we try to get more value and use out of our homes.
Eight tips to remember:
1. Before commencing the design of your structure, always check council requirements such as permissable heights, sizes and setbacks and other local authorities such as sewer and electrical providers.
2. Always check property titles to ensure yours is not encumbered with covenants such as restrictions that may mean you cannot build within certain areas of the property. Always check legal surveys to ensure no easements exist on the property, such as drainage easements which are not allowed to be built over.
3. Investigate all underground services (contact Dial Before You Dig). Check carefully pool safety fencing regulations. They have just changed, are about to change again and what you want may not be feasible.
4. Look through magazines, keep copies of things you want to incorporate in
the design and a list of things that must be incorporated. Rarely will they be the same!
5. If you want to avoid costly mistakes, employ a company experienced in this area to help. Spend the money — it's worth getting it right the first time!
6. Always wait for the design, products and inclusions you want — don't settle for second best. In the long term you will have no regrets.
7. Never have the cabana, granny flat, outdoor room or pool designed in isolation. Even if you are only looking at a pool this summer, engage someone who will look at your project holistically so that everything is considered.
8. Ultimately, have fun with the design. Remember that you are the one that will use it. If you want fluorescent furnishings, plastic plants, a dinosaur
on the 18th green and a log cabin, go for it.
Originally from Poolside Showcase, Volume 24