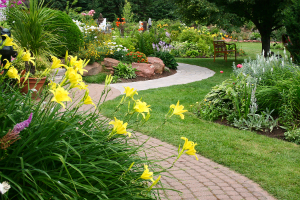 Colour is key to stimulating the senses and creating the desired mood in your garden
Story: Dean Boone, MAILDM 
Colour can evoke a mood, set a desired tone or create a subtle ambience, almost without you even realising it. Whether we're talking about clothing design, interior design or garden design, colour is one of the fundamental elements that make a design exciting, uplifting and inspiring.
So how can we use colour in the garden to our best advantage? Well, I have a few tips and hints that may just get you started. There are really two main ways you can use colour: as a focus that jumps out at you and grabs your attention or more subtly to set the tone and define the mood.
The easiest and most obvious use of colour is when you want it to be really noticed. A feature wall painted a bold, burnt orange, a garden urn in electric blue, a day bed in lime-green and gold or a swimming pool with rich red tiles. All of these uses of colour make you sit up and take notice. Generally, the colour is strong, vibrant and full of energy. Try it out with an old terracotta pot and a fresh sample pot of paint and see the instant difference it will make in your garden.
Bold colour can also be achieved through planting design and, again, the rule is to use vivid flower or foliage colour in locations where you really want to draw the eye. Flowering ginger in a Balinese-style garden will always attract attention and those ever colourful bromeliads are notorious for adding an extra zing to a shady corner.
Using colour in more subtle ways can create more of a flow of colour tone throughout a garden. Generally, it starts with complementing the colours of the home and extending that out into the garden. Subtle plays of colour, like painting the old timber boundary fence in a deep, dark blue, will add a quality of depth — particularly in a small garden — that only colour can achieve.
Colour through plant selection is, of course, essential for success and this form of colour use will often form the background for the more vivid splashes of colour that many Australians love. The flow and connection of different shades of green is certainly the backbone of any garden.
Lots of limey, lush greens speak of a tropical oasis; deep, dark greens often remind us of European gardens. Lots of silver-grey foliage can feel slightly harsher and suits a coastal garden, but a mix of silvers and greens is certainly reminiscent of country gardens. Lately, Australian designers have been enamoured with the burgundy, plum and claret tones of some of the newer plant varieties and this is giving us some fun in the garden and allowing us to play with contemporary design lines and make the foliage as important as the flowers.
Flowers are, of course, my final mention. If you've never walked through a field of daffodils in full bloom then you are missing out on a special experience. Flowers can instantly transform a space in the garden. Planting a series of trees, shrubs and groundcovers that flower throughout the year gives you constant inspiration. Plant a strict colour theme and you're on a winner.
Whether you go for a swathe of one flower colour, a deliberate combination (like blues, purples and lime-greens), or you want to paint your picturesque pergola pastel pink, colour in the garden is a great way to brighten your day and nourish the soul.
Be bold, have fun and break all the rules you know along the way. You'll be the envy of your neighbours.
About the author: Dean Boone of Distinctive Gardens & Interiors is a Sydney-based landscape designer and a presenter on the popular television program, The Garden Gurus.