Combining formal and contemporary design elements, the front garden of this Melbourne property makes a lasting impression.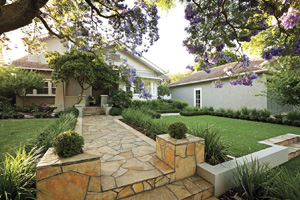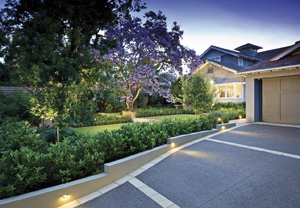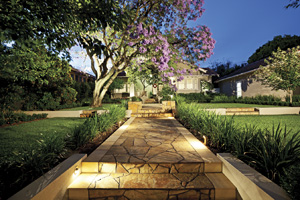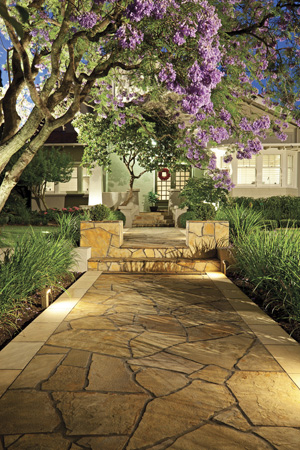 The stately jacaranda is just one of many statements made with this landscape, designed and built by Mark Rolton Landscapes.
Creating an oasis was paramount to this design, enabling the owners to escape their hectic work schedules with their first steps through the garden's grand entrance.
The garden was also designed to be representative of, and complementary to, the architectural style of the house. In addition, the modern formal interior is reflected in every aspect of the landscape design, creating an effortless flow from inside to out.
Tree canopies envelop the house and surrounding garden. Wide paths, planter boxes and deliberate groupings of plants allow the eye to traverse the whole garden, making the walk to the front door like a stroll through a beautiful park.
The path is stunning and features Castlemaine slate crazy paving with a sandstone border, both supplied by Yarrabee & Castlemaine Stone Solutions. All the sandstone garden edges were cut down to brick size and laid to tie in with the path, a painstaking task undertaken by Mark Rolton Landscapes, as was the rest of the garden's construction.
"Water storage was an issue for such a large property, as was trying to keep the tanks out of sight," explains Mark, "which is why we put a 25,000-litre rainwater collection tank under the lawn. This preserves the look of the landscape while providing the owners with a non-mains-water means of keeping the landscape looking lush between periods of rainfall."
Mark Rolton Landscapes has more than 15 years experience creating exquisite residential gardens, both large and small. The company, which prides itself on exceeding client expectations, offers the full range of services, from design to construction, and has the skills and experience to tackle any landscaping job.