Dickson have launched a great little App that will revolutionize awning simulation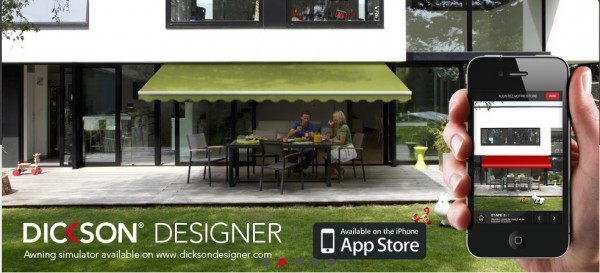 Available through the Apple iTunes Store this is sure to be a big hit with homeowners and renovators alike. The world's first solar protection simulator & a genuine technological feat serving today's tech savvy consumers. The DICKSON DESIGNER lets people see what their dream awning will actually look like, anywhere anytime.
Compatible with iPhone, iPod touch & iPad (Requires iOS4.0 or later) it's incredibly simple to use. Just take a photo with either of your devices, select the awning style and fabric colour and Voila you have a realistic rendering of how your awning will look. Now you can make sure the final product is the same at home as imagined at the Dickson® reseller's store.
You can choose from 4 types of awnings Folding Arm Awning, Vertical blind, Drop arm awning & Dutch Canopy. With a selection of over 50 fabrics to choose from including Orchestra, Rhythm & Harmony, Sunbrella® & Sunworker there is plenty of choice to suit the fussiest homeowner.
For More information log onto www.dickson-constant.com/en/EN or go straight to the Apple Store and download the App.