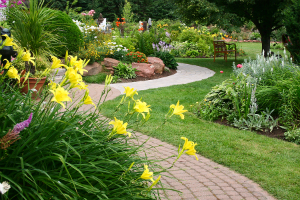 The most critical step in establishing a low-maintenance garden is selecting the right plants
We all want beautiful gardens, but our busy lifestyles sometimes mean we don't have time to tend them. Gardening doesn't have to be hard work. What's more, low-maintenance gardens can be high on impact and just as stylish as gardens that require regular attention. The most important aspect of a low-maintenance garden is choosing the right plant selection.
There is now a brilliant array of new and improved plants that need very little attention yet add colour and interest to the garden all year through. Lomandra Seascape, for example, has fantastic blue-grey foliage, grows to 50cm x 75cm, has an elegant weeping habit and is fantastic for softening harsh edges or cascading over retaining walls. Lomandra Seascape adds movement to the garden and when planted en masse resembles a rippling ocean surface as the foliage moves gracefully in the breeze. What's more, highly fragrant, tiny, yellow flowers release a sweet scent that lingers softly in the air.
Libertia Goldfinger and Libertia Taupo Blaze, on the other hand, bring low-maintenance gardens to life by adding splashes of effortless, vibrant colour. Libertia Goldfinger boasts green and stunning gold semi-weeping foliage, while Libertia Taupo Blaze changes colour in autumn from green through to yellow-orange to burnt orange with red highlights. Both Goldfinger and Taupo Blaze grow 60cm x 60cm and produce delicate, white, star-shaped flowers during spring, making a pleasing statement when planted en masse. They also create a fantastic informal border.
Another extremely versatile plant is Baloskion Didgery Sticks® , which has strong, architectural, upright lines and looks spectacular as a single feature plant in a pot or mass-planted in the garden. Didgery Sticks® will tolerate a wide range of soils; it can also handle being submersed in water for extended periods of time and will cope well with dry conditions — once established. Didgery Sticks® grows to a height of 1.5 metres and its leaves are green with bands of red, which intensifies with cooler weather. It flowers once a year, after new stems have reached their mature height and, as a bonus, the flowers and foliage are useful in floral arrangements.
All the fabulous new plants mentioned here will have you well on the way to decreasing the effort you expend in your garden while increasing the enjoyment you derive from spending time in it.
TOUCH OF CLASS PLANTS
Tel: (03) 5629 2443
Fax: (03) 5629 2822
Email: info@toc.com.au 
Website: www.touchofclassplants.com