Award-wining, self proclaimed 'booze writer'
Ben Canadier

 shares his advice on choosing appropriate wine to compliment barbecuing.

by Ben Canadier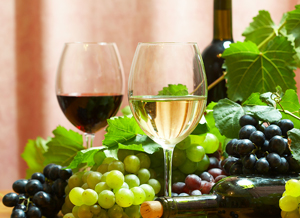 A Spring in your Step and a barbecue in tow
With the rise of outdoor entertaining it seems every second house in the street now has an outdoor or "wet" kitchen. Whereas once upon a time there sat a rusty old barbie on the back patio (attached to a permanently empty gas bottle), now there's a fully plumbed and gassed kitchen bench, complete with a sink, a wok burner, a USB port, and a stainless steel barbecue. Fortunately, this hasn't changed too drastically the informality of a barbecue occasion. However, the slightly posher food offerings of our contemporary barbecues have added to one little problem: what wines and beverages are you allowed to drink? If you've got the indoor/outdoor flow right, so it follows, you must have the wines right, too.
Versatile White
It's critical that the first white wine you stick in a guest's hand is not divisive. It cannot be too heavily flavoured or too much a trend of the moment. This is why sauvignon blanc is becoming such social death. At the start of the greatest barbecue in the world you need to provide your friends and others with a neutral, quiet, yet nevertheless refreshing white wine that does no more than make inhaled air seem wet. Italy has done this so well for so long with a white wine called Soave. It looks, smells, and tastes of absolutely nothing. A barbecue needs a little more than that, however. You are in the elements, after all. Pinot Grigio as made and labelled in Australia is the crunchy, lighter, apple and lemon white wine style originally invented by the Northern Italians. It's good on its own, with seafood, and handles spice and chilli well.
Rosé
Rosé is clearly amongst us, and is not just a drink for Euro hairdressers or wine snobs. Rosé also adds that vital link between so many barbecued foods and the white wine or beer you've just finished and the small glass of red wine you are considering later on. It's the third wine style that for too long we've overlooked. There are a few factors to consider when choosing rosé: the hot-pink hued ones tend to be fairly fruity and bubblegummy — they go well with curry or chilli; the paler, bronzed-tinged versions are dryer and a little more acidic — these ones suit a more simple range of foods. Also check alcohol-by-volume measurements and avoid any rosé that's above 13.5%, as they'll be too alcoholically hot to taste. Find a rosé that you like and you can drink it from now until next Easter.
Off-Piste Red Varieties
Red varieties such as tempranillo (from Spain) and sangiovese (from Italy) have made a strong mark on the Australian wine landscape. The popularity of Spanish and Italian food has helped, but so too have the particular qualities these red grape varieties display. Tempranillo is best described as having the heightened aromaticity of pinot noir, with the earthiness of shiraz, and the tannins of cabernet. It entices, it floods your mouth with flavour, and the tannins help dry things out. Sangiovese has similar tannic qualities, and is also a very savoury red wine. There's not so much of that rich, plummy fruit sweetness we so often associate with Australian reds. Needless to say, tempranillo and sangiovese are ideal red wines with fattier barbecued meats — particularly sausages — and barbecued vegetables dressed with the best EV olive oil.
Shiraz
Of course the sunshine-in-a-glass fruitiness of Australian shiraz can also play a vital role whenever there are burnt offerings. The depth of flavour, the opulent plum and chocolate qualities, the hint of pepper and the touch of spice can really help combat those more daring barbecued products: peppered or marinaded steaks; strange bits of perhaps unidentifiable meat on skewers; rotisserie chickens (if you've not bought a $50 rotisserie kit for your hooded barbecue yet, you are seriously missing out), butterflied legs of lamb… And shiraz a well-liked, very democratic red wine, too; which suits an Australian barbecue to a tee, designer 'wet' kitchened or not.
Ice Buckets — wheelbarrows, old sinks, old fridges, and the salted ice trick…
Some hosts like to conspicuously chill their beverages in an antique Murano wine vase, but other people prefer the more-is-better approach. Ice and beer cans in the bath is a bit too 18th Birthday. Wheelbarrows full of ice aren't bad on the backyard lawn. But a preferred form of beverage chilling is an old bar fridge. Find one in hard rubbish, pull out all the gizzards, silicone-up any interior holes, and then put the thing on its back – full of ice and drinks. It's an over-dimensional esky with a well-sealed and hinged lid that will keep things cold for a few days, even in high summer.
Adding salt to ice helps to lower the freezing point of the icy solution. It's how ice cream was frozen before the invention of modern refrigeration. A 10% salt solution has a freezing pint of -6°C. A 20% solution freezes at -16°C. And as for ye olde ice-cream making, so too for icy drinks. Add salt to your ice bucket and the beer, white wine, or sparkler will be spine-tinglingly cold. Also remember, when using ice add some cold tap water to the mix, to guarantee a good ice slurry-tobottle/ can contact ratio.
Fore more information on Ben Canaider visit www.bencanaider.com