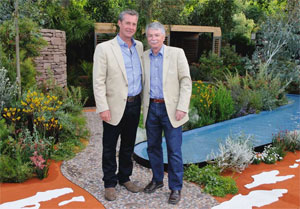 Royal Botanic Gardens, Melbourne took out the the 2011 title at the Chelsea Flower and Garden show with their stunning display of the Australian outback
After a couple of hundred years of European settlement, it was this ancient continent's turn to show off its wonderful natural landscapes and native flora to the world in the form of the multi-award winning Australian Garden at the Royal Botanic Gardens, Cranbourne, a division of Melbourne's Royal Botanic Gardens. CEO Dr Philip Moors and his team took out gold in the Chelsea Flower and Garden Show. Competing against garden designers from all around the world, the Australian Garden was designed by award winning landscaper Jim Fogarty. It was a two-year project involving meticulous planning, research and growing.
"Constructing the display was a very intensive project, bringing together the design ideas of Jim Fogarty in less than three weeks," says Dr Moors. "Everyone worked tirelessly from 7am to 8pm every day."
The garden depicts the arid outback of Australia, characterised by the absence of water and then the gradually increasing presence of water in landscapes during an imaginary journey to the wetter and more urban east coast. The garden is packed with Australian natives, including rare and unusual species, with well over 100 species and 2000 individual plants in the design. Most of the plants were actually grown from seed in southern Spain and Italy because of the similarity in climate and to avoid quarantine. For those who have not yet been to the RHS Chelsea Flower & Garden Show, it's somewhat similar to the Melbourne Garden show but on a larger scale and with a much longer history. It's regarded as the pinnacle of excellence for landscape design and horticultural display with more than 157,000 people attending this year's prestigious annual show, as well as representatives of the international media.
If you missed out on going to Britain to visit the Chelsea Flower & Garden Show, don't worry — the best is yet to come. The second and final stage of the 18ha Australian Garden in Cranbourne will open in 2012, offering visitors from all over the world the chance to immerse themselves in the stories, colours, textures, sounds and scents of Australia.