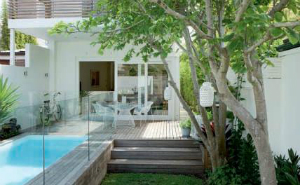 At every turn there is something to stir the senses in this private, easy-care garden
By Peter Nixon

Photography Peter Brennan
Planting of heroic proportions with style and nothing prissy that can't stand up to the odd football from a large combined family — that was the design brief presented to me one pleasant November morning in 2005 for this frost-free beachside garden from an owner with a hard deadline in mind. She was to be married in the garden in March 2007.
The house renovation was well underway and the rear garden space, mostly on one level, fell away across the longer rear eastern boundary punctuated at the mid-point with a fierce clump of suckering bananas. Removal of these revealed a vast expanse of Colorbond roofing from the lower neighbour's house and both shorter northern and southern ends suffered conflicting sightlines from houses on either side into the main parts of the garden.
Happily, what the site did have was a sheltered aspect open to the north at one end where a softer winter period and average soil could exploit the very kind micro-climate with gutsy, "taste-free" planting promising a lot of sub-tropical impact for the big day ahead.
In the rear garden, above all, there was to be an open space for cricket or footy on a grass void, so the planted perimeter space had to be stem-less and dense right from the ground up to conceal all fencing, in particular the steel fencing along the long, lower eastern boundary.
The answer was bamboo. Clump-forming Slender Weavers (Bambusa textilis gracilis) now grows like a narrow 8m tall curtain and because of its clump-forming habit it won't invade other garden spaces. It also provides a foil for the featured forward planting that can be seen from the elevated house deck sightlines as well as from beneath the deck.
Loud planting either side of a central feature rock creates a pleasing contrast. At night, spiked garden LED up-lights turn it into a focal point. Planting includes a pair of Blue Fan palms (Bismarckia nobilis), Golden Datura (Brugmansia suaveolens aurea), Golden Shrimp Plant (Beloperone guttata aurea) and Cordyline 'Schubertii', one of the few with orange flashes for southern gardens, and the taller Cordyline 'Negra', which grows to around 2.5m and features dark-pink flashes.
At the northern end and from the ground-floor family room sightline is a giant ceramic water bell with a high-top rosette companion of Agave desmettiana variegata against tall russet-flowering Kangaroo Paws (Anigozanthos flavidus hybrid) and tall bromeliad clumps (Aechmea callichroma x blanchetiana). Spilling over the salt-textured concrete, which looks a lot like a sandy path with random smooth stones pressed into it, is a broad fringe of Beach Pigface (Carpobrotus glaucescens). On the house side, a developing plot of cut Ruscus aculeatus is forming a low-leafed cushion against the ultra-fine drift of native sedge (Carex hattoriana).
At the opposite end and facing north is a clump of Black Sugar bamboo (Saccharum officinale), its black stems contrasting with another tall feature plant, Cordyline fruticosa 'Maize', which is covered in a blaze of hanging corn–like leaves. Pulling most focus at the mid-point are the cream yellow striped swords of Variegated Hemp (Furcraea foetida variegata) and in November this is complemented nicely with a species form of Tibouchina with showers of tiny white, pink-stained flowers. This combination makes up most of the screen planting across the southern end (reaching a height of around 3m).
At the front, the west-facing, steep grass verge was hard work to mow. Also, the newly exposed front court required seclusion from passersby.
The grass was sprayed off and a thick wreath of Aloe arborescens now separates a higher, narrow grassed footpath from lower planting space where low, clump-forming bromeliads (Aechmea caudata variegata, Neoregelia 'Sheba', Neoregelia mcwilliamsii, Neoregelia compacta and Aechmea gamosepala) flank both sides of council's steps to the front gate. These grip the mulched slope and will eventually knit together as a dense, self-maintaining groundcover sans irrigation to meet a fence-line of Madagascan Pencil Plant (Euphorbia tirucalli) that screens the front door court with semi-transparency.
A finishing touch for the front courtyard, also in salt-textured concrete, is a water course secreted along the descending southern side of the front gate steps. Heard before it's seen, it has a calming effect and enhances the sense of arrival at the front door.
It's worth noting that there is no irrigation system because the plants are a close fit to the growing conditions. Why bother with plants that require gross intervention to keep them alive, much less looking good, when there are so many other more deserving ones that require so little and look so interesting?
Peter Nixon is a landscape designer and founder of the Designer Growers Network: www.peternixon.com.au/DGNblo