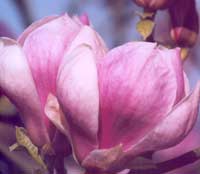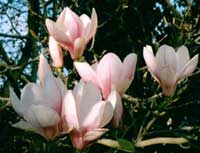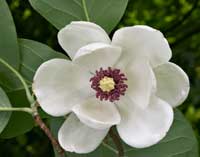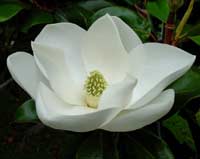 Just when winter gardens plummet into the depths of their colourless dormancy, deciduous magnolias light up the sky with a breathtaking display of radiant blooms. Gardeners in China and Japan have treasured their beauty for thousands of years, but it wasn't until a few centuries ago that Westerners really caught on.
In 1820, Frenchman Etienne Soulange- Bodin cross-pollinated two well-known varieties to produce the hybrid known as Magnolia x soulangeana.
Today, the magnolia is one of the best-known garden varieties across the world, with its classic goblet-shaped blooms that are white inside and a soft rosypurple outside. Hundreds of cultivars have followed, all bearing masses of blooms and ranging in colours from pure white through to deep pink.
Their flowers are gorgeous, but another outstanding feature is their form. They are small spreading trees with an open, balanced
canopy, so are perfect for a small garden, especially as a lawn specimen where the petals fall to form a luxuriant pink carpet.
They give valuable shade in summer, especially in courtyards and small gardens, and, being deciduous, they let in the sun's warmth in winter. Over the years, further hybridising has produced some other small trees in a stately reddish purple blooms, Vulcan in ruby red and M x 'Elizabeth' with its delicate primrose-yellow flowers are just a few of the choices.
If you are charmed by magnolias but have limited space, M. stellata would be a fine choice. It's a compact shrub that will
thrive even in a large container, carrying star-shaped flowers in perfect whites to pale pinks.
Another shrub type worth considering is M. lilliflora with blooms that are deep pink on the outside and white on the inside. Nigra is a form that produces rose purple blooms.
HOW TO KEEP THEM ALIVE
Magnolias are forest trees, so they like to be sheltered from strong winds. Cosy eastfacing pockets of the garden are perfect. The soil needs to be well drained and rich in humus, so incorporate plenty of compost when planting.
It's a good idea to check your soil pH as well. The ideal reading is about 6-6.5 (slightly acidic). Take a sample to your local nursery. If yours is below 6, apply a generous amount of dolomite lime. Young magnolias must be kept moist. Letting them dry out can really set them back, making the leaves look dry and brittle.
Maintain a thick layer of organic mulch around the root zone to help retain the soil moisture.
Magnolias are fairly slow growing and very well behaved, so they don't require much pruning other than the occasional snip to shape. This is yet another wonderful thing about these garden marvels. Also magnolias don't like frost, so give them some protection when young if you're in a cold climate.