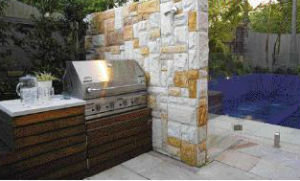 Modular or mobile, no outdoor room is complete without a barbecue
Words: Ada Mears
Nothing quite like eating outside on a lovely, balmy summer night. Whether you have a simple stand-alone barbecue or an entire outdoor kitchen, alfresco dining is never too far out of reach. You can create a space that is as simple or as lavish as you like, but one thing you will need is something to cook on.
The humble Australian barbecue is no longer just a barbecue. It's available in sleek designs and a range of finishes, but finding the right barbecue for your outdoor room has never been easier. Whether it's a compact portable model or a more elaborate modular fit-out, a gas barbecue or a charcoal alternative, a barbecue on a wheeled trolley or those designed as islands, or a built-in barbecue that can be integrated into a bench or the traditional pedestal styles, barbecues come in a range of styles and sizes, making them a must-have feature in any outdoor room.
There is basically a barbecue to meet any individual need depending on how much you will use it for yourself or for entertaining family and friends. That enormous six-burner, multi-tiered, hooded barbecue may look great at the shop but if you later find you never use it because it's too much effort to clean, you've wasted your money. Likewise, if you buy a coal-burning variety and later find its management too difficult, you could have spent your money more wisely.
Excluding the fixed wood-burning barbecues, there are three main types of backyard barbecues: coal, gas and electric. Coal and electric barbecues tend to be smaller and less expensive while gas barbies are more fixed settings.
A portable trolley-style barbecue is a popular choice as it provides the flexibility of moving from one place to another and is perfect for smaller spaces like a balcony or courtyard. It usually has a simple hotplate and grill and most are powered by gas, lit simply at the touch of a button. Add a hood, a rotisserie, a side burner for a wok and you have an outdoor cooking centre that blows most of its indoor rivals out of the kitchen.
A side burner — a stove-like cooking area attached to the side of your barbecue and useful for boiling water, making gravies and allowing you to cook wok-style foods such as stir-fries — is an inexpensive, worthwhile addition to any barbecue and will help create a complete alfresco cooking experience.
Modular barbecues are a space-savvy alternative and can be tailored to include exactly what you need, from drawers and cabinets to sinks and taps. These barbecues are great for small outdoor rooms where space is at a minimum.
Built-in barbecue models can look great on paved areas and complement your entertaining area and the finish you choose depends on where it will be situated. Baked enamel, for example, does not resist heat or UV rays very well and so is only suitable for areas that are well covered. Vitreous enamel, a hard finish that's easy to clean and heat resistant, is ideal for a barbecue built within brickwork or outside in the elements. But stainless steel is the most durable finish and perfect for salt-air conditions. However, make sure the barbecue is fully welded and the complete body is stainless steel, not just the front.
In addition to barbecues, wood-fired ovens are another trendy addition to outdoor dining areas. Not just useful for pizzas, a wood-fired oven is a versatile cooking facility that can be used for all-round cooking, and its Mediterranean origin adds a touch of culture to your outdoor room. There are different styles and sizes around which can create an interesting focal point for your alfresco dining area, but they all provide that unique flavour which is virtually impossible to reproduce in a conventional oven.
But if you opt for the full-scale kitchen outside, it's probably best to consult an expert designer. An outdoor kitchen is a significant investment and will most certainly add value to your home. A professional can help you maximise the available space and choose the correct positioning.
Whatever you decide on for your outdoor cooking, be it a barbecue, pizza oven or full-scale kitchen, you will need to incorporate a designated area for dining in your outdoor room so that foods cooked outside can be enjoyed outside. Whether you choose the traditional outdoor dining table and chairs in timber, aluminium or wicker, or opt for a more casual setting like a breakfast bar in metal — or, for something more stylish, a granite benchtop — you'll need to ensure the furniture is comfortable and the setting inviting. Also, having the dining area positioned close to your barbecue will enable easy service of meals when entertaining friends and family. No running back and forth to the inside kitchen means more convenience and time spent with guests — and what better way to spend the summer?