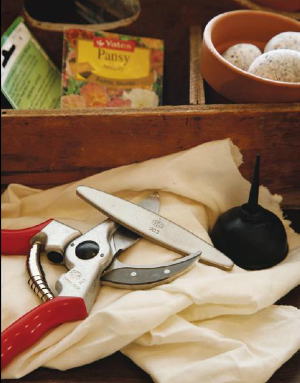 "Winter is the time of promise because there is so little to do — or because you can now and then permit yourself the luxury of thinking so."
(Stanley Crawford, Author)
It's easy at this time of year to think of gardening as nothing more than a spectator sport — one best enjoyed vicariously through gardening books and seed catalogues. And while there is no denying our labours are seriously lightened at this time of year, now is not the time to rest on our laurels completely. There is still plenty to be attended to in the garden, to make our tasks easier come spring.
Transplant and divide
Now is the perfect time to transplant shrubs and roses that you have noticed are not in the right spot over recent months. You know there is always a shrub or two that didn't cope well with the summer heat, so now is the safest time to dig it up and move it to a cooler or shadier position.
It's also the right time to plant bare-rooted roses and fruit trees, which can be picked up at most garden centres and nurseries at this time of year.
Early or late winter is also the right time to divide perennials and start new plants. Things like penstemons, irises, gaur, daylilies, salvias, Japanese anemones, violets, nepeta, astilbes, Solomon's seal and even rhubarb divide well now. Some plants can be simply divided by a fork or spade in situ, while others need to be dug up completely and cut apart. You can then select the healthier more robust examples to replant around your garden or to pot-up for friends or your children's next school fete.
Mulch and protect
In Australia, we are used to mulching our plants at the start of summer, to help our plants retain water, but a nice thick mulch applied early in winter can help protect plants from the effects of heavy frosts. This is particularly useful in the vegetable garden and herb patch. I have managed to keep my tomato plants fruiting well into winter with this method.
With frosts in mind, now is also the time to erect shelters for very frost-prone plantings. Hessian erected around stakes or star pickets can protect young or susceptible plants from heavy frosts. Or you could lift particularly frost-intolerant plants, pot them up and move them to a greenhouse or place them in a higher position protected by a sunny wall or large tree. I'm going to try this with some of my favourite herbs, which I seem to lose every winter.
It is also timely to clean stone and cement ornaments and bird baths of moss and debris and, if you are in an extremely cold, mountainous area, you may wish to store them in a shed to avoid them cracking in the cold. I myself lost a bird bath last year when the water in it froze and expanded, causing the birdbath to crack in two overnight.
Plan and dream
Of course, telling you that now is the time for planning and mooning over gardening catalogues is a bit superfluous as most gardeners spend their winter months doing this. That said, time spent looking over your planting diaries and accessing plant losses and failures from the year past will reward you with more successes when the weather does warm up.
If you are planning hard landscaping such as new pathways, arbours or pergolas, you might find you get a good price quoted at this quieter time of the year. If you are doing the work yourself, you at least have the benefit of avoiding the harsh sun of summer.
Caring for garden tools
For me the most important of all winter gardening tasks is taking time to clean and maintain my garden tools. This is a lesson learnt at the side of my late Nan. Every winter she'd head to her garden shed, gather up all her tools, the ancient sharpening stone, linseed oil and various other concoctions that I was not allowed to touch and bring them all inside and set to work.
She would completely pull apart her secateurs, clean and sharpen the blades, oil and check the spring, tighten the handles and reassemble. If you buy the best quality secateurs, such as Felco, and invest 15 to 20 minutes each winter in maintaining them, you will keep them in top working order throughout the year and for many years to come.
Other cutting tools, such as spades, pruners and hoes, will also benefit from a clean and sharpen. The wooden handles of our tools should be rewarded with some moisture at this time of year, too. A quick application of linseed or orange oil will help prolong the life of the handle.
Mowers and power tools should be overhauled and cleaned of grass and debris before being stored safely in the shed. The damp and cold of winter will do them no good if they are left outside to fend for themselves.
While you are at it, now really is a good time to clean out the shed, check over seed supplies for spring and restock items you have used like potting mix and plant food.
When you've completed your personal checklist of winter tasks be sure to give yourself time to drool over your garden books, rugged up with a hot cuppa, knowing that you are all set for the approaching spring.
Melissa can you box this and make it look like a sheet of notepaper with check boxes, adding some additional lines and boxes for people to add their own tasks.
Your Winter Checklist
Transplant roses and divide perennials that need attention.

Mulch and protect frost-sensitive plants from winter weather.

Clean out sheds and outbuildings.

Plan new garden features.

Clean and maintain garden tools, both large and small. To learn how to best care for your tools, do some web surfing or visit www.felco.com

Clean and maintain outdoor furniture.

Relax with seed catalogues and garden books.