This Melbourne family of puppet show performers strives to grow and make everything they can from their productive organic garden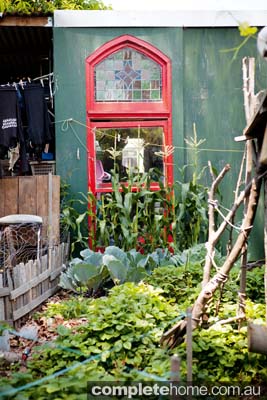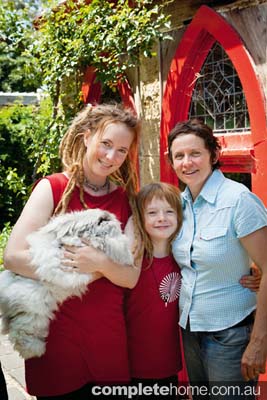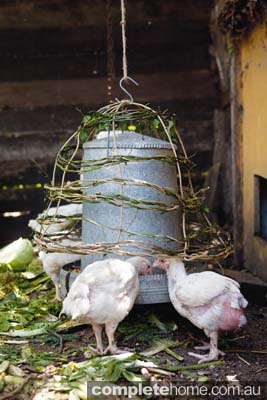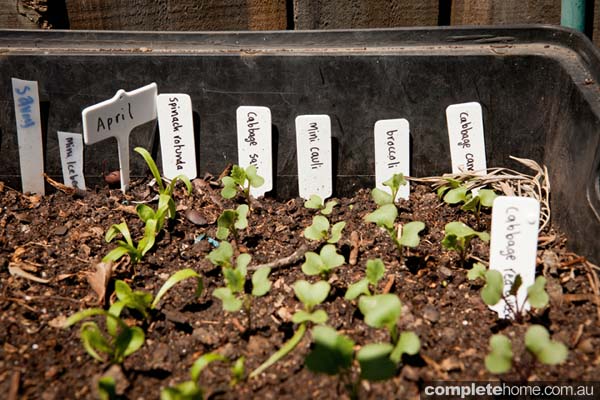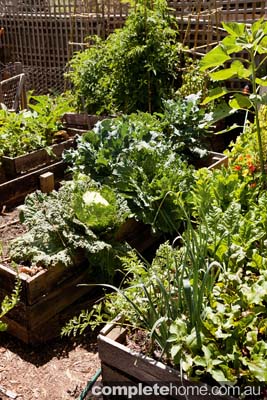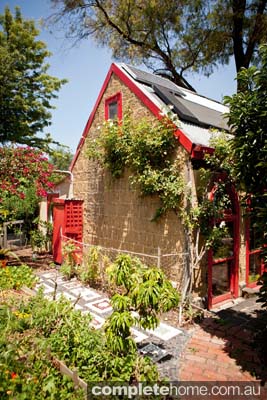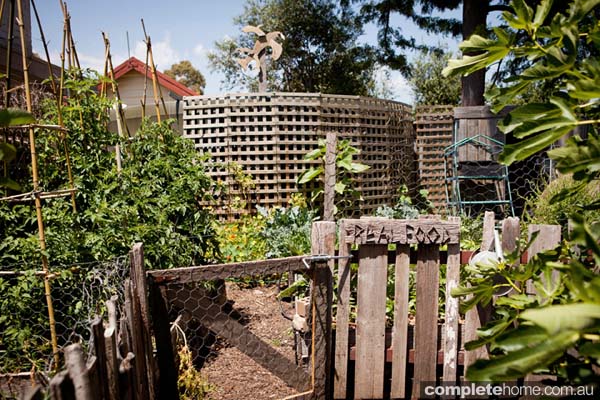 "Many people imagine you need acreage to be independent, but my partner Paula and I enjoy 80 per cent self-sufficiency on our small inner-city block," says marionette performer, gardener and builder, Asphyxia. The couple's home and garden provide a model of how any of us can produce much of what we need, particularly food, anywhere from suburbia to the country, as long as we have a decent patch of dirt.
The combination of managing their home, animals and highly productive garden, raising their son Jesse and holding down busy, successful jobs has been a challenging but rewarding experience for Asphyxia and Paula, also a marionette performer.
The creative pair are not unrealistic enough strive for total self-sufficiency but aim to produce food and other items for as many of their family's needs as they can — from materials as close to their source as possible. "As well as producing from our block, we scavenge a lot from the neighbourhood," says Asphyxia. She points out that this is becoming more common than people realise.
Self-reliance
The detail of the couple's quest for self-reliance could fill a magazine but here are just some of the things Asphyxia and Paula do in and around their home to live a thoughtful and "treading lightly" lifestyle.
They grow most of their edibles. Those they can't grow (including meat) they source from the local farmers' market. They obtain honey and dairy products from local farmers and friends. "We try not to buy too much other food, but find ways to feed ourselves well on base ingredients," Paula explains. "We cook almost everything from scratch. We make bread, pasta, pastry and lots of fermented foods." They also bottle excess produce, particularly tomatoes.
Asphyxia says they are working towards a closed system of fertility for the garden, so they compost all waste, including leaves and grass clippings from the local area, to make mulch or compost. They collect seaweed and dead fish or animals to give potency and fertility to compost, which in turn adds nutrients to the garden.
Asphyxia and Paula have a grid-connect solar electricity system that produces about two-thirds of their power needs. They also have solar hot water, a greywater recycling system and a 40,000-litre rainwater tank that provides enough water for inside their home as well as the garden.
Speaking of their home, Asphyxia built it when she was just 22. She knew she wanted to spend time building her own house rather than be part of a regular workplace, so she fled her job once she'd saved enough to start on the home, which she calls "an artwork". She paid for a contractor to dig and pour the concrete footings and, from there, did most of it herself, though she sometimes accepted help from friends. She learnt all the skills she needed to construct her dream.
Even though the house could be a bit bigger, Asphyxia says it has a beautiful soul. "The whole place is filled with a sense of old-world romance. Everyone who comes here feels it — there's nothing sterile. The lumpy whitewashed walls, the gothic arched stained-glass windows, the clawfoot bath in the loft are all enchanting and soothing," she says contentedly.
The menagerie
Asphyxia and Paula's block is only 450 square metres but, because the house is small, it allows space to keep a few animals. They have chooks for eggs and, more recently, for meat.
Asphyxia said she had wanted to keep bees for years but found information hard to access so decided the best way to learn was from an experienced beekeeper. She tried attending workshops, but there was a snag. "Being deaf, I couldn't lip-read the teacher through his bee-helmet," she admits.
The problem was solved when a friend introduced her to Martin O'Callaghan, a visually communicative man whose one-to-one tuition worked perfectly. She bought a top-bar hive, complete with bees, from him and learnt all she needed to know. Honey was not far away.
There's also an angora rabbit for fur, which Asphyxia spins and knits into clothes. She wanted to find out whether sustainable textiles are possible and thinks they are, if only in small quantities. "Our bunny's fur is amazing — seven times warmer than wool. The items I've made are quite exquisite; so soft and not a hint of itchiness. And it's unbelievable that we can make gorgeous garments from a rabbit that mostly eats weeds from the garden."
Asphyxia said she learnt the art of spinning from a lovely old lady at the Handspinners and Weavers Guild. She uses a spindle rather than a spinning wheel because it's easier to take on tour. "I can spin a length of yarn while waiting to go onstage at the theatre — a good way to make use of 'dead' time." The second-grade fur is turned into felt to use as lining for shoes.
The garden
Asphyxia admits it has taken a few years to achieve a productive garden, but for the most part, they now have a constant supply of food without too many gluts. She says every so often there's a failed crop, such as when the chooks got into the bed of seedlings she planted for harvesting in September. So when there was a gap that month they bought from the farmers' market instead.
Edibles are picked several times a week. "I pick anything that seems ready and as much of it as I think the plant can cope with. I deliver it to Paula, who works out how to process it all so it's not wasted. She's amazing at getting through everything, especially when I give her a single stalk of asparagus, three pods of peas and other items that don't quite make a meal," Asphyxia muses.
Occasionally they conduct what has become a family culture of harvest feasts. Sometimes it's a single item, like the artichokes when they are ready. They make mayonnaise, then sit down together and enjoy the exquisiteness of the produce. Other times the meal has several dishes, but the main point is that they celebrate the deliciousness of homegrown food.
There are other benefits too. "Our son Jesse really absorbs the celebratory atmosphere and because of this he loves artichokes and spinach and many other vegies that traditionally kids don't like," says Asphyxia. "We have a delightful seasonal ritual when we take a bowl of homemade ice-cream into the food forest, top it with freshly picked berries, then sit down to eat in the midst of all the greenery. It feels so special and abundant."
As performers, Asphyxia and Paula have spent so many years touring with their acclaimed theatrical production, The Grimstones, they are looking forward to spending more time at home. Lots of plans and ideas are on the cards. For instance, Asphyxia says she would like to be able to live without a fridge.
This is a family in tune with nature. They are creative and innovative and, most importantly, understand the value of being as self-sufficient as possible. They certainly are a great example of how feasible it is, no matter where you live. ■
Compiled by Diane Norris
Originally from Good Organic Gardening magazine Vol.5 No.1