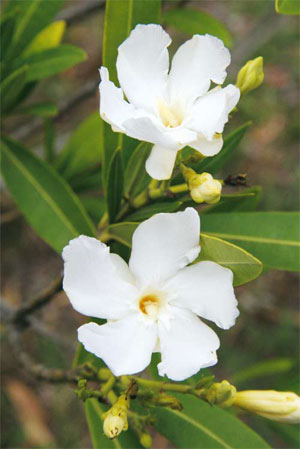 Spending time in the garden has always been a relaxing exercise for me. There is something supremely rejuvenating about being at one with nature. But for a supremely tranquil garden, you can't go past white in your planting choices. The serenity of an allwhite garden is obvious to all those who can see and enjoy it.
Isn't an all-white garden boring? Why would someone fill a whole garden with only white flowers when there is an entire colour spectrum to choose from? White flowers have a clean, classic look about them and there are far too many choices to ever be boring.
Many types of plants and trees have a white version, which are often identified by the word alba in their botanical name, so you can usually incorporate your favourite species into a white garden. Everything from bulbs to natives is on offer. White will make the foliage of your plants "pop" and can even add fragrance to your backyard. And if that is not enough to sway you, there is the 'moon garden'.
A moon garden is an ancient type of garden where all the beds are filled with white-flowering plants, which enables it to be seen even after the sun has set and into the night, without the aid of artificial lighting. The white colour of the flowers shines in the moonlight and if summer annuals or perennials are planted, especially if they are fragrant, your garden can be enjoyed well into the night. Summer is the time when most people want to make use of the long, warm nights outdoors before winter sets in and what better way than in your own moon garden?
Planting the tallest plants at the rear of your garden bed and graduating to the smallest at the front will allow all of them to be seen. Hollyhocks, foxgloves, cosmos, dahlias or verbascum, with their tall growth habit, are best as a backdrop to medium plants including chrysanthemums, shasta daisies and lilies while low-growing species such as petunias, alyssum or candytuft make a great border at the front. Even some herbs such as coriander, famous for bolting to seed quickly, get a lot of soft white flowers before seed sets and make attractive garden flowers.
Alternatively, if you have a wall, arbour or trellis available, why not grow a white fragrant climbing rose or star jasmine over it as a starting point for a scented summer garden? Angel's trumpets, tuberoses and stocks will also help to fill the space with fragrance. Incorporate a seat or swing so you can enjoy relaxing on a warm night with a cold drink and take in your garden's sweet smell.
This can also be a good vantage point to sit and contemplate what plants you want laid out in front of you to admire as they glow in the moonlight. Potato vine and white wisteria will also grow over a framework or arbour; just make sure it is incredibly strong if you wish to grow wisteria over it, as it will soon pull it down if it isn't. Alternatively, grow wisteria as a freestanding standard in the garden and keep it pruned to shape.
During the winter months, the moon garden can also be a focal point in your yard even if it is too cold to be outside. Whiteflowering bulbs, such as snow drops, white tulips and white-flowering hellebores, appear apparently from nowhere to fill your white garden at a time in the year when it is usually quite bare. White camellias, with their glossy evergreen leaves, give a beautiful show in winter and still look good during the warmer months without flowers.
If you have the room for it, a large white magnolia, crepe myrtle or frangipani could be grown in the centre of your yard underplanted with a huge array of white flowers including cyclamen, hyacinths, daffodils, jonquils, Solomon's seal and lily of the valley to achieve a woodland effect. White plumbago can make a good screening hedge as can white buddleias, which will not only look stunning at night, but will attract a multitude of butterflies during the daylight hours in the warmer months.
Gypsophila (baby's breath), snowberries, white agapanthus, poppies, peonies, anemones, gaura, salvia, lychnis and pansies can all be incorporated into a white garden depending on whether they suit your climate and taste. If you want a low-maintenance garden, keep in mind that it might be more practical to use perennials instead of replacing annuals each season.
However, if you like the idea of growing different white flowers each year, packets of annuals are not too expensive or you could try saving seed from friends' or neighbours'plants. If you prefer an all-native white garden, there are Australian species that, although they may not be a true white, will still enhance your garden. White grevilleas, flannel flowers, white-flowering eucalyptuses and a beautiful white waratahs are just some to choose from.
The most famous white garden — Sissinghurst
When looking for inspiration for your white garden, one garden shines out above all others. The fabulous white garden at Sissinghurst Castle, once home to the controversial authoress Virginia Wolf, is perhaps the most famous white garden of all time.
The garden at Sissinghurst was designed by Sir Harold Nicolson and Vita Sackville-West and comprises small themed rooms, one of which is the all-white garden. The white garden began life as a rose garden but was converted to the all-white garden, which now attracts so many visitors, in 1950.
Whether your garden is a modestly sized patch or a smaller version of Sissinghurst, developing a white garden is easy to do and satisfying. All the plants will blend together just because of their common colour, making it an ideal choice for those new to garden design. Of course, you will still need to select varieties that have similar watering and feeding needs, but given the selection available that won't be difficult. And while white gardens have gone in and out of fashion over the years, one thing is always true — they command the attention of anyone who sees them. The garden includes white daisies, cosmos, foxgloves and roses layered together in a profusion of white and green foliage.
Our 10 top white-flowering plants
Iceberg white rose (either as standards or bush)

White foxgloves (for height)

Shasta daisies or Seaside daisies

White verbascum

Gardenias (for scent)

Jasmine (climber with scent)

Tuber roses (another lovely scented plant)

White tulips for spring

White irises

Wisteria (great for strong structures)