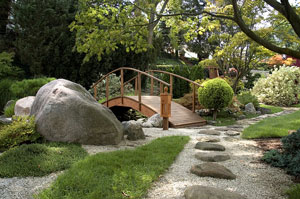 Hidden in the depths of one of Brisbane's oldest suburbs, sits oasis of tranquillity
Story: Michael Webber
Photos: Glenn Weiss
From the beginning, owners Natasha and Vince were "feel good" people. They spoke of a spiritual relationship to living and how they wished to carry that feeling into the garden.
With Vince's blessing, Natasha was the driving force behind the garden project. She wanted a "Zen garden". We both agreed that "Zen garden" could mean many things to many people, but Natasha was happy to let the design process begin and trust that the right solution would arise. From memory, including water and retaining two beautiful crepe myrtles were the only specific considerations.
The existing garden was a smallish suburban backyard (10 metres wide by 14 metres deep) with poor-quality fence-to-fence grass. Although it looked relatively flat, it actually fell away to one corner by 850mm. I decided to make use of this fall by including a garden wall, steps and at the lower level — and here is where the moment of inspiration kicked in — a pond and lawn in the shape of the symbols for Yin and Yang. From then on the design flowed with ease.
The pond, stocked with native fish, is now a haven for wildlife. There are frogs, a water dragon that suns himself on a nearby statue of Ganesh after his daily dip in the water and countless birds that come to bathe in the Zen bowl that spills water into the largest end of the pond.
The path leading from the house to the top of the garden wall was formed with 500mm x 500mm pavers with 100mm x 100mm granite cobblestones between. That was it for structure. The rest of the job was to fill the garden with lush, green and colourful sub-tropical plants.
As this garden has over-viewing neighbours in high-set houses, the challenge was to create a private, intimate yet open garden. Bambusa textilis gracilis (a clumping bamboo) was used along the western boundary where the neighbouring house dominated the view. I used a mix of other trees to screen the other boundaries including Backhousia citriodora, Elaeocarpus reticulatus, Hymenosporum flavum and Randia fitzalanii. For colour and variety we used a large range of different shrubs and groundcovers — 29 different varieties in all — and Natasha has since added to that original list. The garden was heavily mulched and a drip-irrigation system installed.
I encouraged Vince and Natasha to use only young plants. My advice is to never waste your money on advanced plants believing that you are going to get a better garden quicker. Any advanced plant grown in a pot is going to be pot-bound to some extent. My experience is that within one growing season any tube stock or young plant will be bigger and healthier than any advanced plant of the same species/variety. This applies equally to natives and exotics, groundcovers, shrubs and trees. There are exceptions that are worth keeping in mind, however: palms and open-rooted deciduous trees/shrubs and trees that are grown in the ground and expertly prepared, transported and planted.
As with all the best gardens, this one has already evolved. Natasha found a special spot at the bottom of the garden she wanted to use, so to provide easier access than my original design had allowed, a bridge was added. From this spot, Natasha can relax with her dogs and look back and admire her beautiful garden and lovely high-set Queenslander house.
It is also worth mentioning that since the garden was completed, Natasha and Vince have installed rainwater tanks under the deck and slimline tanks to the side of the house, providing a total holding capacity of 14,000 litres. So far, they have not run out of water, which they use for the house as well as the garden.
The resulting garden is a beautiful and tranquil oasis in the middle of one of Brisbane's oldest suburbs. When I look at the photos of the garden, I find it hard to believe that it is on such a small piece of land. The garden looks huge and there are lots of things to investigate. Not only that, it is hard to believe that the garden is only just over one year old.
About the author: Michael Webber is a Gold Coast-based building and landscape designer and founder of Michael Webber Design.