With a spectacular view of the cityscape, this pool speaks for itself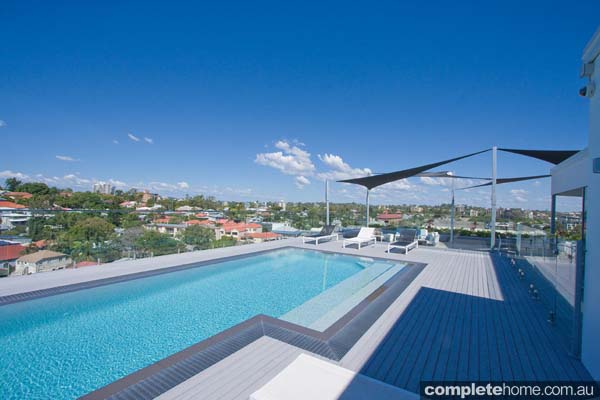 Envision yourself among the clouds with a clear view of the city skyline, your feet splashing lazily in the calm pool water. I'm sure you'll agree this is a scene one only dreams of.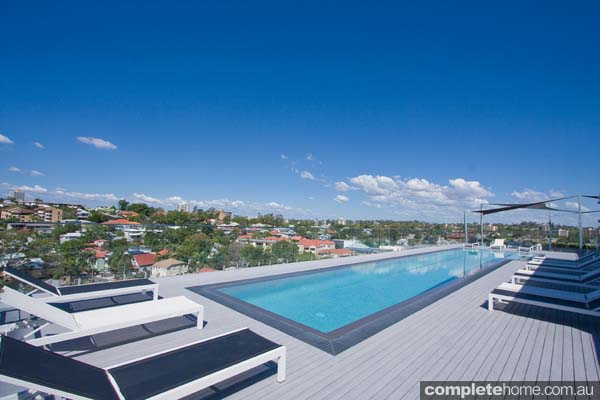 Designed by HAL Architects, this pool was requested by developer Ronnie Tarabay who wanted a seamless design from waterline to surrounding decking atop the West End ECCO Apartments. The pool was to provide the tenants of the complex with a space for leisure and training.
Brandon Appleton of Rogers Pools brought the design to life and suggested a waveless drain to create the smooth lines of the water and pool decking.
Aside from the remarkable view, what is also mesmerising about this pool is the simple design that still manages to exude the ultimate in luxury living. Less really is more here. The pool water spills over the waveless drain around the perimeter and flows to a ballast tank which has the extra capacity to hold surplus rain water. The decking is spacious enough for the tenants to relax and unwind on lounge chairs and the glass balustrade offers a clear view of the city.
Low-energy features such as the low-energy pump and LED lights label the pool as environmentally friendly, as well as aesthetically pleasing.
Rogers Pools specialises in concrete pools that incorporate classic yet innovative design. As a member of the Housing Industry Association and Master Builders Association, Rogers Pools takes great pride in providing clients with beautifully constructed feature pieces perfect for all settings.
At a glance
Site details: West End ECCO Apartments. Developer: Ronnie Tarabay
Filtration: Hurlcon RX 400 sand filter, Rolachem RC9 chlorine and acid feeder, Hurlcon Viron P600 pump
Coping: Black vitrified tiles onto a waveless drain
Lighting: Spa Electrics LED lights
Company profile
Pool built by Rogers Pools 44 Westlake Drive, Mount Ommaney Qld 4074
Phone 07 3279 1996
Email info@rogerspools.com.au
Website rogerspools.com.au
Originally from Poolside Showcase magazine, Volume 21