An innovative and contemporary design creates a unique outdoor pool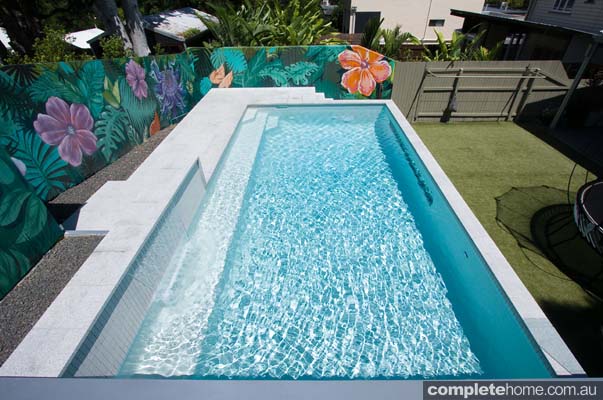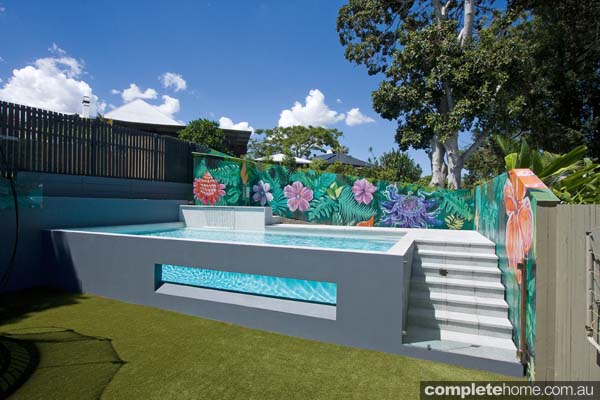 Creating a design to incorporate both a contemporary family pool as well as a unique backyard water feature proves Rogers Pools' expertise in the industry.
Designed and built by Brandon Appleton of Rogers Pools, this design is innovative and appealing as it utilises the limited backyard space to its full potential.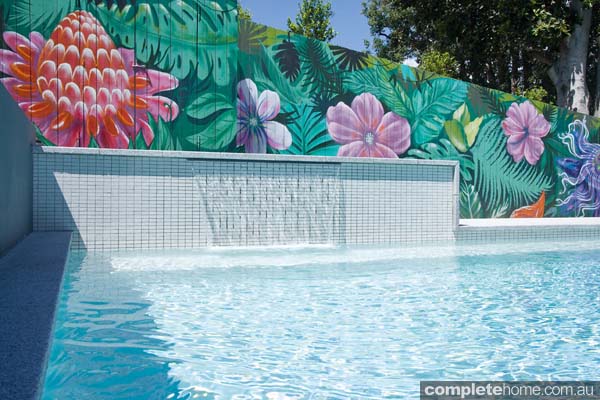 The above-ground pool was inspired to give the impression of greater depth within the small backyard and also provided the basis for which the water feature could be incorporated into the design. The water feature consists of a white mosaic tiled back wall with a sprouting waterfall. A glass feature window, much like those found at beautiful aquariums, lies parallel to the ground along the outer side of the pool.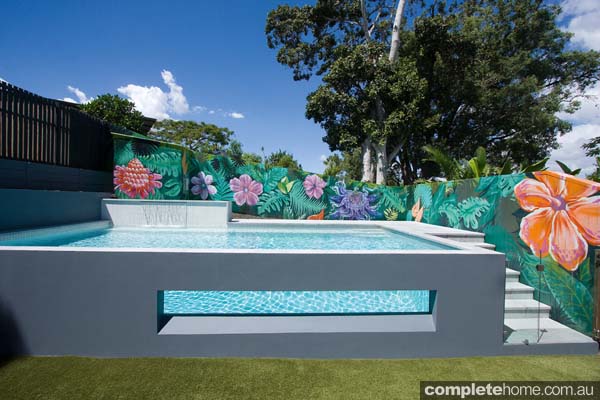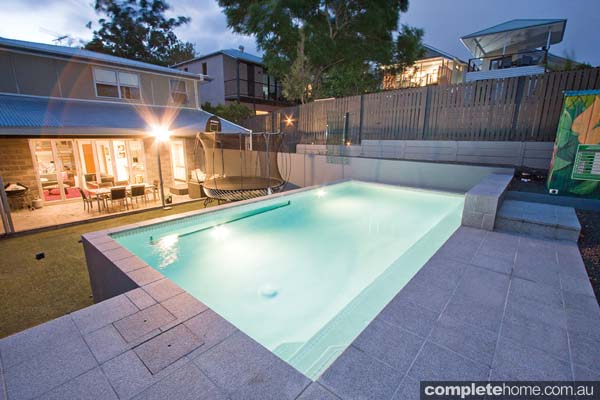 Easy accessibility is created with a paved entrance to the right of the pool and a glass fence ensures an unobscured view. A painted floral back wall ties the design together perfectly as it adds colour and art into the landscape without the hassle of gardening.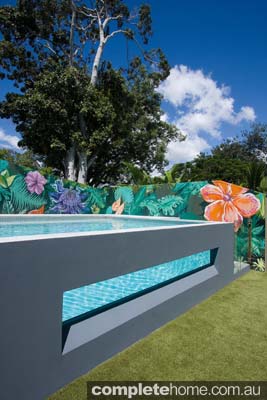 Extra features include solar heating so the pool can be enjoyed year round, as well as paramount in-floor cleaning system and a Hurlcon RX 360 sand filter for easy maintenance.
Rogers Pools specialises in concrete pools that incorporate classic yet innovative design. As a member of the Housing Industry Association, the Rogers Pools team takes great pride in providing clients with beautifully constructed feature pieces, perfect for family enjoyment and entertainment.
At a glance
Heating systems: Solar
Cleaning systems: Paramount PCC in-floor cleaning system
Filtration: Hurlcon RX 360 sand filter
Coping: Light-grey granite tiles by The Pool Tile Company
Tiles: White mosaic tiles by The Pool Tile Company
Lighting: Spa Electrics
Fence: Rogers Pools
Fact sheet
Pool built by Rogers Pools 44 Westlake Drive, Mount Ommaney Qld 4074
Phone 07 3279 1996
Email info@rogerspools.com.au
Website rogerspools.com.au
Originally from Poolside magazine, Volume 43