This modern pool design, from Neptune Pools and Spas, features a double-sided infinity edge that sets it apart.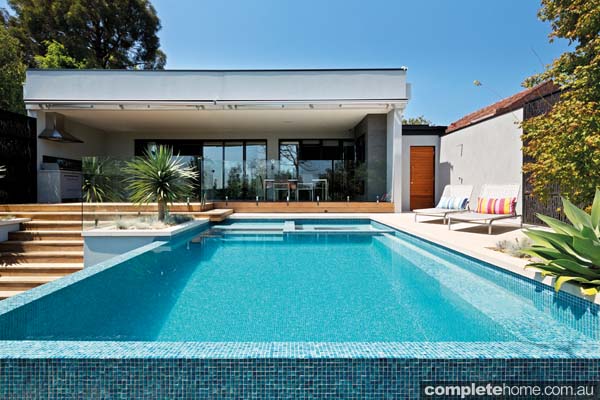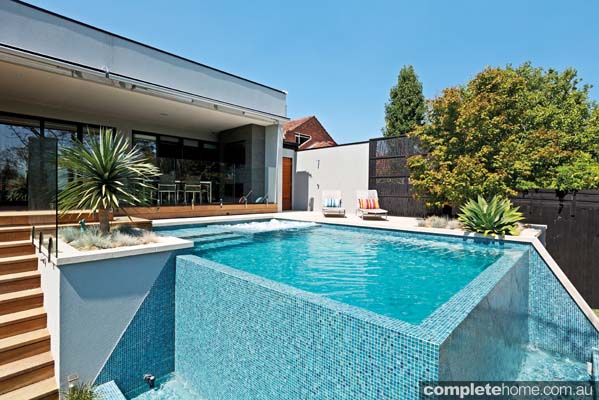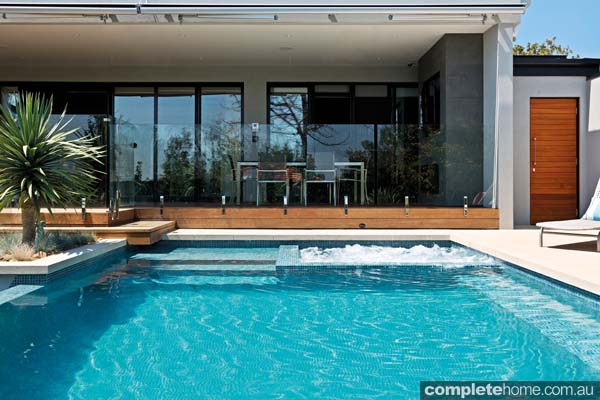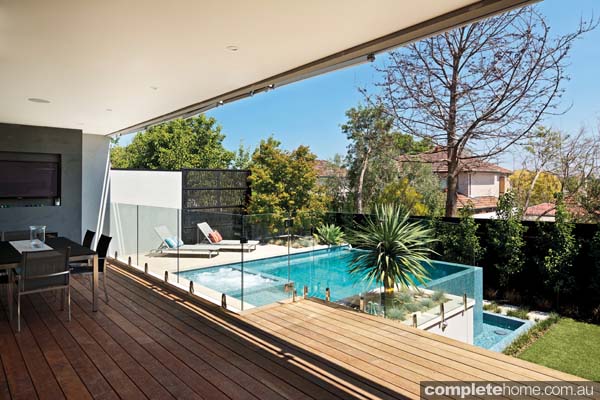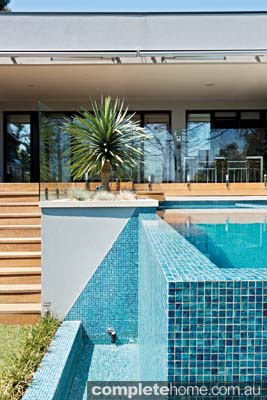 Complete with a double-sided infinity edge, this pool and spa combination was all that was needed to finish this home renovation. The clients came to Neptune Pools wanting a low maintenance pool that needed to be connected to their existing alfresco entertainment area. Dean Jones and the team at Neptune Pools rose to the challenge, the result was this stunning personal oasis that seamlessly blends with the exterior of the home and simply encapsulates sophistication.
It is the double-sided infinity edge that sets this pool apart from the rest. Water flows from the main pool area, over the edge and into a lower pond, bringing a serene sound of cascading water to the atmosphere. The finished design effortlessly complements the surrounding garden and provides a peaceful space for the homeowners to retreat to after a day's work.
Swimple Barrier Reef glass mosaics feature as interior tiling and provide an elegant finish to the pool, while thick square-edge Anston Bondi coping creates a beautiful sundeck that overlooks the infinity edge. The homeowners now have plenty of poolside space that can be used for those warm summer days where they just want to laze by the water.
Large timber steps link this pool to the alfresco area and rendered planter boxes add interest and work as a charming feature between the water and the steps. The palm trees planted within these boxes emulate a tropical paradise and add to the resort-like tone.
Neptune Pools made certain that this pool is low maintenance. Containing a Pentair Intelliflo Variable Speed Pump, Pentair Intellitouch Automation system with remote iPhone connectivity, Paramount PCC2000 in-floor cleaning system and Chemigem Gemini Salt Chlorinator and pH control, this pool features a host of modern technology, all of which are aimed at efficiency and easy operation. These inclusions effectively reduce energy consumption and guarantee that the pool is environmentally friendly. Neptune Pools also incorporated a below-ground 20,000 litre water tank adjacent to the pool in order to minimise excess water usage and further reduce the pool's carbon footprint.
This pool is a prime example of what can be achieved when you combine modern design with the latest pool technology. The integration of three usable areas has been executed flawlessly.
Project details
Neptune Swimming Pools
146 New Street Ringwood VIC 3134
P: 9870 5282
F: 9879 1498
E: enquiries@neptunepools.com.au
W: www.neptunepools.com.au
"Private oasis" from Poolside Showcase magazine 19