This unique and unobtrusive pool design was created with family fun and fitness in mind.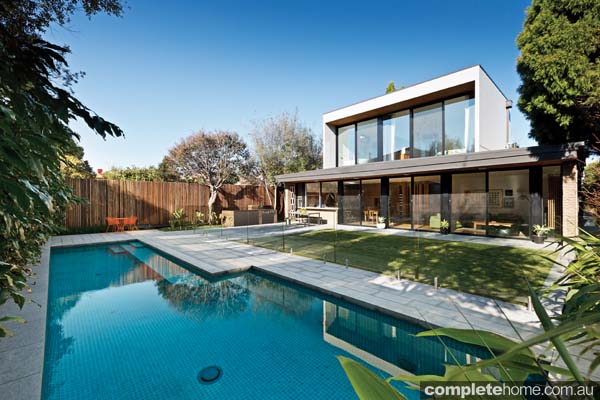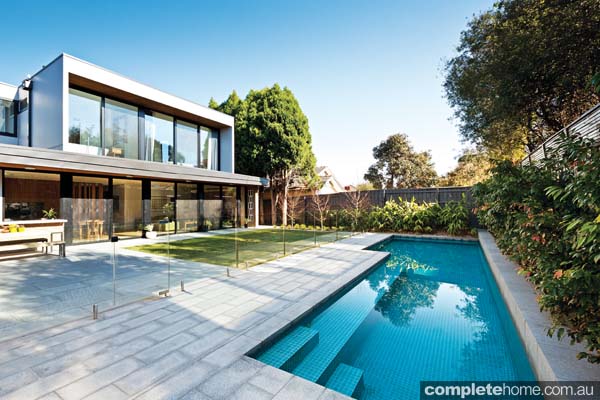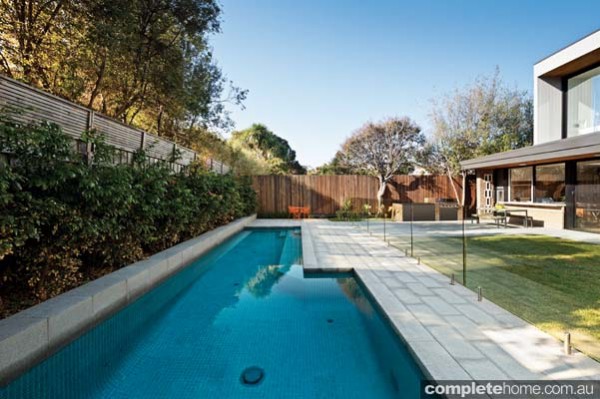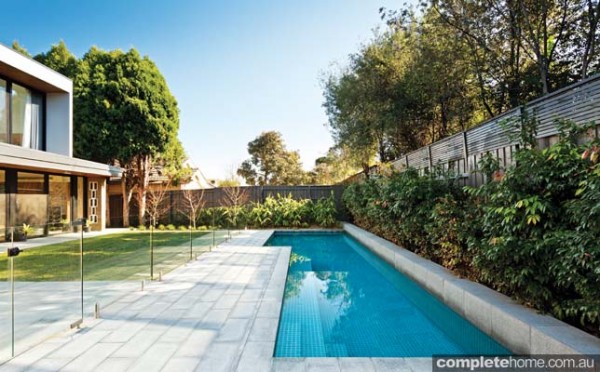 The owners of this long, sleek pool wanted an unobtrusive design that would fit in rather than stand out. Not seeking to create showy entertainment area or to overwhelm their existing lush and large backyard, they needed a pool that offered streamlined functionality and safe swimming fun.
Thanks to Dean Jones of Neptune Swimming Pools, they have that. Fully tiled in an aquamarine blue offset by white-grey pavers, the pool is striking without dominating the surrounding area. With a lap lane for exercising and a wider square area for play, this pool is perfect for family fitness and fun.
Solar heating keeps the pool warm and, along with the eight-star-rated Pentair IntelliFlo Variable Speed pump, is an added green feature. A Paramount PCC2000 self-cleaning system and Aquamate automation take the hassle out of maintenance and keep the pool safe and inviting for an afternoon dip — without the stress of having to clean it.
Neptune Swimming Pools was established by John Van Der Haar in 1959 and remains within the family today. Through close consultation with clients, Neptune Swimming Pools constructs about 60 domestic swimming pools a year as well as working on several commercial pool projects. Neptune Swimming Pools is a founding member of SPASA and a member of the MBA. The company is the proud recipient of many awards and accolades collected over years in business.
For more information
Neptune Swimming Pools
146 New Street, Ringwood Vic 3134
Phone 03 9870 5282
Email enquiries@neptunepools.com.au
Website www.neptunepools.com.au
ABN/ACN 72 653 305 201
Builder's Licence Number DBL 16222
"A pool for fun and fitness" from Poolside magazine 40