Get the most out of your outdoor room by incorporating the ultimate water feature: a pool.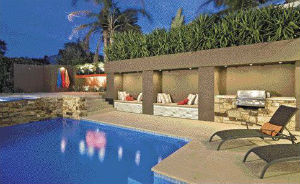 By Aaron Worth  
Most of us are now familiar with the concept of the outdoor room. Like the rooms inside our homes which serve a multitude of purposes, so does the room outside. Whether it's for entertaining, cooking or simply relaxing under the shade of a tree, the outdoor room can be used in a myriad of ways and can be everything we want it to be,and much more. And with backyards shrinking in size, it's in our best interest to make our outdoor rooms multi-functional so that we get more out of them.
In Australia, we are blessed with wonderful weather and have quickly learnt how to make the most of this glorious sunshine and fresh air; with an outdoor room. And what better way to enjoy the summer sun then in our very own outdoor pool?
Due to the sheer size and volume of pools, it stands to reason that a pool will almost always become the centrepiece of your outdoor space, essentially creating an outdoor pool room. Whether you've already got a swimming pool or are thinking about incorporating one in your backyard, there are two main considerations to think about: theme and functionality.
The theme of your outdoor pool area will dictate the sense of place and overall appearance of your backyard. The theme of your pool room can draw upon a particular style or culture, such as a Balinese or Japanese-inspired garden, or can be an extension of the architecture of your home. Whatever you decide on for the theme, it's important to ensure your pool is designed as part of your outdoor room.
Plants can play a big part in setting the theme for your pool room. If you have an arid garden, you could go for succulents; or if you have a tropical garden, why not consider palms and other lush and colourful foliage plants?
The materials used in the hard landscape can also assist in creating a theme. Clean lines, simple colour palettes and the use of materials such as glass, concrete and steel will help create a minimalist look. And for a more naturally inspired space, consider timber, natural stone and possibly a little less order.
Landscape themes are subjective so be a bit daring and get creative so that you achieve the exact look you're after.
While the theme we create for our pool room will lure us outside and enhance the way we feel when we're using it, it's the functionality of our pool that will keep us coming back time and time again. Although a pool needs to look good and add to the overall ambience of your outdoor room, if it doesn't function as we want it to then we won't be enticed to get outside and use it.
If you have an existing pool, it will predetermine some elements. However, if you're designing a new pool for your outdoor room, things you need to take into consideration are size, shape, entry points (steps), pool depth, pool filtration, pool fencing and the location of the pool.
To save costs, make the most of your existing site conditions including layout, terrain and current fencing and screening. Although these things can be changed to suit your particular needs, if you can work with them as they are, that will save you some money.
Apart from the obvious reasons for having a pool (relaxation, cooling and playing) other added elements will extend its usability and create a complete outdoor room. Things such as an overhead cover or shade, cooking and dining area, refrigeration and lounge seating will ensure your pool area is equipped to handle any occasion, any season.
It's a good idea to combine the pool with the entertaining area, essentially creating a multi-functional outdoor room. What better way to enjoy those balmy summer nights than in your very own outdoor room, equipped with a pool and fully decked out with a barbecue and dining area and a projector screen for watching movies under the stars?
Fencing is a must when it comes to pool safety, but fencing and screening can also be used to define the boundaries of your outdoor room and create a truly private and secluded space.
A pool is also the ultimate water feature so, where possible, position the pool so its most spectacular aspect can be seen from inside the house. That way, even when you're not using the pool, you'll still be able to enjoy the beauty of the water.
There are many finer details to designing an outdoor room with a pool, such as lighting and water features; given the possibilities are endless, it can all become a little overwhelming. To simplify the process, imagine your ideal space and think about what it is you want and what will work in your outdoor area. Get creative with your ideas and remember, the space needs to be both functional and aesthetically pleasing in order for you to get the most enjoyment out of it.
Be Water Wise:
• Use a pool cover to reduce loss of water due to evaporation.
• Place plants around the pool to protect uncovered water from the wind and reduce evaporation.
• Incorporate a pool cabana and glass fencing in with the planting to act as effective windbreaks.
• Place a shade sail or some kind of shade structure over part or all of the swimming pool to keep the sun at bay and minimise water loss by evaporation.