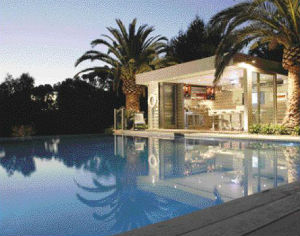 To get year-round use from your swimming pool,you need a well-designed poolside room
Story: John Storch
Australians love entertaining outside and for most it forms a significant part of their lifestyle. For many lucky people, swimming pools are the focus of their outdoor leisure activities. In many instances, a poolside outdoor room will form part of the outdoor living package.
A poolside outdoor room can take many forms. It might be an extravagant fully equipped cabana with bathroom facilities, outdoor kitchen and daybeds. It might also extend to a conversation pit set within an adjacent paved area and offer a view of green lawn surrounded by beautiful gardens to create the sense of being in your own private luxury resort.
Something less expensive and considerably more casual can also give you the outdoor room-style experience you are seeking. This might be an open-sided, thatch-roofed, Balinese-style hut or a large cantilevered umbrella covering an outdoor lounge suite set on the lawn or on the pool surrounds, space permitting.
When contemplating a built structure, the style you choose will depend on your personal taste, the design of your pool and the architecture of your house, but at the most fundamental level, poolside structures need two key components: a seating area where you can relax (and supervise the children as they play in the pool) and shade.
There are many things to consider before any final decisions are made, chief among them your lifestyle, budget and the features you would like to include. Then there are the physical aspects such as north-facing locations, sun and shade requirements, noisy neighbours or nearby roads, prevailing winds, potential views and the position of adjacent structures (such as garden sheds) and landscape features (such as areas of lawn or paving).
Anyone who wants to use their pool on a regular basis needs to provide adequate shade otherwise you will find yourself only venturing out when the weather isn't too hot. This is where a built structure with a roof has the advantage. It might be a cabana with a tiled roof, a gazebo topped with thatch or a covered pergola. A pergola can be roofed in various ways, including a combination of solid and translucent roofing panels or a remote-controlled operable louvre system.
The finishes used in your poolside outdoor room should be complementary to the rest of the property to present a unified look and prevent all the elements in the garden from looking disjointed. If your property is large enough, changing material types to create a themed poolside structure might be possible but if your property is of average size, it is best to go for unity. A continual flow of the same materials such as paving and walling, lighting and planting ensures the property reads as a whole.
Lighting is important for any poolside pavilion, gazebo or cabana you plan to use at twilight or into the evening. If you plan to use the structure for tasks like preparing and cooking food, good lighting is essential to ensure functionality. For task lighting, 240-volt lights work well while low voltage lights and LEDEDs work better when you want to go for subtle lighting to create a mood.
You might also like to consider whether you would like doors or screening around your structure for privacy and weather protection. Bi-fold doors are a great idea for larger structures if you want to use your outdoor room on chilly, wet or windy nights.
Essentially, the mark of success for a poolside outdoor room design is that it looks great, fulfils the functions required of it and integrates seamlessly with the surrounding landscape and your home. Great flow, great layout and great materials are what will make a pool cabana or pavilion an extension of your home so you and your family can just sit back, relax and enjoy entertaining in the great Australian outdoors.
Of course, a professionally designed poolside structure will do more than just enhance your enjoyment of your swimming pool and the great weather. If compatible with the style of your house and built using good-quality materials, finishes and fittings, it will add immeasurably to the resale value of your home.